Medical Miracles Brought About by Falun Dafa (Part 7): Benefiting Practitioners from All Walks of Life
Nov. 1, 2020 | By Qin Yun
(Minghui.org) Having good health is everyone's dream, but many suffer from health problems that even modern medicine cannot cure. Falun Dafa, however, has enabled many of its practitioners to recover from incurable ailments. Based on the principles of Truthfulness-Compassion-Forbearance, Falun Dafa was introduced to the public on May 13, 1992. Over the past 28 years, practitioners in over 100 countries have improved their health and moral character and become better citizens.
Back in 1998, six years after the introduction of Falun Dafa, China's General Administration of Sports organized health professionals to conduct a total of five surveys on the healing effects of Falun Dafa. Nearly 35,000 practitioners in Beijing, Wuhan (the capital of Hubei Province), Dalian (a metropolitan city in Liaoning Province), and Guangdong Province participated in the surveys.
Results showed that 98% of the participants had experienced improved physical health and saved an average of about 20 million yuan (or $3 million) in medical expenses per year for their employers.
Zhuan Falun, the main teachings of Falun Dafa written by its founder Mr. Li Hongzhi, was published in China in late 1994. Two years later, it became one of the top-ten bestsellers in China. Currently translated into over 40 languages, it is the Chinese book that has been translated into the most foreign languages.
This series is a collection of experiences about Falun Dafa practitioners who have benefited tremendously by reading the book and living by the principles of Truthfulness-Compassion-Forbearance.
* * *
(Continued from Part 6)
From a physician colonel to a petroleum expert, from retired officers to deputy police chiefs, Falun Dafa has helped people from all walks of life with health issues and renewed their lives.
Physician Colonel: Health Recovered and Recognized for Job Excellence
Ms. Wang Weizhen, a graduate of the Fourth Military Medical University, was the chief attending physician of the cardiac department in a military hospital. She was later transferred to Shenyang Military Medical University in Liaoning Province.
By the age of 40, Ms. Wang had developed numerous ailments, including acute rheumatoid heart disease, chronic hepatitis B with cirrhosis, a bulging disc, severe anemia, sinusitis, and so on. As a physician herself, she could not change the prognosis for her ailments. She was very weak and had to be hospitalized from time to time with no hope for improvement.
Impressed by the profound teachings of Falun Dafa, she began to practice it in 1996. Thinking of becoming a better person by complying with the principles of Truthfulness-Compassion-Forbearance, she changed significantly and became more considerate of others. Amazingly, she recovered from all her ailments within several weeks.
As Ms. Wang continued to practice, her energy levels increased. Her work improved and she received several awards for her outstanding performance.
Because she practiced Falun Dafa, however, she was persecuted numerous times. She was arrested six times and held in brainwashing centers, forced labor camps, and prisons, where she was tortured. Her home was ransacked three times. She was sentenced to eight years in prison in December 2014.
Senior Engineer: Exemplary Employee
Ms. Li Chunying was a senior engineer at the Research Institute of the China Petroleum Pipeline Bureau in Hebei Province. While in charge of the research and numerous projects, she won a number of awards for scientific and technological achievements. She had severe rheumatoid arthritis, heart disease, kidney disease, stomach problems, migraine headaches, and other ailments. She tried various treatments and medications without much relief.
She recovered from all her illnesses shortly after she began practicing Falun Dafa. She followed the principles of Truthfulness-Compassion-Forbearance and was recognized as an exemplary employee. At that time, she was responsible for project funding totaling over several 100,000 yuan, including expenses for engineering, equipment, and software development. Unlike her coworkers and peers, she did not accept kickbacks. When her client told the institute head about this, both of them were impressed by her work ethic.
Because she refused to give up her belief, Ms. Li was arrested six times, detained four times, and her home was ransacked. She was taken to a brainwashing center twice and a forced labor camp once. She was also fired from her job and forced to divorce her husband.
Retired Officer in His 80s With a 40-Year-Old Heart
Mr. Gou Yangtian is a retired official from Bazhong City, Sichuan Province. He used to suffer from many health problems, including back pain, arthritis in his knee, poor vision, hearing loss, and numbness in his lower limbs.
When he began practicing Falun Dafa in 1997, he read the main book of Falun Dafa, Zhuan Falun, and was touched by the teachings. He also was surprised that he recovered from all his ailments.
During a physical exam in 2014, the physician was amazed that, although Mr. Gou was in his 80s, his heart was as healthy as that of a 40-year-old. His wife Chen Jiuzhen also practiced Falun Dafa and recovered from neurofibroma and insomnia. Both Mr. Gou and his wife sued former CCP (Chinese Communist Party) leader Jiang Zemin for launching the persecution. Their cases were sent to the supreme court in 2015.
Tale of a Model Worker: Paralysis, Recovery, and Employment Terminated
Ms. Peng Huaying is from Bazhong City, Sichuan Province. She received numerous awards including "Model Worker" for her outstanding work. In the spring of 1994, she was transferred to the Bazhong Bureau of Statistics, where the workload took a toll on her health. Her health declined sharply in 2002, and by 2004 she suffered a cervical spine deformity, herniated lumbar discs, and lumbosacral duct cysts, which became more and more serious. She had physical therapy daily, required total care, and was bedridden.
In 2008, she came across a Falun Dafa practitioner who told her about the healing power of this cultivation practice. She was skeptical but willing to give it a try. She initially listened to the Fa teachings while still bedridden. Gradually she was able to sit up to read the book and then got out of the bed to do the exercises. A month later, she had recovered and was able to ride a bicycle to work.
Her colleagues and neighbors who came to visit her were amazed at her recovery. After she told them her personal story, however, she was persecuted. Her home was ransacked, and she was demoted and later fired.
Deputy Police Chief: "If I Hadn't Practiced Falun Dafa, I Might Have Died Already"
Mr. Li Congchun, 75, retired as a Deputy Director of the Sixth Division of the Public Security Bureau of Handan, Hebei Province. When he was a young soldier, he was stationed at the Tanggula Mountain checkpoint in Tibet. He suffered chronic illnesses due to the severe weather for more than 10 years. After he was discharged from the military and returned to Handan City, his illnesses continued to worsen. In November 1994, he began to practice Falun Dafa.
Because of his belief, he was fired from his job, had financial difficulties, and was sent to a labor camp. His wife and younger son also suffered tremendously.
In a criminal complaint he filed against Jiang Zemin, Mr. Li described how Falun Dafa changed him. "If I hadn't practiced Falun Dafa, I might have died. Twenty-six days after I started to practice it, recovered from Meniere's disease, stomach problems, rheumatoid arthritis, lumbar spine hyperplasia, hemorrhoids, anal fissures, and heart disease."
Falun Dafa's spiritual guidance was also a factor. He said, "I came to understand the purpose of life. By abiding by the principles of Truthfulness-Compassion-Forbearance and improving morality, one can become a better person."
College Instructor: "So Happy I Won't Be a Widow"
Mr. Zhang Qiping was a faculty member at the Langfang Armed Police Academy in Hebei Province. He was diagnosed with chronic hepatitis B in 1988 at the age of 35. He was hospitalized at the 302 Military Hospital for more than six months. He suffered post-hepatitis cirrhosis and was forced to take medical leave for over eight years. Although he visited the doctor regularly and took different kinds of medication, his condition continued to decline.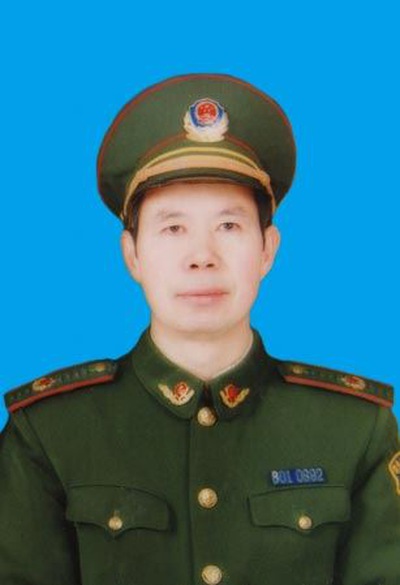 Mr. Zhang Qiping
He began practicing Falun Dafa on October 4, 1996. Shortly after that, he was able to sleep well, his appetite improved, and he regained his energy. He did not spend a penny, yet he recovered from his liver disease. His wife was thrilled and said, "I am so happy I won't be a widow!"
Under orders from the 610 Office, the police arrested him and ransacked his home. Mr. Zhang was detained and then demoted.
Government Official: Curved Back Straight Again
Mr. Wang Pingjun was an official with the Labor and Personnel Bureau in Li County, Hebei Province. He suffered from a gastrointestinal disease since the age of 13 and developed symptoms of depression in his 30s, followed by heart disease. Years of struggling with these conditions made him lose hope.
At the recommendation of his friends, Mr. Wang began to practice Falun Dafa in 1996. He recovered from all his ailments in less than a year. He was able to stand straight again, his vision improved, and he had no back pain. His weight returned to normal. After witnessing these enormous changes, his family members all began to practice Falun Dafa.
The persecution that started in 1999 destroyed his family. His home was ransacked many times, and Mr. Wang was arrested three times, detained four times, and taken to a forced labor camp twice. He was fired from his job and given heavy fines. His parents could not withstand the pressure and passed away. His wife Liu Guipu was detained for seven months. She suffered a stroke and was paralyzed for five years before she passed away. His daughter was sent to a forced labor camp and his son was sentenced to prison for 11 years. His daughter-in-law, a policewoman, had to divorce her husband due to pressure. Mr. Wang is taking care of his two grandsons who were severely traumatized by the persecution.
Additional Examples:
Mr. Ai Zhenchang is a retired cadre in Nehe City, Heilongjiang. He suffered from a number of health problems throughout his life—juvenile tuberculosis, a gastric ulcer, heart disease, hemorrhoids, neurasthenia, an eye problem, and so on. After he started to practice Falun Dafa in June 1996, he became illness-free and looked much younger than his age. He no longer needed reading glasses. The extraordinary effects of Falun Dafa impressed him, and the Fa teachings changed his outlook on life. In 2015 at the age of 85, he sued Jiang Zemin for suppressing Falun Dafa.
Mr. Yan Ruimin is an officer with the State Taxation Bureau of Luancheng County, Shijiazhuang City, Hebei Province. He had a bulging disc that made it impossible for him to move. He required full-time care. He was hospitalized for three months and took Chinese herbal and Western medicine with no improvement. After practicing Falun Dafa, he recovered.
Mr. Wu Zixiang is a former director of the Agricultural Machinery Bureau of Xiangcheng City, Henan Province. He suffered from hepatitis and advanced cirrhosis. He saw numerous experts and practiced several kinds of qigong, but he saw no improvement. A doctor in Zhengzhou told him that he might have three years left to live in 1996. He fortunately encountered Falun Dafa when he was desperate. After reading Zhuan Falun, he understood the true meaning of life. He followed Dafa's principles of Truthfulness-Compassion-Forbearance. He no longer cared about being promoted or about benefits and making a fortune. He became illness-free and tasted true happiness.
Mr. Wang Haigan was an outstanding teacher in Dazhu County, Zhuyang Town, Sichuan Province. He contracted Hepatitis B when he was 32 in 1994. After he began practicing Falun Dafa in August 1996, he recovered from Hepatitis B and all of his other health issues. He became considerate, was no longer attached to petty gains, and strove to be a better person. He and his family suffered enormous harm physically and psychologically when the persecution began. He was taken to a brainwashing center, and forced labor camps numerous times. He was fired from his teaching job and persecuted financially.
Mr. Yuan Xingren was a former Director of a Taxation Office in Jiaonan City, Shandong Province. He is in his 60s. He was very ill and had to take early retirement for medical reasons at age 43. He had hypertension, heart disease, a bone spur in his neck, a lung infection with complications, and colon cancer. Shortly after he started practicing Falun Dafa, he returned to good health. His medical bills used to be over 20,000 yuan a year. After he began practicing Falun Dafa, he had no medical bills. But for refusing to give up his faith, he was arrested, detained, and sent to a forced labor camp.
Ms. He Nianzhen, a retired vice-principal at Suining Art School in Sichuan, suffered from allergic bronchial asthma, rheumatoid joint pain, stubborn oral ulcers, chronic pharyngitis, heart disease, and so on. She began practicing Falun Dafa on New Year's Day in 1997. She lived by the principles of Truthfulness-Compassion-Forbearance and soon recovered from all her ailments.
Ms. Ding Lihua, a former Vice President of the Honggang Sub-branch, Industrial and Commercial Bank of Daqing, Heilongjiang, is in her 70s and healthy. She used to be in poor health and complained about neck pain, migraine headaches, heart disease, mini-strokes, and kidney disease. She was miserable and could not work. In October 1998, she came across the Falun Dafa Fa lecture series and started to practice it. Within four months, she'd recovered from all her illnesses.
Mr. Wang Zhongming, a professor of engineering in Chongqing City, came down with Hepatitis B shortly after he graduated. He was sick for eight years before he discovered Falun Dafa. He recovered shortly after he began practicing Falun Dafa.
Ms. Li Yulan is a retired doctor of obstetrics and gynecology at the Wujiaqu 102 regiment, Xinjiang Province. She had severe knee problems before 1999 and was facing surgery. After she started practicing Falun Dafa, she recovered from her knee problem. Even though she is in her 70s, she looks much younger and has a full head of black hair.
Mr. Lin Shizeng was a former Secretary at the Technical Supervision School in Hebei Province. He was in poor health and had stomach cancer. He began practicing Falun Dafa in 1998 and became healthy. He was severely persecuted for his belief and passed away on July 20, 2017, at the age of 75.
(To be continued)