Southern Taiwan: Practice Site Assistants Share Experiences to Encourage More Diligence
Nov. 15, 2020 | By Sun Bai and Su Rong, Minghui correspondents in Kaohsiung
(Minghui.org) Falun Dafa group practice site assistants from southern Taiwan met in Kaohsiung on October 30 and November 1, 2020, for an experience-sharing conference. They talked about how they have better aligned themselves with the principles of Truthfulness-Compassion-Forbearance, both in their daily lives and when helping other practitioners.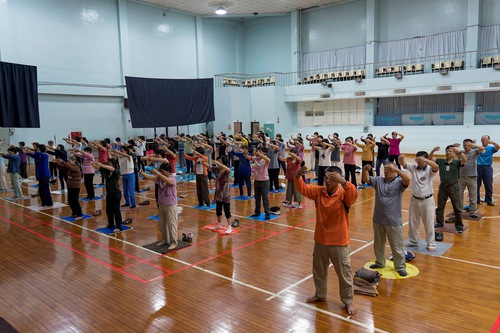 Falun Dafa practitioners practice the Falun Dafa exercises together during the activities in Kaohsiung.
Looking Within and Becoming a Better Person
In the past, Ms. Lin from Pingtung often arrived at the practice site earlier than others and helped with the cleanup afterwards. As time passed, she naturally became a practice site assistant. "To me, practicing Falun Dafa is a precious opportunity. That means I should do well myself and also help other practitioners," she said. At the practice site, for example, she always makes sure to sit up straight during the meditation exercise and while sending forth righteous thoughts, and she does everything with her heart. Practitioners thus cooperated well with each other, and passersby were also impressed by the peaceful, serene field.
Ms. Lin had also found many opportunities to improve her xinxing (character or mind nature). In particular, one practitioner often complained and even yelled at her, leaving Ms. Lin feeling embarrassed and with negative notions about that practitioner. Once while planning an activity to distribute Falun Dafa materials in the community, the practitioner yelled at her again, complaining why his route was farther away than those of other practitioners. Ms. Lin apologized again and again, and then she realized the negative notions she was harboring did not belong to a practitioner.
"In Falun Dafa, Master Li teaches us to be better people and to be compassionate and considerate of others," she recalled. As her thoughts improved, she noticed that the practitioner who complained had actually done well in many regards. Ms. Lin was later able to treat the practitioner compassionately and without any prejudice. The situation changed dramatically, and the other practitioner often praised her.
Overcoming Fear
Ms. Huang began to practice Falun Dafa because of a terminal illness. Diseases had plagued her for more than a decade, leaving her frustrated and helpless. She had undergone numerous surgeries and chemotherapy, but even the highest doses could not suppress the spread of the cancer cells through her body. Fortunately, she heard about Falun Dafa. Within a short time, her cancer was cured and her other illnesses also disappeared.
Healthy and happy, Ms. Huang often shares her story with others, hoping that they could also benefit from Falun Dafa. After she learned about the persecution in mainland China, she started making phone calls there to tell officials the truth about the practice. "In the beginning, I was scared and even felt relieved when the recipient did not pick up the phone," she said. Later on, she and other practitioners encouraged each other and could handle the situations that came up much better.
"Right now, I am able to talk with officials, including senior officials, without problems. Many of them have come to know that the Chinese Communist Party (CCP) has wrongly persecuted ordinary citizens, such as Falun Gong practitioners. Some have agreed to quit the CCP organizations," she said. "I have also realized that a pure mind and a good cultivation state helps me a lot."
A Wonderful Experience
Ms. Yu from Tainan also had a wish to share her experiences of helping tourists from mainland China break away from the CCP's defamatory lies. But she had not known where to start.
Then a practitioner invited her to go to Alishan (Ali Mountain), a renowned attraction, to talk to tourists from mainland China. While at Alishan, practitioners studied the Falun Dafa teachings, did the exercises together, and then set up posters for the tourists. Gradually, Ms. Yu learned how to figure out the tourists' misunderstandings about Falun Gong and clear them up. After returning to Tainan, she found that many tourists from mainland China went to Chihkan Tower. Applying the skills she had learned at Alishan, she was able to help tourists learn the real story of Falun Dafa.
Although things went well, her husband told her he needed to go to Yilan County in north Taiwan for a business trip. He had hurt his hand and needed her support. Unclear about the future, Ms. Yu nonetheless decided to go with him. After arriving there, to her surprise she saw a large number of tourists from mainland China at the local train station. It turned out that because of the Suhua Highway construction in northeastern Taiwan, tourists often came here from Hualien via train before transferring to central and western Taiwan. Ms.Yu could thus help mainland Chinese tourists while supporting her husband.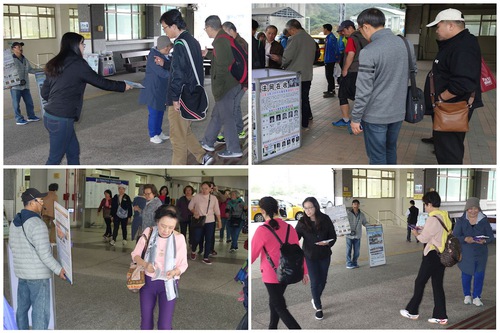 Tourists at Su'aoxin Train Station from mainland China
After the Suhua Highway construction was completed in January 2020, visitors from mainland China stopped coming to Yilan, and the coronavirus pandemic also slowed visitor numbers. It was at this time that Ms. Yu's husband was ready to return to Tainan for work. "Looking back at all of this, I knew this wonderful experience was a perfect arrangement for me. I am so grateful," she said.