Investigation Shows CCP Has Infiltrated Over 70,000 Overseas Agencies and Organizations
Dec. 16, 2020 | By Li Yan
(Minghui.org) Editor's note: Humanity is at a historic moment. In the face of the fast changing and complicated worldly affairs, it is morality and conscience that can help people understand what has been going on and take the correct actions. It is the most basic of all. Conscience is bestowed by the heaven and an innate trait everyone has. One doesn't need a degree or use any scientific method to develop conscience, which also has nothing to do with one's color, wealth or social status. We are born with conscience. But if one's conscience falls asleep, then one is lost, something very serious. When disaster strikes, conscience is what saves a person, as long as one's conscience stays awake.
**
After a leaked database of 1.95 million Chinese Communist Party (CCP) members was obtained by Inter-Parliamentary Alliance on China (IPAC) in August, an investigation showed that the CCP members had occupied almost all corners of Western society, including the United Kingdom, Australia, and the United States.
More specifically, the CCP members have infiltrated foreign agencies, multinational banks, major pharmaceutical companies, research firms, and defense manufacturers. The total number of agencies and organizations involved is over 70,000.
"Joining the ranks of the Chinese Communist Party (CCP) is quite unlike signing up for a political party here or in any other democracy. It might seem closer to joining a crime family in the New York Mafia," wrote British Parliament Member Iain Duncan Smith in the Daily Mail on December 12 in an article titled "With hopeless naivety, big business and universities have failed to understand that China is out to destroy our way of life."
"They must pledge to 'guard party secrets', to 'fight for communism throughout my life' and to be ready at all times 'to sacrifice my all for the Party'. The oath is for life and sworn in the presence of party officials," he continued, "Swift, harsh punishment would result should they ever dare to break it."
In fact, most of these Chinese descendants who serve in foreign agencies have been successful in their careers, and have joined the CCP and its junior organization of Youth League prior to coming overseas. At least 70% of Chinese who came to the U.S. for Ph.D. studies chose to stay in America instead of returning to China upon graduation, and the majority of them are also CCP members. This means that a large number of Chinese working in overseas firms are affiliated with the CCP.
This is a continuation of the CCP's infiltration in the past 30 years, which includes lobbying, bribery, spying, and massive propaganda. To make things worse, many elites and political leaders in the West have become lobbyists with financial incentives.
Retired Officials Becoming Lobbyists for Business Interests
U.S. Senator Tom Cotton from Arkansas and Representative Mike Gallagher from Wisconsin introduced a bill in October to close lobbying loopholes for Chinese companies. Known as the "Chinese Communist Party Influence Transparency Act," it intends to "amend the Foreign Agents Registration Act of 1938 to repeal the exemption from registration under such Act for persons providing private and nonpolitical representation of trade and commercial interests, and the exemption from registration under such Act for persons filing disclosure reports under the Lobbying Disclosure Act of 1995, in connection with...the People's Republic of China, and for other purposes."
Cotton said the CCP had been utilizing American firms as an extension of its embassies and consulates or intelligence agencies. Its lobbying activities involve Congress, government, and agencies for policies in favor of China. Very often politicians from both parties have succumbed to incentives offered by China.
"Chinese companies – particularly powerful ones – are all arms of the Chinese Communist Party and remain ultimately under state control. It's time our laws recognize that reality. Our bill will close legal loopholes and force lobbyists for Chinese companies to register as foreign agents," said Cotton in a press release on the Senate website.
"Even nominally private Chinese firms are not like normal companies. All Chinese firms, and especially those significant enough to register lobbyists in Washington, D.C., are subject to the extrajudicial direction of the Chinese Communist Party," Gallagher added, "This bill ensures companies subject to the direction of the CCP face appropriate disclosure standards and Americans better understand how our adversaries seek to use the swamp against us."
After the Pentagon designated 31 Chinese firms including Huawei as related to the Chinese military, both Cotton and Gallagher wrote a letter to Attorney General Bill Barr in September expressing concerns about the lobbying registration practices of Chinese military companies in the United States.
"[I]f Disney and other American corporations continue to bow to Beijing, they risk undermining both their own future competitiveness and prosperity, as well as the classical liberal order that has allowed them to thrive," remarked Barr in July.
From Huawei to TikTok
In the United States, lobbying refers to paid activity in which special interest groups hire well-connected professionals or advocates, often lawyers, to influence decision-making bodies on legislation. The lobbying industry is estimated to be billions of dollars per year.
Because of these reasons, many retired U.S. Congress members go to K Street, where lobbyists gathered to make profits based on their connections. For example, among the 12 lobbyists working on behalf of Huawei, 6 of them are former U.S. government officials including former U.S. Secretary of State Henry Kissinger.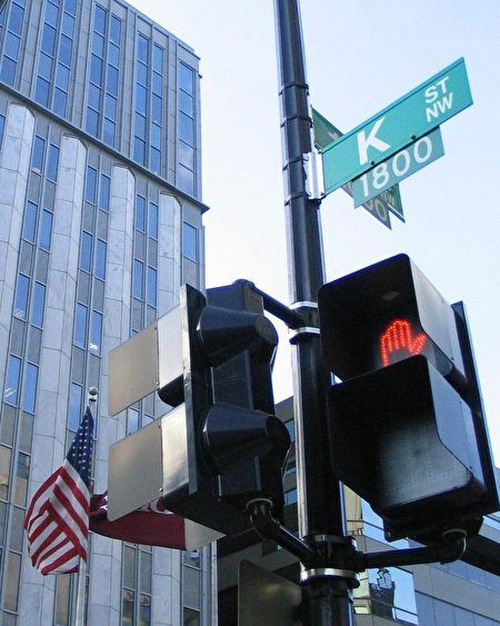 K Street NW at 19th Street in Washington D.C. is known for lobbyist offices.

According to information from nonprofit research group, "the Center for Responsive Politics (CRP)," in July, Chinese firms paid large sums of money on lobbying when being investigated by the U.S. government. Examples include Huawei, Tiktok, and Hikvision (investigated for human rights abuse). Huawei was reported to have spent $1.2 million and $1.8 million on lobbying in 2012 and 2019, respectively, with both times being peak times of investigations.
Such lobbying often worked to influence both the U.S. government and news media. On March 12, USA Today published an article from Joy Tan, an executive of Huawei, claiming Huawei is owned by employees instead of being controlled by the CCP. As a result, the U.S. Government permitted a 6-month extension for the firm to stock up inventory from suppliers.
Lobbying expenses of some other firms are even higher. Data from CRP show ZTE had spent $11.63 million on lobbying since 2013, while Alibaba Group had spent $10.41 million. After being investigated by the U.S. Government, both ZTE and Alibab increased their lobbying expenses, which in 2018 and 2019 were about 10 times higher than usual for both firms.
After the U.S. considered to ban TikTok due to risk of user data being shared with the CCP, the company hired 27 lobbyists from four lobbying firms on K Street for extensive activities. One of them is a former aide to Senate Minority leader Chuck Schumer, since Schumer is a strong critic of TikTok.
When Hikvision, a partially stated-owned Chinese video surveillance supplier, faced sanctions in 2018 for human rights violations, it also turned to K Street for help. Former Congress members were paid for their work and the firm also received benefits.
Human Rights Ignored
One of the largest lobbying cases for Washington occurred in 2000 when hundreds of U.S. companies spent about $100 million persuading the government to grant Most Favoured Nation (MFN) status to China. People involved were PR experts, chambers of commerce, US-China Commission, unions, and lobbying firms.
At that time, the CCP was criticized for human rights abuses, unfair trade practices, and failure to protect intellectual property. As a result, China closed the door to foreign firms, making their products unable to enter China. With strong interest in China's cheap labor, these companies hosted a large number of forums and speeches in about one year, feeding information to U.S. Congress on the enormous business opportunities of opening doors to China. With strong business incentives, they successfully convinced the U.S. government to put aside China's human rights issues. As a result, multinational American companies became agents that work for the CCP.
BLJ Worldwide is one of the best known lobbying firms in Washington D.C. that works on behalf of the Chinese Embassy and Consulates. Its service includes managing their Facebook pages, trade, forums on the CCP's 19th National Congress, training on news media and social media, and consultation on trade and tariffs.
Furthermore, BLJ Worldwide also sponsored trips to China for New York Times and four other major news media, sent press releases, worked with 41 think tanks and universities such as Columbia University, Harvard, Hudson Institute for pro-CCP articles on China Watch.
The ethics code and rules of BLJ Worldwide are puzzling to outsiders. Besides communist China, its client list also includes the Libya dictator Muammar Gaddafi. The firm was paid to praise Gaddafi as a world-class political figure before he addressed the United Nation's General Assembly in September 2009.
"Brendan Daly, former Communications Director for Nancy Pelosi and a political appointee of the Obama administration, is a registered foreign agent who provided the Chinese Communist Party's premier state-run media outlet China Central Television Network with 'strategic counsel' as it expanded into the United States," reported The National Pulse on August 13, 2020, in an article titled "Top Pelosi Staffer Registered As 'Foreign Agent' To Lobby For Chinese State Media Outlet."
After becoming the U.S. President in 2017, Donald Trump announced his intention to "drain the swamp" in Washington. On January 29, 2017, he issued an executive order imposing a life ban on administration officials from lobbying the U.S. on behalf of a foreign government in addition to a separate five-year ban on other lobbying. Some officials were unhappy with this initiative.
"Meet the U.S. Officials Now in China's Sphere of Influence."
"Both the Chinese government and Chinese companies, often with close state ties, have retained lobbying and public-relations firms in the Beltway, in some cases hiring former U.S. officials as personal lobbyists," reported the Daily Beast in an article on July 23, 2018, with a title of "Meet the U.S. Officials Now in China's Sphere of Influence."
"Beijing has also learned how to harness its economic might by alternately opening its doors to companies who play by China's rules, and slamming the door on companies that go against its red lines," the article continued. Some of these lobbyists came from intelligence agencies, the Department of Homeland Security, and other key government offices.
"Nobody in the 1980s would have represented the Russian government. And now you find so many lobbying for the Chinese government," remarked Frank Wolf, a retired U.S. representative from Virginia, "I served in Congress for 34 years. I find it shocking."
The article listed 9 officials that lobbied on behalf of the CCP or Chinese companies. Among them is former House speaker John Boehner.
After retirement in 2015, Boehner joined Squire Patton Boggs, a lobbying firm has long represented the Chinese embassy in Washington. Boehner serves "as a strategic adviser to clients in the U.S. and abroad, and will focus on global business development." He helped lead the effort to grant China most favored nation trading status in the late 1990s.
Mike Holtzman used to work in the executive office of the president as special adviser for public affairs to the U.S. trade ambassador under Bill Clinton. He later served as an adviser to the director of policy planning staff at the State Department under Colin Powell. As a partner at public relations firm BLF Worldwide, he managed the campaign for China's bid to host the 2008 Olympics.
Based on his registration as a foreign agent that represents the China-U.S. Exchange Foundation, Holtzman's role was to "provide services for the China-U.S. Exchange Foundation (CUSEF) to promote its interests in the U.S., including expanding third-party supporters, generating media placements, arranging visits for delegations to China, and supporting CUSEF activity with the U.S."
Founded by Tung Chee Hwa, former Chief Executive of Hong Kong and Vice Chairman of the National Committee of the Chinese People's Political Consultative Conference in 2008, China-United States Exchange Foundation had brought a large number of U.S. journalists, scholars, and political as well as military leaders to mainland China.
Another example is Randy Phillips who had spent 28 years with the CIA. After retiring as the chief CIA representative in China in 2017, he stayed and began working for a private firm on behalf of his clients. This had raised concerns from the CIA and the U.S. government.
A World of Lies
Peter Mattis from the Jamestown Foundation said the CCP had learned to pass on information it intends to deliver to certain Americans for them to influence others. Apparently, Americans know the best way to deliver messages to other Americans. When the CCP has trained enough delegates, it could change policy discussions with sending messages itself.
A report from the Hudson Institute found the CCP had invested about 65 billion yuan (or $10 billion) to expand overseas influence. Michael Pillsbury, director of the Center on Chinese Strategy at the institute, recommended looking into such activities. In Beijing he had witnessed two former CCP United Front officials asking 80 think tank experts how to rebuke a report from the White House that identified the threat from China.
Tactics from these experts were well designed. They include claims that China is weak and infested with poverty. By emphasizing Beijing would not become a world power, it would weaken the public's view on China's threat. Moreover, some Western scholars also wrote articles or published books on these narratives, which are then propagated and amplified through various channels.
Besides lobbying, the CCP has also extended bribery and spying to erode Western officials. Jose Huizar was a Los Angeles City Councilman who served on the committee of Planning & Land Use Management. With a search warrant, the FBI searched his office and residence in November 2018, where they found cash of nearly $130,000 hidden in a closet including some in red envelopes with Chinese characters.
Investigations showed bribers were mostly Chinese developers in Los Angeles. They paid Huizar for his support on those projects. The expenses they covered for Huizar included casino visits, massage services, legal fees, and others. "If convicted, Huizar could face up to 20 years in federal prison, according to the U.S. Department of Justice," Reported Los Angeles Times on June 23, 2020, in an article titled "Cash, casino chips, hotel rooms and an affair: Inside the Jose Huizar indictment."
During an interview with Worldview Weekend Broadcast Network on November 28, former U.S. national security adviser Michael Flynn said that America stands at a crossroads that will determine whether it survives as a free nation or becomes something "unrecognizable."
"What's happening in this country should never happen, and there's no doubt in my mind we are going through a crucible of history, and if we don't correct what it is that's happening in the next couple of weeks, then I hate to really even think what will happen in our country going forward into the latter part of December and certainly into the next month."