Washington DC Parade, People With Morality Are Stepping Out
Dec. 16, 2020 | By Minghui correspondents
(Minghui.org) On Saturday, December 12, 2020, people from across the U.S. either took a plane or drove to Washington D.C. to attend rallies and marches to peacefully protest election fraud. Many arrived the night before. The morning of the event, more arrived and joined them on Freedom Plaza.
The first activity, the "Jericho March" began at 9:30 a.m. After prayers, the protesters set out from 17th Street NW and circled the U.S. Capitol, the Supreme Court and the Department of Justice between Constitution Ave NW and Independence Ave SW seven times and prayed to end corruption and election fraud.
Jericho Marches Held in Six States Simultaneously
The Jericho March was named after the Battle of Jericho, which is documented in the Bible in the Book of Joshua. Jericho, a city in the land of Canaan, was known as a corrupt city surrounded by high walls. Joshua and the Israelites, acting on God's instructions, marched around the walled city once every day for six days. On the seventh day, after marching around it seven times, the walls came as the priests blew trumpets and the people shouted.
People were encouraged to hold similar marches every afternoon beginning November 5 outside the capitol buildings of every state, in particular the swing states of Arizona, Georgia, Michigan, Nevada, Pennsylvania, and Wisconsin. The climax was the march near the U.S. Capitol, the Supreme Court and the Department of Justice on December 12.
Arina Grossu, co-founder of the Jericho March, feels that evil forces within the country, as indicated by the election fraud, and internationally are trying to destroy America. She hopes that, through these marches and by praying to God, justice will prevail.
Pray to God to Restore Justice and Order
Bishop Leon Benjamin, who attended the day's events, reminded people of the Jericho walls in today's American society. "Communism, Socialism, Marxism, Fascism, and racism and so on—every one of these Jericho walls must come down!" said Bishop Benjamin. "When you shout loudly, you are not only doing so for this generation but for future generations as well. Because when we triumph over evil, our children won't need to fight against these evils."
According to Jericho March organizers, seven hundred thousand have attended these marches to date. It has become a symbol for people who uphold and protect traditional values and want to eliminate the evil, lies, election fraud, and corruption. It is also a plea to God and the heavens to restore justice and order. Ms. Grossu said, "Prayers to God and belief in the Divine will bring miracles and the power of rebirth." She hopes these marches will spread all over the U.S. and around the world and end all evil forces.
One participant who marched near the Supreme Court said, "Our freedom comes from our founding fathers and those who sacrificed themselves to safeguard our freedom. Now is the time to save America and protect our country from being influenced by corruption."
We Need the Truth in Order to Have Freedom
Craig Pickrel said, "As I stand in Washington DC, we all know our country's history—we are a nation founded by God's care. We made an oath to God right from the beginning, yet people are attempting to steal this oath. I think this is a battle between good and evil. We must ensure that honesty and truth have their role. This is what this country lacks at the moment—people don't want to know the truth. Instead, they choose to immerse themselves in lies.
"We hold the media responsible for working in cahoots with the leftists. We cannot sit and do nothing and let them spread lies. When this society only knows how to transmit information through lies, you will not obtain freedom. We need the truth in order to gain freedom. People must wake up, and understand what's going on. Then ask what is the truth. This is most important."
He hopes people will let go of their naive thinking and be clear on the facts. The current situation needs to change and return to the honest state that God bestowed upon us.
He said, "I don't think this is the end. I feel that we have a chance of winning. Yes, we still have other ways, absolutely."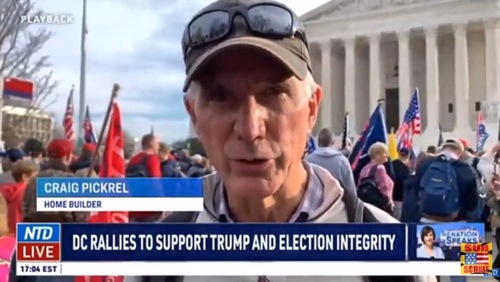 Businessman Mr. Craig Pickrel said, "We are a nation founded by God's care.
We Should First Respect God
Mr. Drew Deal from Dallas, Texas, brought his guitar with him. He said, "In the past, we ignored the evil because it was too far away. We thought it did not exist. This is our reliance and complacency. The churchgoers have finally woken up now. We are waking up from our arrogance."
He emphasized, "First of all, we should respect God. America was founded by kind and virtuous people. We should remember who are we. Let us return to who we are and resist those who try to obstruct our future. This is not about the election, it is a battle between good and evil.
"But we shouldn't come here with anger. We should repent for those who try to steal our future. They have been trying to make us deviate from our true selves. I believe this should be the theme of today's rally. Those who gather here today must have this mindset."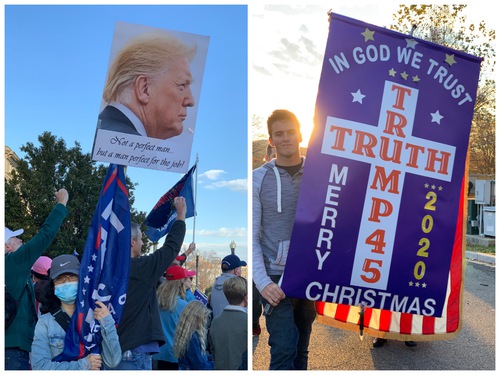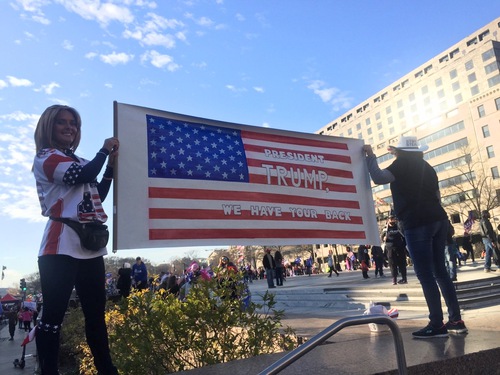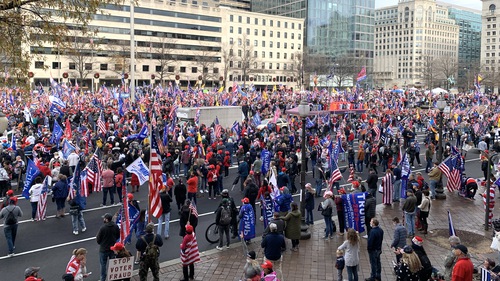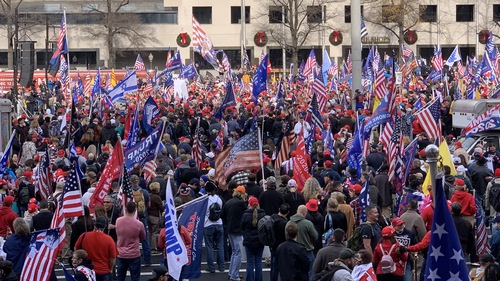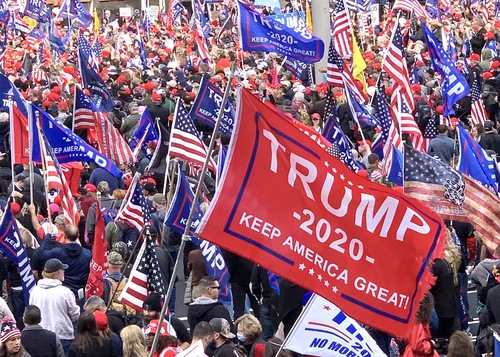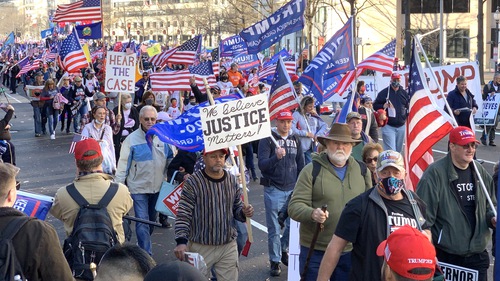 On December 12, 2020, hundreds of thousands of people from across the U.S. gathered in Washington DC to support President Trump's reelection.