Taiwan: Falun Dafa Practitioners in Hualien Wish Master Li Happy New Year
(Minghui.org) To herald in the New Year, Falun Dafa practitioners gathered in picturesque Nanbin Park in Hualien, Taiwan on December 20, 2020. They sent New Year greetings to the founder of the spiritual discipline, Mr. Li Hongzhi, expressing their respect and gratitude.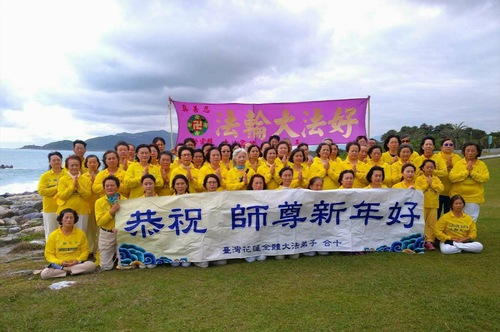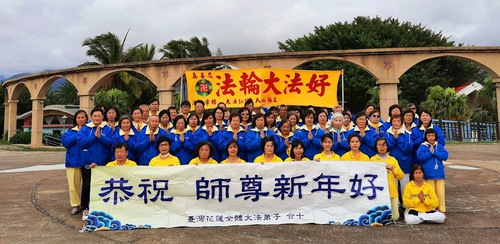 Falun Dafa practitioners in Hualien gathered in Nanbin Park to wish Master Li a Happy New Year.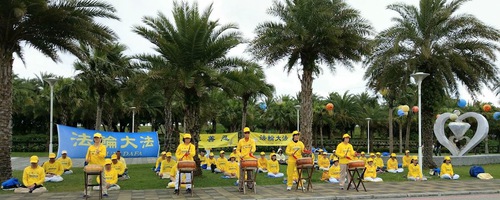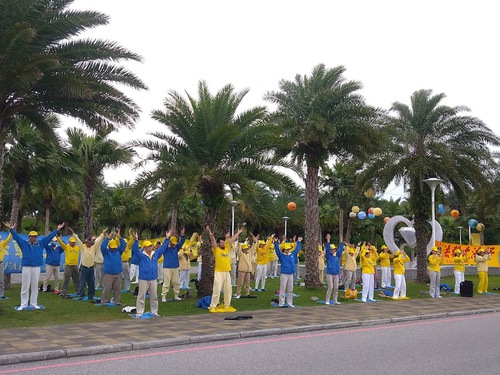 To celebrate the coming New Year, practitioners held a Chinese drum performance and did the exercises.
Faith in Dafa Helps Woman Overcome Grief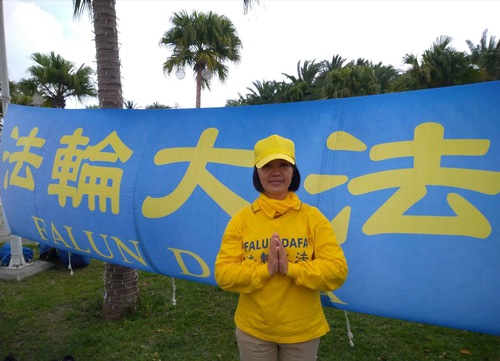 Ms. Xue thanks Master Li for helping her find the purpose in life and overcome grief after losing her husband.
Ms. Xue began to practice in 2006 after she married. She said, "The hardest thing to let go of was my emotions towards family members. Both my husband's parents broke their legs. I was kept very busy taking care of them and my children. I was exhausted. The teachings of Falun Dafa taught me that these misfortunes are caused by my karma."
In 2008, her husband became ill. She spent more time studying the teachings by listening to audio lectures and reciting Master Li's works. This helped her eliminate negative thoughts. Her husband passed away in 2017. His last words to her were, "Stay strong and let go of your emotions." She was able to cope with his death because she regarded him as a fellow practitioner and had a strong faith in Dafa.
Learning to Reflect on One's Shortcomings Is a Magic Tool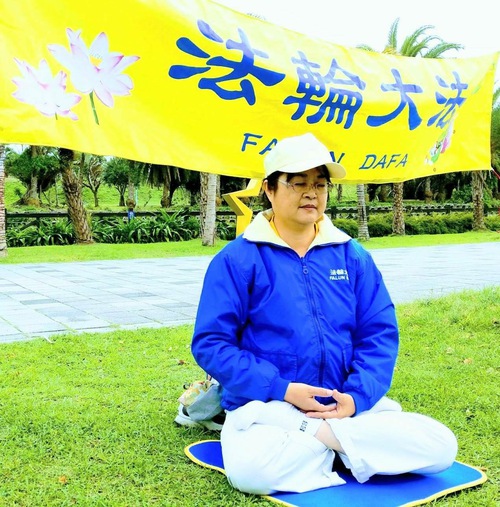 Ms. Chen strives to follow Master's teachings.
Ms. Chen started to practice in 2001and always wondered where humans came from. Since childhood, she has had many questions about life. When she was 33, a friend gave her the main book of the teachings Zhuan Falun. She finished reading the book in three days and found the answers to all her questions.
"Having practiced for two decades, the hardest thing is the testing of my moral character. Such tests suddenly come up. For example, whenever she was misunderstood or criticized by a co-worker she usually argued. She also argued with her husband. Whenever things became difficult, she asked herself: "Are you a practitioner? The basic requirement is to not retaliate when being treated unfairly. Have you done so?"
She discovered that besides resentment and having a competitive mentality, she also had a strong attachment to the good things in life. "This might appear reasonable from an ordinary person's perspective but these are things a practitioner should let go of especially pursuing fame, self-interests and emotions." She said that after making progress in cultivation, she is now able to do the exercises with a quiet mind. She realized that a practitioner should always be putting others before themselves.
"I am grateful to Master for giving me a new life. I must listen to Master, practice cultivation solidly, do the three things well and be a qualified disciple," she said.