83 Falun Gong Practitioners Die in 2020 As a Result of the Persecution of Their Faith
Dec. 26, 2020 | By a Minghui correspondent in China
(Minghui.org) According to information collected by Minghui.org, at least 83 Falun Gong practitioners died in 2020, as a result of the Chinese communist regime's persecuting them for upholding their faith.
Falun Gong, also known as Falun Dafa, is a mind-body practice based on the principles of Truthfulness, Compassion, and Forbearance. Since its introduction to the public in 1992, countless people have been drawn to its profound principles and health benefits. Fearing its ever-growing popularity, communist China launched a nationwide campaign to stamp out the practice 21 years ago.
Hundreds of thousands of practitioners have since been harassed, arrested, detained, imprisoned, and tortured. A total of 4,595 deaths have been documented by Minghui as of December 25, 2020. But due to the strict censorship of information in China, the actual number is most likely much higher.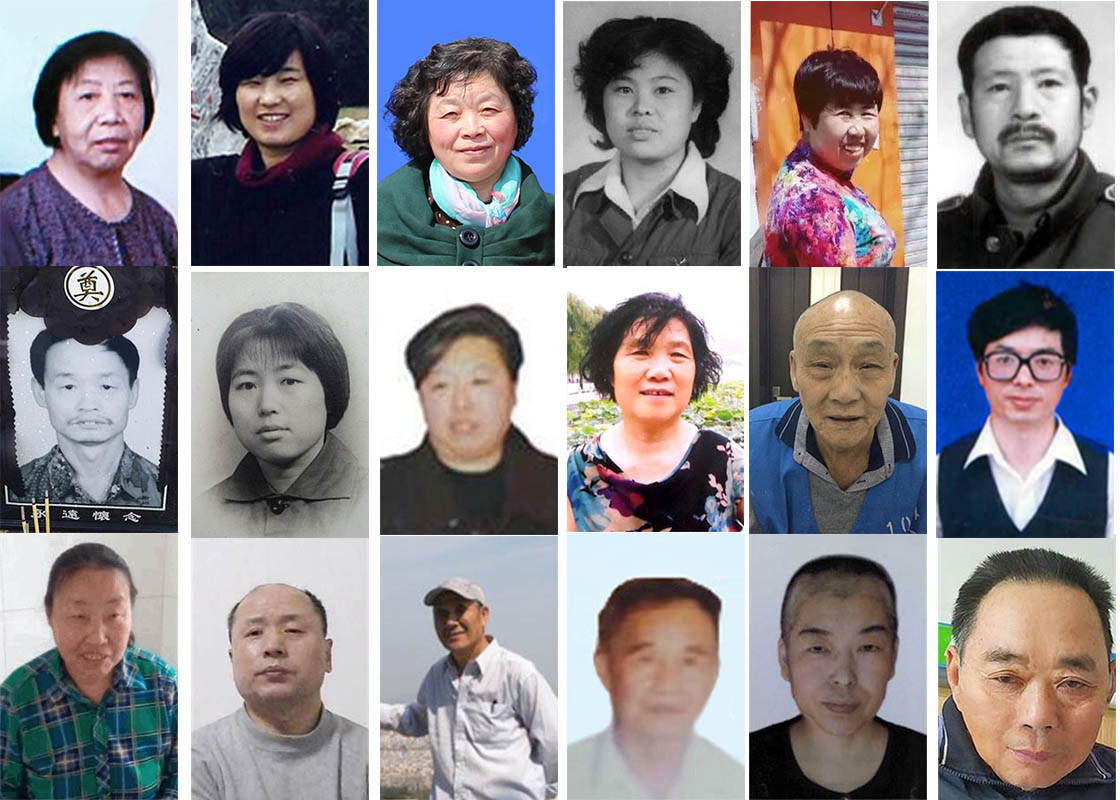 Falun Gong practitioners persecuted to death in 2020Upper row (left to right): Fu Shuqin, Zhou Xiuzhen, Zhou Shujie, Lin Guizhi, Gao Yan, Jiang QuandeMiddle row (left to right): Bian Qunlian, Zhang Ronghuan, Zhu Yan, Yu Wenze, Li Shaochen, Deng XiaomingLower row (left to right): Xiao Yongfen, Hu Lin, Yu Yongman, Li Rongfeng, Li Guojun, Liu Fating
The deceased practitioners, 45 of the 83 women, came from 20 provinces and municipalities in China. Liaoning (19), Hebei (9), Heilongjiang (8), Jilin (8), and Henan (6) provinces accounted for the most deaths.
The practitioners' ages ranged between 40 and 92, with 23 between 60 and 69.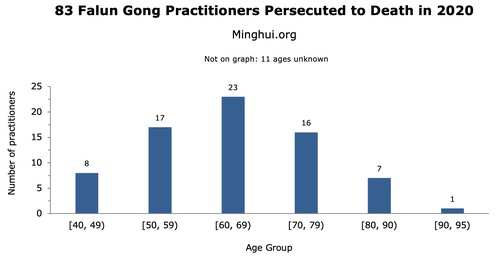 The month of May recorded the most deaths (12), followed by 10 in February.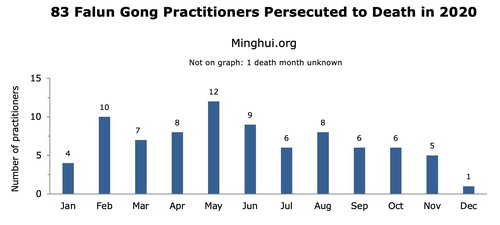 Twenty-one practitioners died in custody, including 14 in prisons, 5 in detention centers, 1 in a police station, and 1 in a village detention facility.
Ms. Li Ling of Penglai City, Shandong Province, was seized by a village official and paramilitary soldiers on June 28, 2020, after being reported for possessing Falun Gong literature. She was taken to an empty house in a mountainous area and viciously beaten and tortured. She died of her injuries on July 13.
Ms. Zhang Zhiwen of Yuzhou City, Henan Province, was arrested at home on May 13, 2020, and died four days later in police custody. The police gave no explanation for her death and had her body cremated quickly afterward.
Mr. Yu Yongman, a 65-year-old resident of Liaonyang City, Liaoning Province, died in the Liaoyang Detention Center on February 23, 2020. Officials claimed the cause of death was "a sudden illness," but an autopsy revealed a broken rib and tear injuries in his lungs.
Ms. Lan Lihua of Shenyang City, Liaoning Province, died of late-stage breast cancer on April 21, 2020, while serving 3 years and 10 months in Liaoning Province Women's Prison. Despite her family's repeated requests, the prison refused to release her on bail. Without her family's consent, the prison had her cremated on December 16, 2020.
Similar to Ms. Lan, Mr. Wang Fengchen, a teacher in Daqing City, Heilongjiang Province, died in a hospital on August 9, 2020. He kept vomiting blood in his final days and was denied medical parole. His death came six months before his four-year term was set to expire.
In addition to the torture and abuses in custody, some of the practitioners became ill after being harassed by the police and passed away shortly after. Others died after enduring long-term persecution for upholding their faith.
Ms. Xi Jiao of Shanghai was already in poor health and suffering with a mental disorder from being persecuted before when the police harassed her and ransacked her home in April 2020. The incident terrified her and she died on May 6, 2020.
Mr. Wang Shuiyong of Botou City, Hebei Province, had trouble eating and sleeping after being harassed by local government and village officials on September 10, 2020. He died from a heart attack on October 2, 2020.
Ms. Wu Guirong of Qitaihe City, Heilongjiang Province, was harassed at home on October 9, 2020, by residential committee members and ordered to sign a statement to renounce Falun Gong. When she refused to comply, they forced her son-in-law to sign it for her. Shortly after they left, the police came to harass her again. Ms. Wu was terrified and she fell into a coma after the police left. After four days of emergency treatment, she passed away on October 13 at the age of 81.
A 13-year-old boy in Suizhong County, Liaoning Province, became an orphan after his 41-year-old mother died on November 2, 2020. The boy lost his father, Mr. Fan Dezhen, when he was nine months old. Mr. Fan was beaten to death 55 days following his arrest on February 25, 2008. For the next decade, the boy's mother, Ms. Yang Xue, was unable to work and had to face constant harassment. The mental stress and difficulty making ends meet took a toll on her health and led to her premature death.
In Nong'an County, Jilin Province, Mr. Jiang Quande's two sons also grew up in fear and humiliation, as a result of the persecution of their parents' spiritual belief. When their parents were arrested, the boys had to beg for food from friends and relatives, who often turned a cold shoulder against them for fear of being implicated. Mr. Jiang, who was already very weak after suffering 11 years of torture in prison and harassment following his release, died on August 26, 2020, a month and a half after his latest arrest. Their mother, Ms. Sun Xiuying, who was arrested with Mr. Jiang on July 15, is still detained and facing prison time.
In Jilin City, Jilin Province, Ms. Zhu Yan's son and daughter were regularly forced to move from place to place due to the persecution of their mother's faith. They were once beaten and injured by the police for seeking their mother's release. After enduring repeated arrests, incarceration, 2 forced labor camp terms of a year-and-a-half each, as well as long term displacement, Ms. Zhu passed away on August 15, 2020, at the age of 57.
Below are the details of some of the deaths recorded between September and December 2020. More can be found in the related reports at the end of this article.
Full list of the 83 practitioners can be downloaded here (PDF).
Deaths in Custody
Hunan Woman Dies 17 Months into Second Prison Term
Ms. Zhang Yaqin's husband was dealt a heavy blow when Hunan Province Women's Prison called him on December 12, 2020, to say that Ms. Zhang had just passed away.
In the past 17 months after Ms. Zhang, 65, was admitted to the prison to serve time for her faith in Falun Gong, the prison had never allowed her family to visit her, with the excuse that she refused to give up Falun Gong.
Ms. Zhang, a Xiangtan City, Hunan Province, resident, was tortured in prison and became emaciated. Her family was also threatened and monitored over the years of ongoing persecution.
This was the second time that Ms. Zhang was sentenced to prison for practicing Falun Gong. While her recent ordeal remains to be investigated, it is known that during her first 3.5-year term at the same prison between 2008 and 2011, she was shocked with electric batons, deprived of sleep, forced to stand for long hours, tied up on a tiger bench, and subjected to a handcuffing torture in which she had one hand pulled over her shoulder to be cuffed with the other hand pulled up behind her back. She was also forced to do intensive labor and was injected with unknown drugs. She barely survived.
Hubei Man Dies Two Weeks after Being Imprisoned
Mr. Liu Jigang, a Wuxue City, Hubei Province resident, died two weeks after he was imprisoned for his faith in Falun Gong.
Mr. Liu, 68, was arrested at home on July 19, 2019. The police ransacked his home and confiscated his Falun Gong books and materials, one computer, and two printers. He was held in Wuxue City Detention Center before being transferred to Fanjiatai Prison on August 26, 2020, to serve a 2.5-year term.
On September 13, 2020, the prison authorities informed Mr. Liu's family that he had just passed away. His family rushed to the prison. The authorities only said that Mr. Liu died from breathing difficulties without providing any other information. They gave the family 10,000 yuan in compensation.
This was the second time that Mr. Liu was held in Fanjiatai Prison for his faith. He was previously arrested on July 25, 2008, and sentenced to three years on July 7, 2009. For refusing to cooperate with the prison's brainwashing efforts, he was beaten in June 2011 and developed facial paralysis as a result.
Fanjiatai Prison has been one of the major prisons in Hubei Province to house Falun Gong practitioners wrongfully sentenced for their faith in the past 21 years. It uses coercive brainwashing, intensive labor, and other physical abuses to torture the practitioners.
Persecution of the Elderly
78-year-old Man Suffers Mental Breakdown Due to Torture in Prison, Dies Years Later after Being Deprived of Wife's Care
Mr. Wang Dejin suffered a mental collapse after being tortured in prison for practicing Falun Gong years ago. He succumbed to his mental illness in November 2020. With his wife Ms. Du Guiying, 68, still serving time in prison, Mr. Wang passed away at home alone. He was 78.
The ordeal of Mr. Wang and his wife of Shangzhi City, Heilongjiang Province, started when local practitioners wrote an open letter to the police and 610 Office (an extralegal agency specifically created to persecute Falun Gong) in 2004, urging them not to participate in the persecution of Falun Gong.
The local police established a special task force to investigate who wrote the letter. Liang Xiaoming, then Domestic Security Division chief, said, "As long as we arrest one person, we can blame him for everything."
Mr. Wang and his wife became the police's top target. In the middle of the night on February 16, 2004, the police broke into the couple's home and arrested them. They searched the residence and also tore up their quilt looking for any "evidence."
On May 20, 2004, both Mr. Wang and Ms. Du were secretly sentenced to four years with no legal representation.
As a result of the torture in prison, Mr. Wang suffered a mental breakdown and lost the ability to take care of himself. He lost his sense of hunger and fullness. He became incontinent. When he went out, he couldn't find his way home.
Despite this, the police ransacked their home again on July 24, 2015, during a group arrest of local practitioners. He and his wife were taken to the police station for interrogation.
The police harassed the couple again in late 2016 and arrested Ms. Du a few years later for handing out Falun Gong materials. She was sentenced to a four-year prison term by the Acheng City Court in July 2019.
Mr. Wang's health further deteriorated without his wife's care and he passed away a year later.
85-Year-Old Man Second to Die after Group Arrest
Mr. Ren Chuntian, a retired bank employee, and his wife, Ms. Chen Shuhui, 80, a retired pharmaceutical company employee, were arrested at home on September 19, 2019. The police ransacked their home and took them to the local police station for interrogation. A non-practitioner who was visiting them when the police arrived was also arrested and interrogated.
Eleven more local practitioners were arrested that same day. Mr. Xie Nanfang passed away on February 28, 2020, while being held in the Yinchuan City Detention Center. He was 64.
Although Mr. Ren and Ms. Chen of Yongning County, Ningxia Province, were soon released on bail due to their advanced age, the authorities kept harassing them at home or over the phone. Mr. Ren became depressed and lost his appetite. He took a fall in May 2020 and died weeks later, on June 2, 2020. He was 85.
81-year-old Ailing Man Imprisoned, Dies Two Months after Release
Mr. Zhu Zhihe of Chongqing was arrested in early February 2018 after being reported for distributing Falun Gong materials. The police accused him of "causing damage to society" for having Falun Gong materials at home and submitted his case to the Jiangbei District Procuratorate.
After both the Jiangbei District and Changshou District Procuratorates twice returned Mr. Zhu's case for insufficient evidence, the police pressured the prosecutor at the Jiangbei District Procuratorate to indict him.
Mr. Zhu was tried in the Jiangbei District Court on October 10, 2019. Upon returning home, he fell sick and was bedridden for several days. His hearing drastically worsened and his speech became slurred.
The police returned to his home on December 7, 2019, and attempted to take him to the Jiangbei District Court for another hearing. Mr. Zhu and his family refused to cooperate. Police officer Che Yao warned him, "If you object to the [persecution], you can go ahead and sue me."
Three days later, Che returned with three officers and arrested Mr. Zhu.
Mr. Zhu returned home at around 10:00 p.m. that day. He told his family that he had been sentenced to 1.5 years in prison and fined 3,000 yuan. The judge allowed him to serve his time outside of prison.
Mr. Zhu suffered a serious medical condition in early March 2020 and was hospitalized for two weeks, one of those weeks in the intensive care unit.
Before he had completely recovered, officer Che took Mr. Zhu to the Jiangbei District Court on May 7, 2020. Mr. Zhu's family learned the next day that the judge had reversed his decision and ordered Mr. Zhu to serve time in Yongchuan Prison.
When Mr. Zhu was released on September 6, 2020, he had severe memory loss. He kept doing the same thing and his speech was even more slurred and disorganized.
The authorities also had his pension suspended, citing a policy that Falun Gong practitioners imprisoned for their faith aren't entitled to any retirement benefits.
For the next two months, the police and residential committee members kept harassing Mr. Zhu. The mental pressure caused his health to further deteriorate. He passed away on November 11, 2020, at the age of 81.
Deaths Due to Long Term Persecution
Targeted in a High-Profile Case, Hebei Woman Dies at 55
Ms. Zhang Jianzhi, a Zhengding County, Hebei Province, resident, died on June 4, 2020, due to the persecution of her faith in Falun Gong. She was 55.
Ms. Zhang's ordeal started when a local practitioner, Mr. Li Lankui, was arrested in June 2012, before China's then vice-chairman Xi Jinping invited then Iowa Governor Terry Branstad to visit Daizhai Village in Zhengding to discuss potential trade and investment opportunities.
Seven hundred locals signed a petition demanding Mr. Li's release, only to see local villagers harassed en masse by authorities as a result. Sixteen practitioners, including Ms. Zhang, and their family members were arrested. One of the practitioners, Ms. Yang Yinqiao, tragically fell to her death during the arrest.
Ms. Zhang was arrested and had her home ransacked on August 7, 2012. In a secret detention facility, the police bound her to an interrogation chair, covered her head with a black hood, and cuffed her hands behind her back. The officers beat her all over with a stick, slapped her in the face, and shocked her with electric batons. They threatened her with the safety of her parents and children in attempts to pressure her to provide information about the organizers of the petition drive.
Ms. Zhang's health deteriorated as a result of the torture. When she was taken to a forced labor camp on August 29, she failed the physical exam and was released. Fearing being implicated in the persecution, Ms. Zhang's family strongly opposed her practice of Falun Gong.
Ms. Zhang was arrested two more times, on May 31, 2013, and in October 2019 for talking to people about Falun Gong. She was threatened and pressured to write a statement to renounce Falun Gong.
Starting in late 2019, Ms. Zhang's health deteriorated quickly. By April 2020, her weight had dropped from nearly 200 lbs to less than 110 lbs. She was hospitalized twice but passed away a few days after she was discharged.
Changchun Engineer Dies after 18 Years of Persecution and Displacement
Mr. Wei Chunyu, a mechanical engineer and a resident of Changchun, Jilin Province, passed away on April 14, 2020, 18 years after he was forced to become homeless for his faith in Falun Gong. He was 56.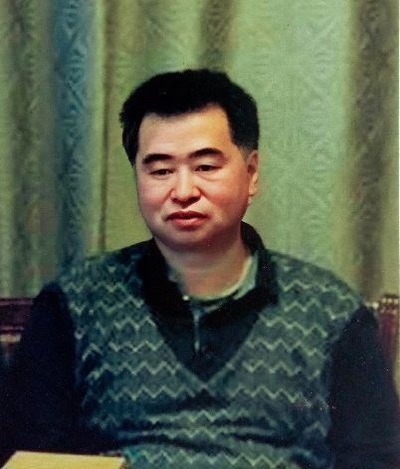 Mr. Wei Chunyu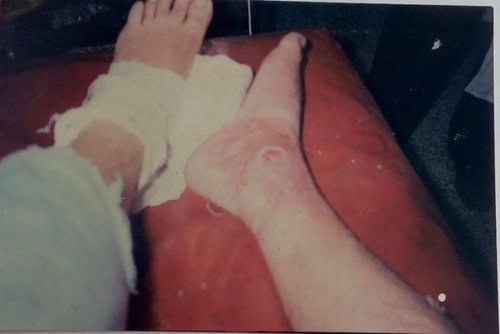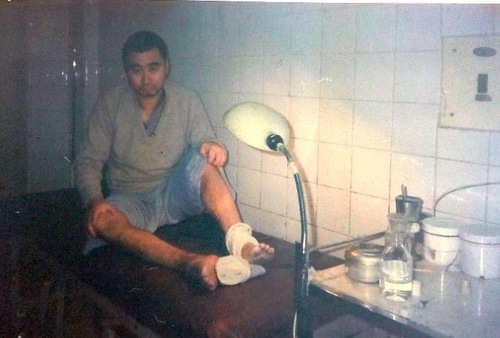 Mr. Wei's foot was severely injured when he was tortured in custody in October 2000.
Mr. Wei was arrested five times and tortured for practicing Falun Gong. On September 2, 2001, he escaped from the brainwashing center and was forced to become homeless to avoid further persecution. Due to his faith, his wife divorced him and his parents passed away under extreme pressure from the CCP. Mr. Wei was not able to see his son for the last time due to the outbreak of the coronavirus.
Mr. Wei left behind a few of his clothes, his ID card that was issued less than two years ago, and a few blurred photos taken 20 years ago after he was badly tortured at the Changchun No. 2 Detention Center.
Among his belongings were two important documents. One of them was an 11-page criminal complaint that Mr. Wei had filed against Jiang Zemin, the former Chinese dictator who ordered the persecution of Falun Gong. Another document was his application to return to work, dated January 8, 2018.
In the second document, he wrote how he was forced to become homeless in 2001 after escaping from the brainwashing center and that he had been thinking of his coworkers, hoping that they would be able to understand Falun Gong and not be deceived by the CCP's lies.
In 2018, Mr. Wei went back to Changchun and transferred the title of his home to his son, who has been without his father since he was 12. He also went to his former workplace to submit his application but was told by the company to wait for news. Mr. Wei never heard from them.
Twice Jailed Man Dies at 42 after Suffering Brutal Torture and Mental Collapse in Prison
Mr. Ge Zhijun returned home from prison in February 2019. He died less than two years later, on November 29, 2020, at age 42. He is survived by his wife, a nine-year-old daughter, and a paralyzed father.
In the past 21 years of persecution, Mr. Ge of Zhuozhou City, Hebei Province, was imprisoned twice for a total of 12 years and subjected to all kinds of torture for refusing to renounce his belief, which he credited for curing his tuberculosis that bothered him since he was 8.
Mr. Ge was first arrested in December 1999 for appealing for Falun Gong in Beijing. After he was released, the local police never stopped harassing him. He was later forced to live away from home to avoid being taken to a brainwashing center, only to be arrested again in 2001.
The Zhuozhou police tried to extort 20,000 yuan from his family. Because his family couldn't afford it, the authorities forced his father to retire early. His two sisters weren't allowed to work for six months, and their husbands for three months.
Mr. Ge was later sentenced to eight years in prison and spent his golden years behind bars. By the time he was released in 2009 at the age of 31, half of his hair had turned grey, he'd lost six teeth, his memory had declined, and he had developed hypertension and heart and liver problems.
He also learned that, while he was in prison, his parents were punished because of him. His father became paralyzed after losing his job. His mother, who wasn't a practitioner, was detained for 15 days, handcuffed to a rail, and beaten. She ended up having to beg for a living. Due to the tremendous financial and mental stress, she died in February 2005, in her 50s.
Mr. Ge was arrested on February 26, 2014. He was later released because his health was so poor as a result of eight years of torture. The doctor said that he could die at any time of high blood pressure. The police confiscated 20,000 yuan in cash from him, which was a serious blow for his family. His wife had to take care of his paralyzed father and a young child and couldn't get a job.
Mr. Ge was given another four years in prison on February 11, 2015, and taken back into custody despite his life-threatening condition.
When he was released on February 5, 2019, he was mentally disoriented and could not speak logically. He often locked himself in his room. He couldn't hold a job or live independently. His daughter was 8 years old and his condition terrified her. When he died, she was only 9.
Sichuan Man in Serious Condition after Serving Prison Term, Dies after Continued Police Harassment
Mr. Jiang Libin, a Beichuan County, Sichuan Province, resident, had generalized edema and was very weak after he finished serving a three-year prison term in 2018 for practicing Falun Gong, but the police continued to harass him frequently during the next two years. He suddenly vomited blood on the evening of October 13, 2020, and passed away hours later. He was 59 years old.
Mr. Jiang took up Falun Gong in June 1999, and he credited the practice for curing his dizzy spells and nosebleeds. His wife, Ms. Xie Fufen, also began to practice Falun Gong at his recommendation in 2005, and her gastric ulcer, gallstones, and mastitis soon disappeared.
To support their family, they opened a rice noodle shop but were soon forced to close it due to police harassment.
The couple was arrested on September 30, 2009, and their home was ransacked. Their computer, printer, DVD burner, Falun Gong books, and materials, as well as the money they had earned from the noodle shop, were confiscated.
Mr. Jiang was sentenced to a three-year term with five years of probation after 197 days of detention. Ms. Xie was detained for 30 days and released on bail.
The police harassed Mr. Jiang on August 17, 2010, and took him to a brainwashing center located in a senior center. He was held there for 20 days and was monitored around the clock by two staff members. The authorities also attempted to arrest Ms. Xie, but relented after learning that her elderly mother had a fall and she had to stay home to take care of her.
After the police harassed the couple again in October 2011, they were forced to live away from home to avoid harassment.
When Mr. Jiang did not report to the police on time, he was put on the wanted list and taken back into custody on March 30, 2015. His arrest was approved the same day.
On April 13, 2015, when his family went to the Beichuan County Detention Center to visit Mr. Jiang, they were told that he had been transferred to Jiazhou Prison on April 9.
His family then found Gao Guojian, the presiding judge in charge of Mr. Jiang's case. Gao said that they had issued Mr. Jiang's arrest warrant due to his failure to report to the police. They were now executing his previous verdict of three years given almost a decade ago. When his family tried to clarify the facts about Falun Gong to judge Gao, he said, "I don't want to hear it."
Individual death cases:
78-year-old Woman Dies after Repeated Harassment, Arrest and Detention for Her Faith
Retired Military Officer Dies in the Persecution of His Faith
75-year-old Woman Dies after Two Decades of Persecution for Her Faith
Retired Doctor Dies After Years of Imprisonment, Extortion and Harassment
Liaoning Man Wrongfully Sentenced for His Faith, Dies One Year After Release
Former Teacher Dies After Suffering Decades of Persecution for His Faith
Jiangsu Woman Dies after Enduring Six Arrests and Multiple Harassments for Her Faith
Hubei Woman Dies in Custody After Over Two Years of Incommunicado Detention
Elderly Woman Arrested Together with Daughter for Their Faith, Passes Away Months Later
Hubei Woman Dies after Years of Torture and Harassment for Her Faith
Hebei Man Dies Six Months after Arrest for His Faith
Maoming City, Guangdong Province: Six Harassed for Their Faith, Two Pass Away
Jilin Man Dies as a Result of Brutal Torture and Police Intimidation for Upholding His Faith
Former Civil Engineer Passes Away After Years of Incarceration and Harassment
Related summary reports:
Eleven Falun Gong Practitioners Die in the Persecution of Their Faith in July and August 2020
40 Falun Gong Practitioners Persecuted to Death for Their Faith in First Half of 2020
Persecution of Falun Gong Claims Another Seventeen Lives in First Quarter of 2020
Twenty-seven Falun Gong Practitioners Die Due to Persecution Between January and May 2020