U.K. Parliament Members Express Concern About Arbitrary Arrest of Falun Gong Practitioner in China
Dec. 27, 2020 | By a Falun Gong practitioner in the U.K.
(Minghui.org) Several U.K. Parliament members expressed concern about and condemned the arbitrary arrest and detention of a U.K. resident's mother for her faith in Falun Gong.
Falun Gong, also known as Falun Dafa, is an ancient spiritual and meditation discipline that has been persecuted by the Chinese communist regime since 1999.
Ms. Wang Meihong, a Harbin City, Heilongjiang Province resident, was arrested by officers from the Haxi Police Station on November 23, 2020, and has been detained since.
According to her daughter, Ms. Yu Minghui, a fashion designer who currently resides in the U.K., the police "[took] everything away from her, including a computer, a USB [drive], and her keys and other things."
Ms. Yu said in an interview with NTD that she called the police station that arrested her mother, but "they didn't give me any clear information or any clear reasons. They just told me something like, you don't talk with a policeman about law or regulations."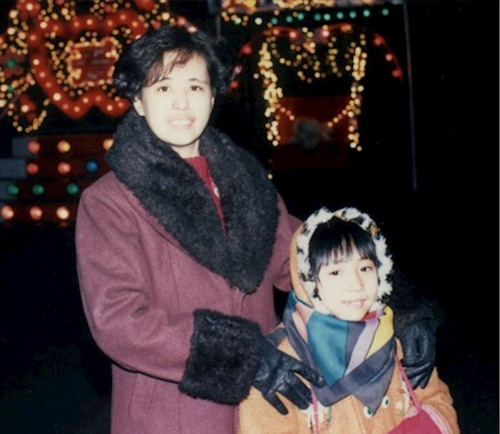 Ms. Wang Meihong and her daughter Ms. Yu Minghui before the persecution began in 1999
Prior to Ms. Wang's most recent arrest, the senior engineer at Heilongjiang Geological Exploration Institute has been repeatedly arrested and detained for her faith. She was sentenced to 11 years in prison in 2003 and tortured relentlessly. Her husband, Mr. Yu Zonghai, a librarian, was sentenced to 15 years in 2001 for hanging up a banner that said "Falun Dafa is good."
U.K. Parliament member Jim Shannon said he was shocked to hear about Ms. Wang's arrest. He said Ms. Wang's ordeal and what her family has gone through offers a glimpse into the brutal persecution campaign against Falun Gong practitioners in China in the past two decades.
Another Parliament member, Rosie Duffield, said she was saddened to hear the family's story and that she understood it's a very difficult time for them. She has taken up the case with the U.K. Foreign Secretary.
In response to the question about Ms. Wang's arrest brought up by the House of the Lords on December 7, the Foreign, Commonwealth and Development Office replied on December 21 that "We are aware of the reported abduction of Meihong Wang in Harbin, China. We remain deeply concerned about the persecution of Christians, Muslims, Buddhists, Falun Gong practitioners and others on the grounds of their religion or belief in China. The freedom to practise, change or share ones faith or belief without discrimination or violent opposition is a human right that all people should enjoy. We regularly raise our concerns about the human rights situation with the Chinese authorities, and will continue to do so."
Related reports:
After 11 Years of Imprisonment for Upholding Her Faith, Engineer Arrested Again
Artist Recounts Persecution During 15-Year Imprisonment, Including Being Waterboarded for Over 10 Hours