Taipei, Taiwan: Young Practitioners Inspired at 3-Day Falun Dafa Camp
February 26, 2020 | By Minghui correspondent Huang Yusheng
(Minghui.org) The 2020 Taiwan Falun Dafa Young Practitioners Camp was held at National Taiwan Normal University from February 1-3, 2020. One hundred forty young practitioners studied the Falun Dafa teachings, did the exercises together, exchanged their cultivation experiences, and clarified the facts about Falun Dafa and the persecution to tourists.
Mr. Guo Jiaming, the camp coordinator, said the camp aimed to provide a forum for young practitioners to exchange their cultivation experiences, encourage each other to advance diligently in their practice of Falun Dafa, and talk about how they cultivated themselves by following Falun Dafa's principles of Truthfulness-Compassion-Forbearance.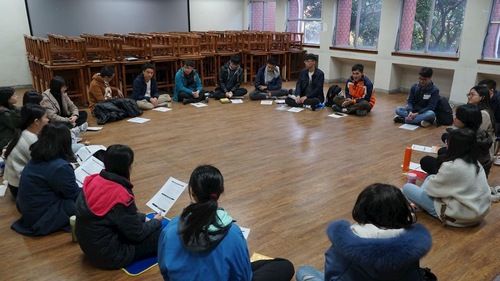 Practitioners study the Falun Dafa teachings.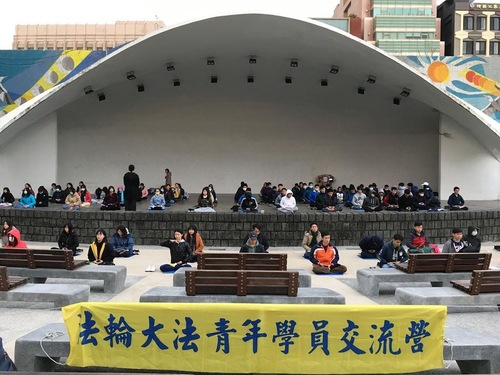 Group exercise in 228 Peace Memorial Park
"Cultivation Has Laid a Great Foundation for My Truth Clarification and Academic Studies"
Li Yanlin, a student at National Chengchi University, shared his experience of overcoming his attachment to comfort. "Cultivation has laid a great foundation for my truth clarification and academic studies," he said.
After attending an experience sharing conference last November, Yanlin realized that he should participate in group study and exercises. He now gets up early every morning no matter how cold or tired he is. He reports that after doing the exercises and studying a lecture of Zhuan Falun, he feels clear-minded.
His diligent cultivation has helped him eliminate his attachment to comfort and to do better in school. "Cultivation gives me a calm and sharp mind. When I didn't cultivate myself well, I was confused no matter how much I read. When I cultivated myself well, I could see clearly the key points of what I was studying."
Yanlin also found that he was able to do a better job of truth-clarification after he became diligent in cultivation. He helped promote the screening of the documentary "Transcending Terror" and told people about the persecution of Falun Dafa practitioners by the Chinese Communist Party (CCP).
By looking within, Yanlin also gained a better understanding of relationships between men and women. He said, "As cultivators, we should treat the opposite gender appropriately and politely."
Prioritizing Cultivation
Xu Chenfeng, a graduate student at National Tsing Hua University, said he slacked off in Fa-study when his schoolwork increased. When he became busy he couldn't find time to study the Fa. After talking with a fellow practitioner, he realized he couldn't continue in this way.
"Since we cultivate ourselves in everyday life, the troubles we run into are connected to our cultivation. Upgrading our level can only be accomplished through overcoming difficulties." Chenfeng reminded himself that he should stay on the path of cultivation no matter how busy he became. He persisted in studying the Fa for half an hour before bedtime no matter how late it was. He immediately noticed the difference and said, "I no longer feel as stressed or as attached to my grades as before. I just need to do my best and stop thinking about my grades."
Chenfeng also overcame his fear of talking about Falun Dafa to his classmates from China. He used to worry that they wouldn't listen because they had been heavily influenced by the CCP. After chatting with them, he found that many of them didn't really know why the CCP persecuted Falun Dafa. Most of them accepted what Chenfeng said.
Fortunate to Practice Falun Dafa
Zuo Anxing, who attends National Open University, has been practicing Dafa with her parents since she was a child. She talked about how she applied the principles that she has learned and to look within, and she was able to let go of her attachments. She feels very fortunate to practice and has been able to find solutions to problems in her everyday life by following Dafa's principles. She often shares her understandings with her friends who struggle with grievances.
Anxing feels that young people in today's society are easily pulled in by the media, which is filled with lust and desire. She admitted that she watched too many soap operas and developed warped notions about love. After attending the camp, she identified many of these notions. "As practitioners we strive to eliminate jealousy, but I've intentionally aroused others' jealousy before. What I did was terribly wrong." Anxing was grateful that the pure climate of cultivation and intensive Fa-study at the camp helped point out her notions.
Truth Clarification at Tourist Sites
The young practitioners went to several tourist attractions around Taipei where they did the exercises, talked to people about Falun Dafa, and collected signatures on a petition that calls for an end to the persecution. Their enthusiasm touched many peoples' hearts.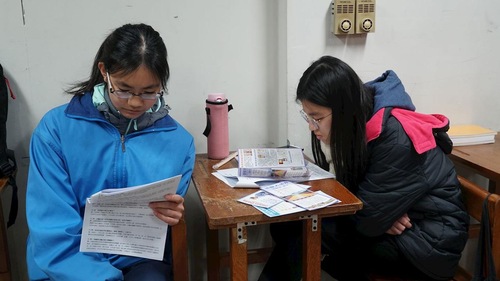 Young practitioners familiarize themselves with the truth-clarification materials.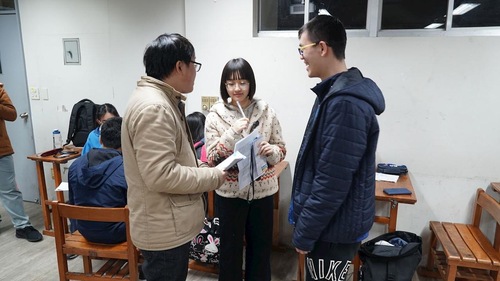 Preparing to go out and talk to people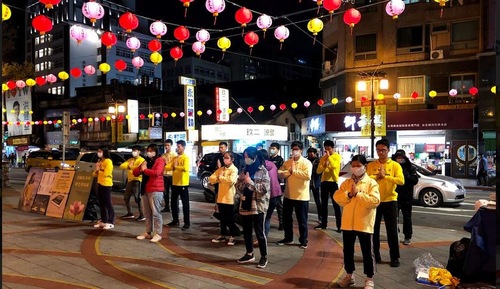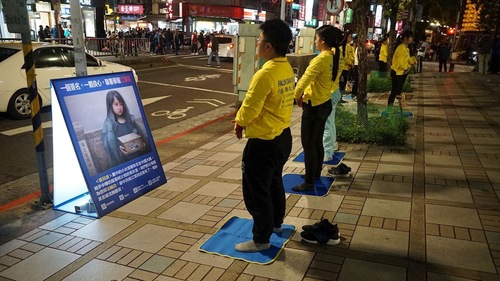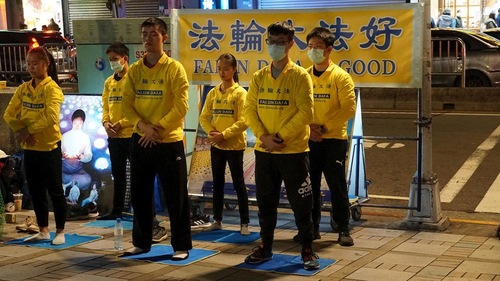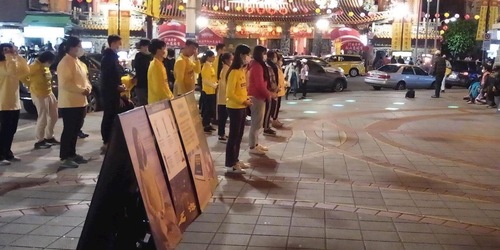 Group exercise and introductory activities at tourist sites
Yanlin helped collect signatures at Shi-men Ting, a busy shopping district in Taipei. He talked to everyone who passed by. He remained calm no matter how people responded. One tourist said that as a Christian, he couldn't sign to support another belief. Yanlin explained how the CCP persecutes all people of faith, including house Christians, Buddhists, Taoists, and others. The tourist then signed the petition and said that he sympathized with Falun Dafa practitioners.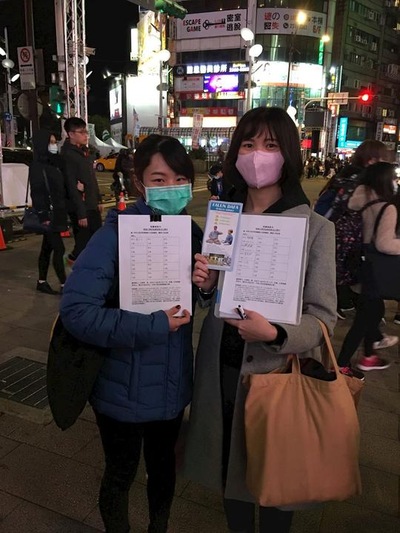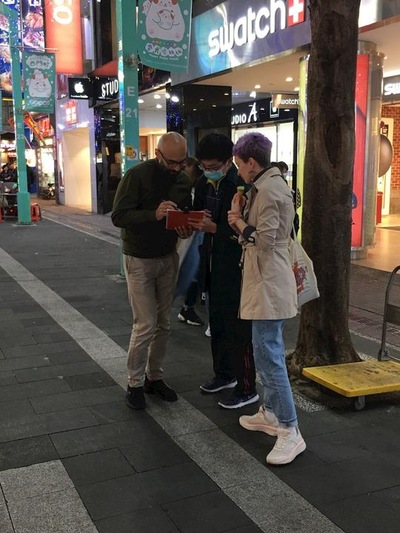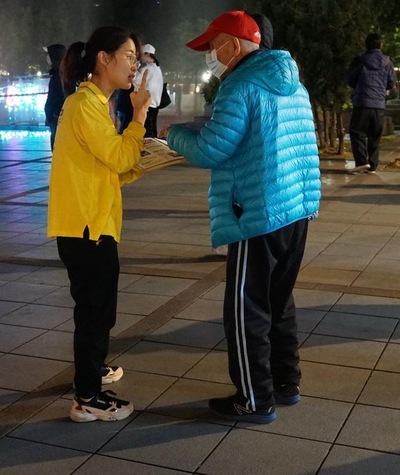 Collecting signatures to condemn the persecution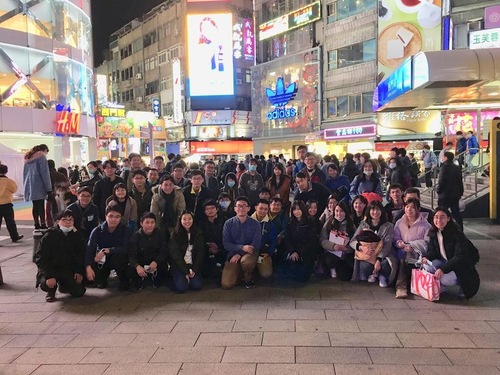 The young people enjoy a group picture at Shi-men Ting.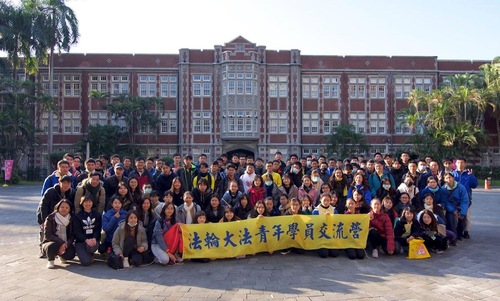 The 2020 Taiwan Falun Dafa Young Practitioners Camp was a resounding success.