Falun Gong Practitioners in Cyprus Raise Awareness about the Persecution
February 27, 2020 | By practitioners in Cyprus
(Minghui.org) On Sunday, February 16 practitioners from Cyprus held a Falun Dafa activity in Larnaca, the oldest city of Cyprus, on the beautiful promenade next to the historic medieval fort.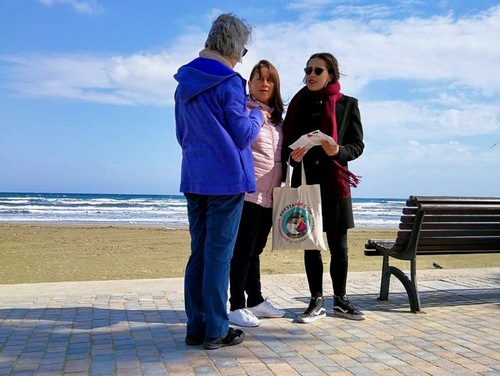 The two young women in the picture were shocked at the brutal persecution of Falun Gong in China, and listened attentively to the local Falun Gong practitioner.
Six practitioners performed the peaceful Falun Dafa exercises while two practitioners talked to the people who were interested in learning more about the practice and the persecution in China.
A young British man and project manager who travels often for his business already knew about Falun Gong. He said that he knew Falun Gong practitioners as kind people who are wrongly persecuted in China. He also wanted to learn more about the Chinese regime's forced organ harvesting of prisoners of conscience. He said to the volunteer, "I've also heard that some people who were in a hurry to get an organ were rushing to China and the organs of Falun Gong practitioners were selected because they are healthy."
A practitioner told him that there have been resolutions passed by the American Congress and the European Parliament, urging the CCP to stop the forced organ harvesting. Also, independent investigators David Kilgour and David Matas have conducted extensive research, with undeniable facts about the ongoing crime of organ harvesting. The practitioner referenced their book, Bloody Harvest, and suggested that the man read it to learn more about the situation.
After listening attentively, the young man said, "The Chinese government are like zombies. They want to stay there forever!" He also said he believes that things are going to change and the important part is not whether the persecution will stop, but when. He said it is important to end it sooner, and save people from torment. He finally said, "I hope it ends soon. Thank you. From this conversation I gained some insights about my life as well."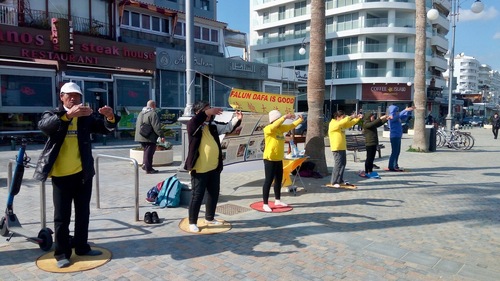 Practitioners perform the second exercise, "Falun Standing Stance," on the Larnaca promenade, on Sunday February 16, 2020.
A Cypriot man stopped to talk and said he believes in the supernormal abilities of the human body. He said there were people in ancient China who could see with their third eye. He added that the Chinese culture has a lot of wisdom but now Chinese people don't appreciate their tradition. He said he already knows all the bad things that the Uighurs are going through under the Chinese regime. He added that he believes that the current virus is a punishment from Heaven.
Before leaving, he said, "I pray for all people, and for those who do bad things to us. We should pray for them because that way we can help them."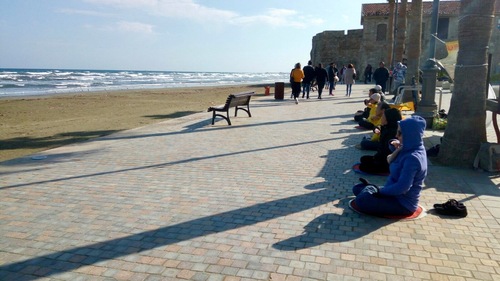 Performing the Falun Dafa sitting meditation.
Background
Falun Gong, also called Falun Dafa, is an ancient cultivation method that has spread from China to all around the word. Zhuan Falun, the main book of Falun Dafa, has been translated in over 40 languages.
Apart from the five exercises, Falun Dafa has a mind improvement component, which can be summarized in three words: Truthfulness, Compassion, and Forbearance.
Falun Gong has been persecuted in China since 1999, when leading secretary of the Chinese Communist Party (CCP) Jiang Zemin, launched a brutal persecution. Jiang felt threatened of the large number of people freely practicing this peaceful meditation practice. Even today, Falun Gong practitioners are the most severely persecuted group of people in China.