Taiwan: Tourists from Around the World Welcome Information about Falun Dafa
February 09, 2020 | By a Falun Dafa practitioner in Taiwan
(Minghui.org) Every weekend, Falun Dafa practitioners gather outside the Sun Yat-Sen Memorial Hall in Taipei to raise awareness of the ongoing persecution of the spiritual practice in China. On February 2, practitioners set up posters and talked to visitors from many countries about the persecution. Many tourists encouraged the practitioners' efforts and said they hoped the persecution would end soon.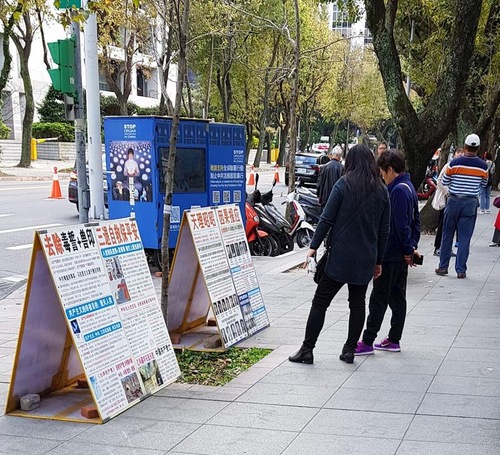 Posters outside Sun Yat-Sen Memorial Hall with information about the ongoing persecution of Falun Dafa in China.
Hongkonger Hopes Falun Dafa Posters Will Be Seen All Over China
"I support Falun Dafa!" a man from Hong Kong shouted as soon as he spotted the practitioners. "You've resisted unspeakable pressure from the CCP and have contributed to society's greater good for a long time."
He also told them, "I admire practitioners' faith! Everyone knows that you uphold the values of justice and conscience!" 
After carefully reading the posters, he said, "I hope the day comes when posters and information about Falun Dafa are on every corner in China!" 
Breaking Through Intimidation
A young man from England stopped to read the posters but told a practitioner not to approach him. He said, "I was told that if I talked to practitioners, a camera would record me." He explained that he had been stationed in Shanghai for a long time and was in Taiwan on vacation.
A practitioner explained that what he had been told was the Chinese Communist Party's (CCP) propaganda, which was meant to prevent the Chinese people from hearing about the persecution when they travel overseas.
The young man relaxed and chatted with the practitioner for quite a while. Before he left, he told the practitioner, "I believe the CCP is intimidating people!"
Hoping the Persecution Would End Soon
A tourist from Finland was shocked upon learning that the persecution has gone on for over 20 years. "I feel sorry. You have suffered for a long time, and I wish the situation would change as soon as possible," he said
Teaching Future Generations Not to Be Misguided by the CCP
A teacher from Canada told a practitioner that he knew about Falun Dafa. "In my 6th grade curriculum I tell my students about the CCP's systemic harvesting of organs from living Falun Dafa practitioners," he said.
"Human rights and the respect for human lives are universal values. The CCP completely violates these basic values and refuses to acknowledge their crimes. It's my obligation to teach the children not to be misguided by the CCP's twisted values."
Compassion and Persistence Works
A man who works at a multinational technology company told the practitioners that he knew about the persecution quite well. "I am disgusted and terrified by the CCP's brainwashing schemes," he said. "Many of my coworkers from China have studied and lived in the U.S. for a long time. But they still believe in the CCP's doctrines. You have been doing a wonderful job in changing their minds with your compassion and persistence."
"Keep Up the Good Work!"
A businessman moved his company back to Taiwan three years ago because of the declining economy in China. He said that he often tells his friends that practitioners are rational because they protest the CCP but not China.
Before he left, he gave the practitioners a cheer and told them to "keep up the good work!"