The Chinese Communist Party's Lies and Propaganda
March 24, 2020 | By Lei Ting
(Minghui.org) On January 1, 2020, China's state-owned Xinhua reported that legal action had been taken against 8 people for "spreading rumors" related to "Wuhan pneumonia." It also warned that anyone who followed suit would face harsh consequences.
Xinhua did not explain that these 8 people were all doctors in Wuhan, who shared information based on two confirmed coronavirus cases in Wuhan Central Hospital.
Nearly three months have passed, and the pandemic has now spread to over 170 countries and territories, infecting at least 240,000 people.
Xinhua continues to fuel falsified information.
For example, after China's Foreign Ministry spokesman Zhao Lijian claimed the virus came from the U.S. military, U.S. Secretary of State Mike Pompeo called the director of China's Office of Foreign Affairs, Yang Jiechi, on March 16, 2020, urging Beijing to stop spreading the rumor. Xinhua then emphasized that Yang had issued a "stern warning to the United States that any scheme to smear China will be doomed to fail." An editorial from Xinhua on March 17 stated, "The U.S. side should immediately correct its wrongful behaviors … before it is too late."
This is just one example of how China's mouthpiece fabricated and spread disinformation. Besides Xinhua, countless Chinese Communist Party (CCP)-controlled news outlets, websites, social media, and internet commentators also keep propagating lies day after day, year after year.
In addition to producing misleading information inside China, China's propaganda machine also widely spreads falsified information overseas. "Beijing is working very hard to create an alternative universe of information," reported Quartz in an August 21, 2019 article titled "China's propaganda machine is spending over $1 million to buy influence on foreign social media."
Formalism
The ongoing pandemic has given the Chinese people an opportunity to understand how the CCP covered up the virus, from downplaying the severity of the disease in the beginning to suppressing opinions as the pandemic unfolded.
As China's Vice Premier Sun Chunlan visited Wuhan on March 5, 2020, neighborhood administrators pretended to be volunteers delivering vegetables and meat to local residents. Quite a few residents called out, "Fake! Fake!" "It's all fake!" "Formalism!"
Formalism is "a term that has [been] employed frequently recently to criticize ineffective measures taken by government representatives for the sake of appearances," explained The Guardian in an article on March 6 with the title "'Fake, Fake': senior Chinese leader heckled by residents on visit to coronavirus city."
For Chinese, the term "formalism" means covering things up or making up data, at all costs, to please higher officials. During the coronavirus outbreak, its manifestations included the initial cover-up, subsequent manipulation of data, and current buttering up of top CCP leaders.
Anyone who refuses to do so is met with consequences. After Ai Fen, director of the Emergency Department in Wuhan Hospital, identified two coronavirus cases on December 30, 2019, she was reprimanded harshly by officials for "ignoring Wuhan's achievement." She was labeled an "enemy of Wuhan's stability" and a "prime culprit undermining Wuhan's development." Ai later said it was the cruelest criticism she had ever received.
The Only Mission: Protecting the Party's Interests
Zeng Guang, chief epidemiologist for the Chinese Center for Disease Control and Prevention (CCDC), told the Global Times that CCP officials made decisions based on politics, "social stability," economics, and other factors, and that the opinion of scientific experts was only "one of the factors contributing to the decision." This explains the CCP's epidemic control strategies. That is, politics takes the highest priority, followed by stability and economy. Human life, on the other hand, appears to have little importance.
When joining the CCP, everyone has to vow to devote himself or herself to the Party. In the oath, one pledges to "...strictly observe Party discipline, guard Party secrets, be loyal to the Party...fight for communism throughout my life...and never betray the Party." Such an ideology permeates education, media, and almost every corner of Chinese society.
Tu Long, a millennial in Beijing, went to the top journalism school in China, only to find his dream shattered. "My school aimed to cultivate those who help control public opinions. More than once, I heard my teachers bragging about how they managed to control public opinions," he said in an interview with Voice of America (VOA).
Tu said the coronavirus pandemic totally changed him. One of his classmates tried to seek help online after his mother contracted the virus and couldn't find a hospital bed. "Immediately the classmate was attacked by a group of 'little pinky,' or fanatical Chinese nationalists, asking him to delete the message and labeling him a person 'being controlled by foreign powers' for suggesting the nation could not care for all its people," reported VOA on March 14, 2020, in an article titled "'I Have the Obligation to Speak for the Dead'."
"To be honest, what struck me the most is not the epidemic itself, but this test of humanity," added Tu.
Li Wenliang was one of the 8 doctors in Wuhan disciplined by officials for raising awareness of the coronavirus outbreak. As of March 6, 2020, over 3,000 healthcare workers had been infected. At least four doctors from Wuhan Central Hospital had died of the disease, including Li.
Even after the CCDC declared human-to-human transmission on January 20 and Wuhan was placed on lockdown three days later, the central government coronavirus task force still issued a policy on January 26 forbidding medical staff to discuss the disease at home or other places through phone, text, social media, or email. Anyone who does not comply would be sentenced to three to seven years in prison.
This policy was then implemented throughout China. On February 6, five doctors in Wenshan City, Yunnan Province, were arrested for sharing coronavirus information. Shandong Province issued a policy stating that 1) No agencies, communities, or individuals are permitted to disclose information about the epidemic; 2) Only officially approved messages can be shared with others. This policy was passed down from the provincial government to every level below, including cities, districts, counties, townships, and villages.
On March 1, 2020, the CCP rolled out "Provisions on Ecological Governance of Network Information Content," which was considered the strictest internet policing regulation. For example, it includes:
Article 6. A network information content producer shall not make, copy or publish any illegal information containing the following:...8. Spreading rumors to disturb economic and social order;...Article 7. A network information content producer shall take measures to prevent and resist the production, reproduction and publication of undesirable information containing the following: ...2. Hyping gossips, scandals, bad deeds, and so forth;3. Making improper comments on natural disasters, major accidents or other disasters;
Chinese internet users opposed the policy. "This marks the beginning of internet slaughter," one person wrote.
Countless Lies Over Time
"Since a young age, we have thought of the U.S. as a lovable country. We believe this is partly due to the fact that the U.S. has never occupied China, nor has it launched any attacks on China. More fundamentally, the Chinese people hold good impressions of the U.S. based on the democratic and open-minded character of its people."
It is hard to imagine that the above words came from the CCP's official newspaper, Xinhua Daily, except it was published on July 4, 1947. "A mere three years later, the CCP sent soldiers to fight American troops in North Korea and painted the Americans as the evilest imperialists in the world," wrote the Nine Commentaries on the Communist Party.
From its establishment to the Chinese civil war, from depriving farmers of their land to the Cultural Revolution, from the Tiananmen Square Massacre to the suppression of Falun Gong, the CCP has lied all along. It only cares about its own interests, not the Chinese people, and not even its own members or those loyal to it.
Hu Shih, former Chinese Ambassador to the U.S. (1938 to 1942), faced a difficult decision in December 1948. Both the CCP, whose troops had surrounded Beijing at the time, and Chiang Kai-shek promised him high-ranking positions in their respective administrations; each did the best they could to woo the renowned scholar to their camp.
In the end, Hu boarded a plane to join Chiang in Nanjing, then-capital of the Republic of China. Hu's son, Sidu, however, decided to stay. "I did not do anything against the CCP. I will be fine," he thought. After turning in some valuables left by his father to communist officials, Sidu was forced to write articles defaming his father. He eventually collapsed and committed suicide in 1957 at age 36 after being targeted in many of the CCP's political campaigns.
This is what the CCP calls "killing the donkey once the millstone is no longer needed", a practice that could be traced back to the Soviet Union. After all, the Communist Party considers class struggle as the primary force for social advancement. Thus it often intensified class struggles intentionally and created chaos via looting, rape, arson, and killing. The public is then either enticed or coerced into participating as followers or slaves.
Similar things happened during the coronavirus epidemic. Although it was already known in December 2019 that the virus could spread from human to human, Baibuting residents in Wuhan were required to attend an annual New Year celebration banquet on January 18, 2020. More than 40,000 families prepared a total of 14,000 dishes to share. Days later, many in the community began to show symptoms of coronavirus infection. On January 23, the city of Wuhan was locked down.
To reduce the number of reported infection cases, officials have now abandoned Baibuting. A netizen wrote on a blogging site, "I am a resident of Baibuting community in Wuhan. I write this in despair. At present, Baibuting Garden is in an unmanned situation, with no one in charge. Many people have been infected with this virus. But the leaders in Wuhan gave us only one testing kit per day per grid, which contains about 4,000 families." The post was soon deleted.
Brink of a New Era
Former Soviet leader Mikhail Gorbachev said he considers Chernobyl one of the main nails in the coffin of the Soviet Union, which eventually collapsed in 1991. He said when he was young, he used to be fervent about communism because it claimed "justice" and "equality."
"But in reality that terrible Communist experiment brought about repression of human dignity. Violence was used in order to impose that model on society. In the name of Communism we abandoned basic human values," he explained, adding that was why he was determined to dissolve the Soviet Union.
Tu Long also reflected a lot on the coronavirus epidemic.
"When they expelled the 'low-end population' [migrant workers] in Beijing, I said to myself, I worked very hard. I'm not part of the 'low-end population,' I would not be expelled.
"When they built the concentration camps in Xinjiang [to hold Muslim Uighurs], I thought, I'm not an ethnic minority, I don't have any religious beliefs, I would not be in trouble.
"I sympathize with the suffering of Hong Kong people, but I thought I would not go on the street to protest [for democracy], so it has nothing to do with me.
"This time it hit my hometown. Many people around me had already gotten sick, and some had died, so I couldn't stand it any longer,' he said.
People in China, including Tu, were told by the CCP from a young age that the red color of the national flag comes from blood. Nowadays, many people consider the flag a testament to the regime's brutality.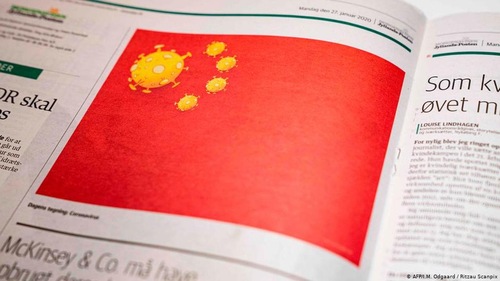 Jyllands-Posten, a Danish newspaper, published a cartoon on January 27, 2020, in which the five stars on the flag were replaced by the coronavirus. Readers may have their own ways of interpreting this. But, had there been no CCP, there would likely be no coronavirus pandemic.