Lithuania: Falun Gong Practitioners Hold Introductory Activities
March 27, 2020 | By a Minghui Correspondent in Europe
(Minghui.org) Falun Gong practitioners held a series of activities in Vilnius, the capital of Lithuania from March 6 - 8, 2020. With exhibitions in four languages and brochures in dozens of languages, practitioners introduced Falun Gong, an ancient spiritual practice. Many people expressed their support and appreciation, and signed a petition calling for an end to the CCP's (Chinese Communist Party) persecution.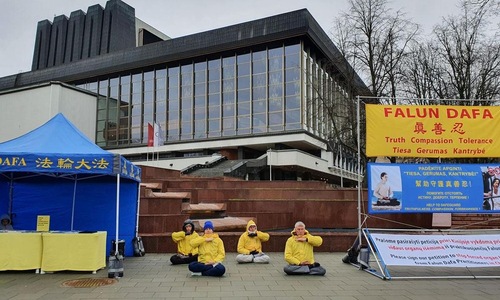 Practitioners demonstrate the exercises.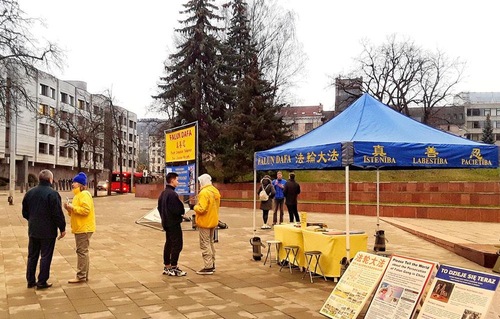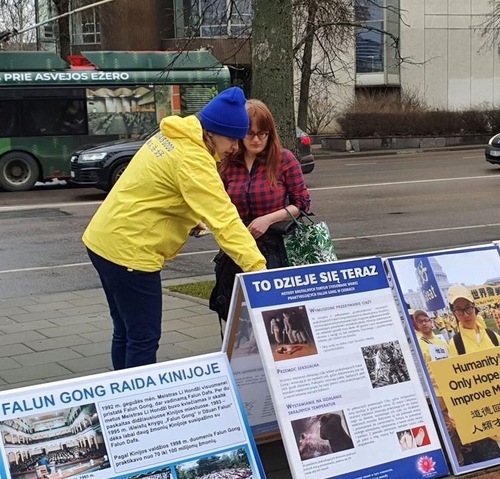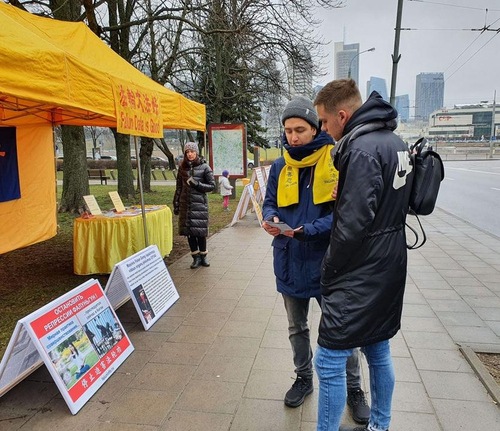 Practitioners introduce Falun Gong to the public.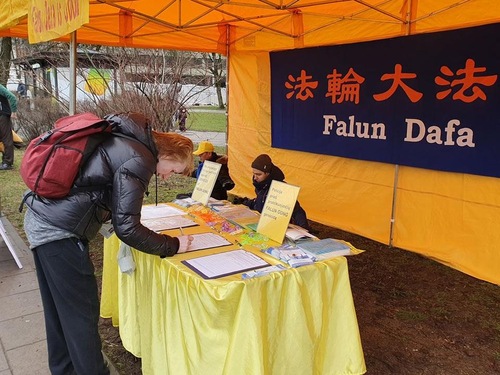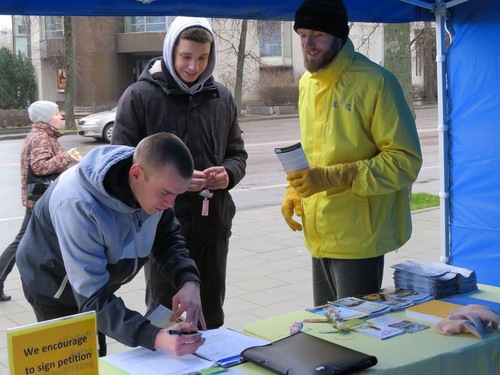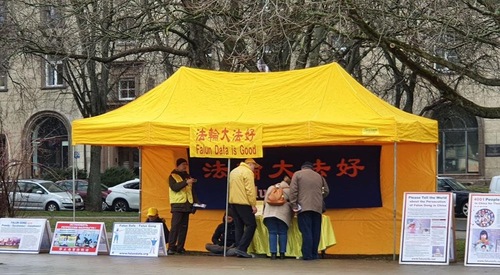 Signature collection calls for justice.
Falun Gong practitioners set up an information booth near the annual Kaziukowy, a large fair of folk arts and crafts in Vilnius. Many people stopped and asked for more information.
A man who happened to pass by the activities while riding a bus made a special trip to the booth. After reading the information, he signed the petition. He said he believed that good people would be rewarded and the wicked would be punished.
Andrius asked several questions. When he heard about the CCP's atrocities of harvesting organs from living Falun Gong practitioners, he said, "The murderers will certainly be punished by God." He signed the petition.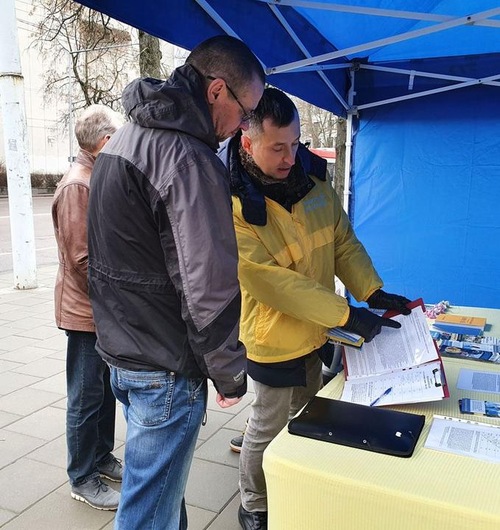 Mr. Arturas (left) listens as a practitioner introduces Falun Gong.
Mr. Arturas talked with a practitioner from Latvia. He asked a Chinese practitioner about his thoughts on the Chinese government. The practitioner told Mr. Arturas, "It's an evil regime. It continues to kill people and destroy people's beliefs and compassion. The CCP is doomed."
Mr. Arturas shook the practitioner's hands tightly and said, "You are right! Falun Gong is right! It's a good practice. Dictatorship only brings poverty. No Communism!"
Curious, Mr. Nobert Kaminski, his wife, and his daughter stopped by the Falun Gong booth and asked several questions. All of them signed the petition after hearing about the CCP's organ harvesting crimes. Nobert was interested in learning to practice and bought the main book of teachings, Zhuan Falun.
After one woman signed the petition, she wanted to help collect more signatures. She took a photo of the introduction to the reason for the petition and planned to share it with her friends. She said that Falun Gong practitioners' activities were very important and she appreciated them very much.
A young man told a practitioner that his wife was Chinese, but they hadn't heard about Falun Gong. He took several photos of the banners and display boards and planned to share them with his wife.
Dalia watched the practitioners' exercise demonstration for a long time. When she was told about the CCP's persecution, she immediately signed the petition. She also left her phone number with practitioners so that she could learn the exercises later.
Practitioners also sent emails to members of Parliament (MPs), informing them about the activities and thanking the group of 29 MPs and one Lithuanian Member of the European Parliament (EPP – European People's Party) for sending a letter to Chinese leader Xi Jinping condemning and expressing their concerns over religious persecution in China.
Practitioners visited the Lithuanian government offices from March 9-12 and delivered updated reports about the persecution.