Hualien, Taiwan: Everyone Should Speak Out Against the Persecution
March 28, 2020 | By a Falun Gong practitioner in Taiwan
(Minghui.org) Falun Gong practitioners in Hualien, Taiwan held activities to raise awareness of the persecution of their faith in China as usual on March 15, 2020. They put up posters and demonstrated the five sets of Falun Gong exercises.
They called for an end to the Chinese Communist Party's (CCP) persecution of Falun Gong, including the state-sanctioned organ harvesting from living practitioners. They also collected signatures for a petition opposing the persecution.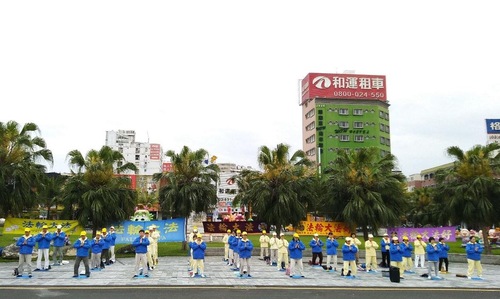 Demonstrating the Falun Gong exercises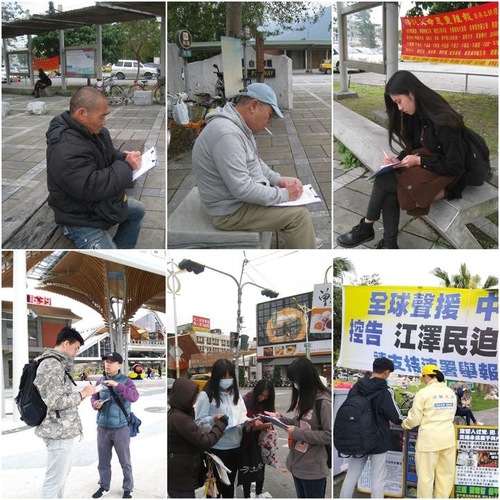 People sign a petition against the persecution.
Mr. Hsia was on vacation in Hualien. While he waited for the train, a practitioner asked him if he'd sign their petition.
"I support Falun Gong practitioners' activities to expose the persecution," he said. "Because my work is related to the Internet, I know that the CCP persecutes Falun Gong and that this cruel persecution is illegal and intrusive."
"Last year, I saw the U.S. State Department's International Religious Freedom Report, which mentions the CCP's cruel persecution of various beliefs is a norm, including Falun Gong, Christians, Tibetan Buddhists, Uyghurs, and underground churches."
"So I know that the persecution is going on. The CCP does not allow the Chinese people to have religious freedom because it is atheist," Hsia said.
A high school student named Wang said he had read about forced organ harvesting before. "In class, our teacher also had us read about recent developments in mainland China's lung transplants."
"The news said there was only a five-day wait for a healthy, well-matched double lung transplant. The hospital had one transplant operation in two or three days. It had completed more than 1,000 lung transplant operations.
"At the time we asked, 'Where do so many organs come from? Waiting for a match in Taiwan would take many years.'
"The teacher later told us earnestly that facing a persecution of human rights, everyone should speak out, because helping others is also helping oneself," Wang said.
A car rental employee named Lin said, "I felt an energy from your group exercise site while I was waiting for customers. I felt surrounded by something formless, and it made me warm and comfortable." He eagerly signed the practitioners' petition and learned about the Falun Gong exercises.