Romania: Falun Dafa Practitioners Peacefully Protest at Chinese Embassy
March 31, 2020 | By Falun Dafa practitioners in Romania
(Minghui.org) Falun Dafa practitioners from Romania peacefully protested at the Chinese Embassy in Bucharest on March 21, 2020. They held the event to raise awareness of the Chinese Communist Party's (CCP) 20-year-long persecution of the spiritual group. 
Romania entered a nationwide crisis status on March 16 due the coronavirus pandemic. Few pedestrians were on the streets, but several cars passed by, and many took photos of the practitioners' demonstration.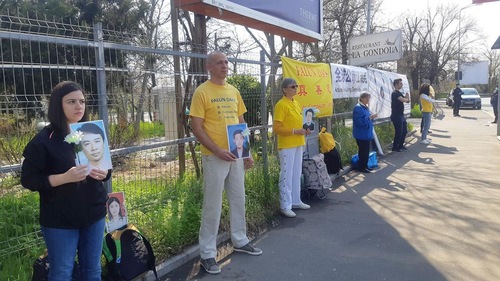 Romanian Falun Gong practitioners peacefully protest at the Chinese Embassy on March 21, 2020.
The practitioners displayed banners and held photos of fellow practitioners who died as a result of the persecution. Many drivers waiting at traffic lights took photos of the practitioners, their banners, and their exercise demonstration.
One practitioner pointed out that the Chinese Communist Party has persecuted the spiritual practice since 1999 and has not repented for its crimes. "The CCP's cover-up of the coronavirus not only harmed the Chinese people, but also put the entire world at risk. We hope the world will see the inhumane nature of communism and choose to side with the righteous during this pandemic disaster," he said.