New Zealand: Falun Dafa Welcomed by Christchurch Burwood Community
March 09, 2020 | By a Minghui correspondent in New Zealand
(Minghui.org) Falun Dafa practitioners in Christchurch, New Zealand were invited by the local organization Canterbury Better Breathing to introduce the Dafa exercises to the Burwood community on February 21 and 26, 2020.
The practitioners demonstrated the exercises under yellow banners reading "Falun Dafa is Good" and "The World Needs Truthfulness, Compassion and Forbearance." Sporting their traditional yellow exercise outfits, the Falun Dafa practitioners attracted many local residents to learn about the practice.
The event organizers and local residents were happy to be able to learn the exercises. Some of the older participants found it difficult to do the movements, but they put their hearts into it.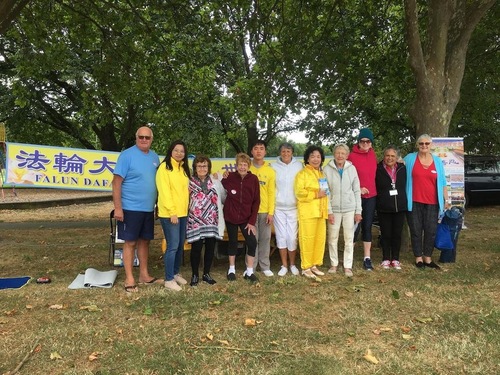 Burwood community residents take a group photo with Falun Dafa practitioners.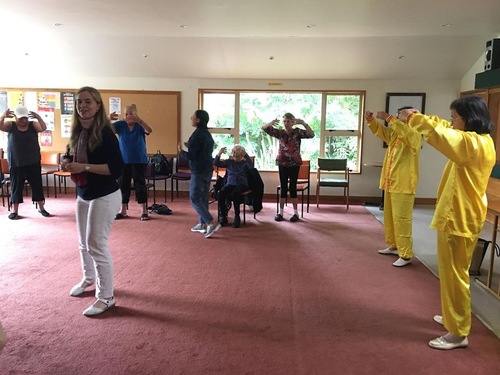 Teaching the exercises in the Burwood community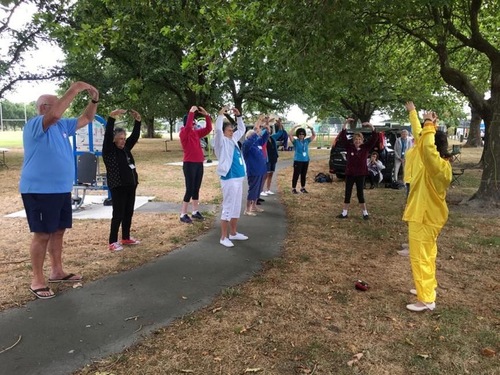 Teaching the exercises in Burwood Park
A man who lived nearby told the practitioners that he knew a little about Falun Dafa and the persecution in China. He said he admired practitioners and stood with them. He was outraged when he learned about the Chinese communist regime's killing of practitioners for organs, and empathized with the hardships practitioners have endured.
When one of the man's neighbors came to the booth with her daughter, he introduced the practitioners to them, saying they were kind people who were being persecuted for their belief. Both the mother and daughter expressed their sympathy. The mother said she was interested in learning the exercises.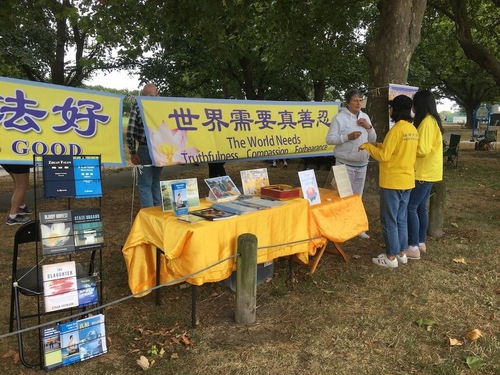 Local residents stop by to learn about Falun Dafa.
Another man who lived just opposite the park said he had observed practitioners doing the exercises from his lawn. He was not interested initially but was intrigued when he saw them doing the sitting meditation. Pointing to the practitioner meditating, he said, "She looks really calm and peaceful, and that really warmed my heart!"
The man said he had always believed in the power of having a pure heart. He was saddened to learn about the persecution of Falun Dafa. He said, "I know all of you have been trying to show the world the goodness of Falun Dafa, but you all should love yourselves, too!" Then, he hugged the practitioners passionately before leaving the booth.
Another woman named Maria stopped by. When she found out that there were no Falun Dafa practitioners or group practice sites in her hometown, she was a bit disappointed. However, the practitioners told her about the Falun Dafa website where she could download the books and exercise music free of charge.
After the end of the event, the organizers and residents of the Burwood community took a group photo with the practitioners. The organizers and residents thanked the practitioners with hugs and kisses for sharing Falun Dafa with them. Every attendee departing in a car rolled down their window to wave goodbye to the practitioners.
On February 27, the event organizer emailed the practitioners to thank them for participating and asked to be notified of future Falun Dafa events.