747 Falun Gong Practitioners Targeted for Their Faith in March 2020
April 15, 2020 | By a Minghui correspondent
(Minghui.org) According to information collected by Minghui.org, 384 Falun Gong practitioners were arrested and 363 were harassed in March 2020 for their faith.
Falun Gong, also known as Falun Dafa, is an ancient spiritual discipline that has been persecuted by the Chinese Communist Party (CCP) since 1999.
As travel restrictions related to the CCP Virus (Wuhan coronavirus or COVID-19) have gradually eased up across China in March, the number of Falun Gong arrested or harassed in March (747) almost doubled from that in February, which recorded 282 arrests and 113 harassment cases.
At the time of writing, 172 practitioners remain in custody. Some of them are facing indictment after the police submitted their cases to the procuratorate. For those who have been released, some continue to be harassed by the authorities.
Among the 747 practitioners targeted in March, 313 of them had their homes ransacked by the police. Thirty practitioners had a total of 172,800 yuan in cash confiscated, ranging from 200 yuan to 50,000 yuan per family and averaging 5,760 yuan per person.
Older practitioners weren't spared either, as 43 practitioners aged 65 years or older were targeted in March, including 29 arrested and 14 practitioners harassed.
An 81-year-old woman in Kunming City, Yunnan Province was arrested by mistake and held in custody for two days. Another woman in her 80s in Changchun City, Jilin Province was harassed and questioned by the police about her daughter, also a Falun Gong practitioner.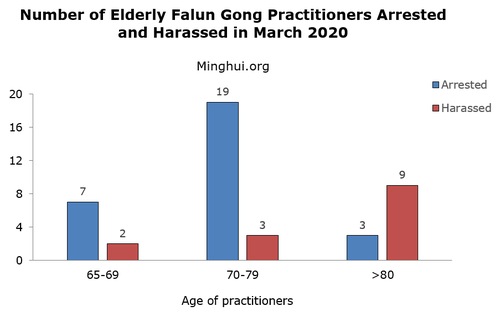 The persecution took place in 27 provinces and municipalities, with 15 regions reporting double-digit numbers of arrests, and 9 regions reporting double-digit cases of harassment. In particular, Hebei, Liaoning, Shangdong and Jilin provinces had more than 40 arrests each, and Henan province itself had more than 90 cases of harassment.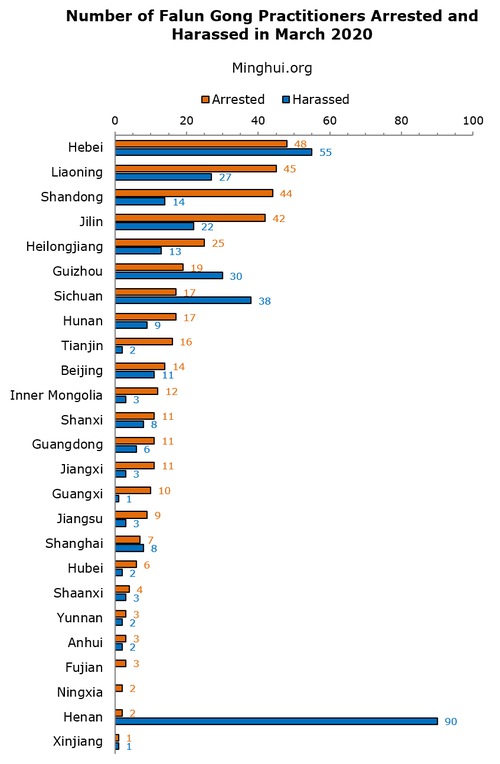 In Meizhou City, Guangdong Province, Ms. Zeng Xiaoling, 53, was taken directly to Huizhou Prison after she was arrested on March 11, 2020, after being reported for talking to people about Falun Gong. She was physically abused in prison for telling others about her faith. It's not clear whether the police are planning to submit her case to the local procuratorate.
A number of practitioners were harassed several days in a row. Mr. Qian Jianke, a 79-year-old resident of Mishan City, Heilongjiang Province, was harassed every day from March 15 to March 20. He was eventually forced to write a statement to renounce Falun Gong against his will.
In another disturbing case, the police in Baoding City, Hebei Province collected iris information, in addition to fingerprints and palm prints from Ms. He Lihong, signaling a further expansion of the already gigantic biometrics database for surveillance of citizens.
Continuation of National Persecution Policy
Shortly after the lockdown was lifted in Xishui County, Hubei Province in late March, the county government issued an order to increase surveillance of local Falun Gong practitioners and prevent them from talking to people about Falun Gong and the epidemic. They posted a 1,000-yuan reward for anyone who reports a practitioner for raising awareness of the persecution.
In Shandong, Jiangxi, Hebei, Liaoning, Guizhou and Jilin provinces, the authorities are holding brainwashing sessions in order to achieve "complete transformation" of local practitioners.
In Guizhou Province, the local authorities issued a "zero out plan," in which they are attempting to "transform" every practitioner by the end of this year. The officers are visiting every practitioner on their list and threatening them to sign statements to stop practicing Falun Gong. They said that the government is being "lenient" towards practitioners now, but will impose severe punishment if practitioners refuse to renounce their faith.
Ms. Zhang Surong, a Hebei Province resident and retired employee of a local food bureau in Zhangjiakou City, was harassed by staff from her workplace. She was ordered to sign at least six different forms with information slandering Falun Gong. The staff members threatened to suspend her pension and take her to a brainwashing center if she didn't sign the forms. She refused to comply.
CCP's Epidemic Misinformation Campaign and Propaganda Slandering Falun Gong
According to an insider, local CCP committees held urgent secret meetings in March, discussing how to beef up their internet security and "political education," after internal data about the epidemic were leaked to and reported by Falun Gong practitioners outside of China on media outlets in Western countries. The meetings also discussed topics such as how to elevate the issue of the epidemic to "a higher level" and divert domestic anger from the CCP to "Western anti-China forces."
In Dalian City, Liaoning Province, defamatory posters and videos slandering Falun Gong began to appear on buses in late March.
The CCP not only took advantage of people's patriotism to blame Falun Gong practitioners for "undermining China's image" by exposing the facts about the epidemic to the international community, but also repeated its 20-year-old propaganda attacking Falun Gong as being a "cult" and "superstitious."
In addition to videos vilifying Falun Gong, the CCP is also showing TV programs on public buses about how it "saved" China from the hands of the Japanese and is painting itself as the ultimate "savior" of the country.
In another brainwashing campaign, the CCP is forcing students to join its affiliated organizations, the Young Pioneers and Communist Youth League. While elementary school students are required to attend weekly political classes, attend the CCP's flag-raising ceremonies, take and upload photos of themselves saluting the red flag, and write weekly thought reports, middle school students are required to "study" the CCP's "glorious history," watch its brainwashing news every day, and then take exams about it. Some schools are using such data to assess qualifications for "honor students."
Below are snapshots of several of the cases of arrest and harassment of Falun Gong practitioners in March 2020.
1. Arrest Cases
The police in Kunming City, Yunnan Province arrested 81-year-old Ms. Gao Qiongxian by mistake on March 23, 2020. Even after they realized that they had arrested the wrong person – they intended to arrest another Falun Gong practitioner named Ms. Yang Deying, not Ms. Gao – the police refused to release her.
After ransacking her home and forcing her to undergo a physical examination, they sent Ms. Gao to the Kunming City Detention Center, which, however, refused to accept her due to her advanced age.
The police took Ms. Gao back to the police station, held her there for two days and extorted 1,000 yuan from her family.
Harassment after Release
Among practitioners who have been released after their arrests, some are still being harassed by the authorities.
Ms. Sheng Xiuwen, a Gaobeidian City, Hebei Province resident, was arrested on March 14, 2020, after being noticed by city management personnel for distributing information about the epidemic. The police came shortly afterwards and arrested her.
Although Ms. Sheng was soon released, the police came back and harassed her a few days later. They ordered her to sign a statement renouncing Falun Gong. She refused to comply.
The police later ordered the security personnel in Ms. Sheng's neighborhood to monitor her. Every time she goes out, she has to tell them where she is going and for how long.
76-year-old Faces Prosecution
Ms. Tong Suqing, a 76-year-old resident of Shenzhen City, Guangdong Province, was arrested in March 2020 after being reported for talking to people about Falun Gong. She was released the next day after a medical exam found that her blood pressure was dangerously high.
A few days after Ms. Tong was released, the police informed her children that they had submitted her case to the Nanshan District Procuratorate, with the charge of "undermining law enforcement with a cult organization," a standard pretext used by the Chinese authorities to criminalize Falun Gong.
The police forbade Ms. Tong from leaving Shenzhen for the next few months and said that she must report to them any time they summon her.
Guangdong Woman Sent Directly to Prison Following Her Arrest
Ms. Zeng Xiaoling, a 53-year-old Meizhou City, Guangdong Province resident, was arrested on March 11, 2020, after being reported for talking to people about Falun Gong.
The police sent her directly to Huizhou Prison following her arrest. Because Ms. Zeng talked to other detainees about Falun Gong and refused to do the unpaid prison labor, the guards forced her to lie on the ground face down, with her hands and feet chained to floor anchors. One guard said to her, "If you have to talk about Falun Gong, you can talk to the ground."
The police interrogated Ms. Zeng's husband, demanding to know where she studied Falun Gong teachings with other practitioners, and where she got informational materials about Falun Gong. They said to her husband, "If you tell us all the information, we will release her in a month, or she could be detained for three months." It's not clear whether her husband complied.
Prior to her latest arrest, the police had been monitoring Ms. Zeng and threatened her twice not to distribute Falun Gong materials.
Hebei Woman Targeted for Her Faith, Biometric Data Collected and Family Harassed
On March 19, 2020, several officers from the Ansu Town Police Station found Ms. He Lihong's brother, took away his cellphone, and forced him to take them to his sister's residence.
As soon as Ms. He's father opened the door, a group of plainclothes officers rushed in. They also confiscated the cellphones of the elderly man and his grandson. Next, they ransacked the place and confiscated Ms. He's Falun Gong books, her cellphone and other personal belongings.
Knowing that Ms. He has another residence, also in Baoding City, Hebei Province, the police forced her brother to call her and ask her to wait for him there. The police then drove to Ms. He's other home and arrested her.
At the Xushui District Domestic Security Division, the police forced Ms. He to admit that she distributed informational materials about Falun Gong in a residential area, after showing her photos taken by the surveillance camera.
The officers also collected Ms. He's palm prints, fingerprints, and even scanned her iris for biometric recognition. They attempted to collect her blood, but relented due to her strong resistance.
Ms. He was released later that afternoon.
Barely Survived a Decade of Prison Torture, Jilin Woman Arrested Again
Having barely survived a decade of torture in prison years ago, a 49-year-old woman in Shulan City, Jilin Province was recently arrested again for not giving up her faith in Falun Gong.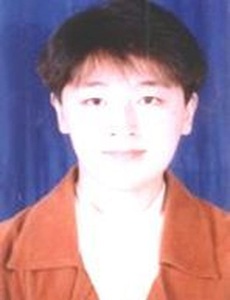 Ms. Song Yanqun before the persecution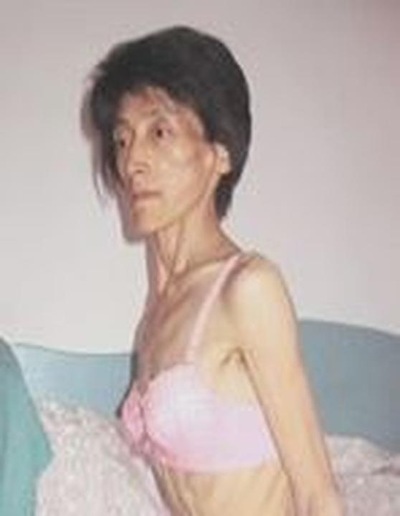 Ms. Song Yanqun after 10 years in prison for her faith
A group of officers knocked on Ms. Song Yanqun's door on March 26, 2020. Pretending to be conducting a census, they deceived Ms. Song into opening the door.
The officers told Ms. Song that her letter to CCP Premier Li Keqiang, in which she demanded that the CCP stop persecuting Falun Gong, had been returned by Beijing and that the National Appeals Office has ordered them to arrest Ms. Song.
Ms. Song said to the police, "I'm just seeking justice for my faith. I didn't do anything wrong, yet I was almost tortured to death in prison. I'm still suffering many health problems now and can't live normally. What's wrong in my writing to the premier?"
Although the police didn't arrest her right away, they returned later that evening and took Ms. Song to the local police station. Her Falun Gong books and other personal valuables were confiscated. Ms. Song is currently held in the Jilin City Detention Center.
Her father sought her release at the police station. He told the police that the decade-long torture his daughter suffered in prison had caused a great deal of damage to her body and mind. He said that even though years have passed since she returned home, she still hasn't recovered from the trauma. He said she told him that writing appeal letters helped alleviate the pain in her heart and that she was writing letters every day, sometimes staying up all night to write them.
The police expressed sympathy for Ms. Song, but they also told her father that the order to arrest her came from above and they couldn't do anything about it. They also revealed that the authorities were planning to sentence her again.
Walking Again after Seven Years of Being Bedridden, Man Arrested for Sharing His Miraculous Recovery Story
After being bedridden for seven years, Mr. Wang Huaiyu miraculously recovered after he started to practice Falun Gong. Because of telling people his recovery story, he was arrested on March 29, 2020, and is currently held in the Chaoyang County Detention Center.
Mr. Wang, 32 and from Chaoyang City, Liaoning Province, struggled with autism since youth. He developed a rare condition of weakness in his limbs in his early 20s. He was almost paralyzed and couldn't do anything by himself. His doctors couldn't figure out what disease he had and his family couldn't afford expensive medical treatment either.
His mother took meticulous care of him around the clock for seven years, including feeding and bathing him.
Years ago, a friend of Mr. Wang introduced Falun Gong to him. After listening to the lecture audios, Mr. Wang enjoyed a quick recovery of his health. He gradually regained mobility and eventually could even carry heavy objects upstairs.
Deeply grateful for the changes that Falun Gong brought to him, he tells people about his story and urges them not to believe the propaganda spread by the communist regime. Because of his efforts, he was arrested on March 29 after being reported for passing out materials about Falun Gong and sharing his recovery story with people in a park.
His mother, nearly 70, worried that Mr. Wang would be tortured in custody and is unable to eat or sleep well. Meanwhile, the police also threatened to arrest her as well.
2. Harassment Cases
Harassment in the Name of Epidemic Control
In several regions, the authorities are using epidemic control as an excuse to harass Falun Gong practitioners.
On March 13, 2020, a dozen police officers in Tianjin harassed several practitioners at home, with the excuse of examining whether they have been infected with the coronavirus. The police confiscated the practitioners' Falun Gong books and took their photos, and also collected blood samples and fingerprints.
Practitioners harassed in Tianjin include Mr. Du Baozhu, Ms. Yin Lu, Mr. Wang Jinguo, Ms. Liu Cuilan, and Ms. Jia.
In Tianmen City, Hubei Province, Ms. Tang Huanxiang and Ms. Tang Shuhua (no relation) were stopped on the street on the evening of March 16, 2020, by several people claiming to be volunteers working for the city to prevent the spread of the coronavirus.
The "volunteer workers" suspected that the two practitioners had distributed informational materials about Falun Gong and reported them to the police.
The police interrogated them overnight at the local police station and ransacked their homes the next day. Although the police released them shortly afterward, saying that the local detention center isn't accepting people during the epidemic, they threatened the practitioners that they may come looking for them after the epidemic is over.
A group of police officers harassed a married couple in Liaocheng City, Shandong Province for their faith in Falun Gong. The officers scaled their fence and used a hacksaw to cut open their door.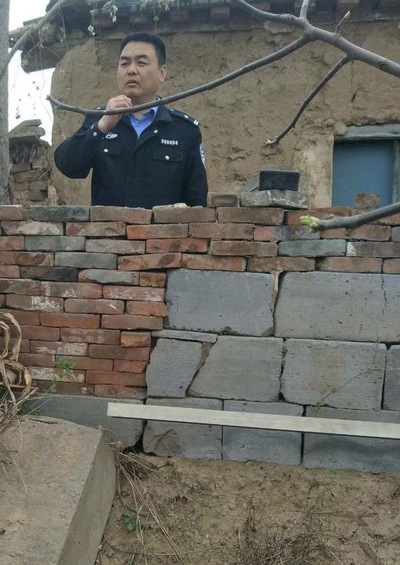 Police chief Shang Jingqiang outside Ms. Qin Yingting's garden wall
Around 11:30 a.m. on March 24, 2020, Shang Jingqiang, head of the Boping Town Police Station, led a dozen police officers, and, in the company of village secretary Qin Guangju, knocked on Ms. Qin Yingting's door.
Ms. Qin and her husband refused to open the door. After a brief standoff, Shang and several officers scaled their fence and entered the front yard. Shang also ordered village secretary Qin to send over a hammer and hacksaw to cut open their front gate.
As soon as the gate was opened, a dozen officers rushed into their yard. Seeing that Ms. Qin had also locked her front door, Shang attempted to use the hacksaw to open it. When he realized that the hacksaw wouldn't do it, he called for an angle grinder.
While Shang was waiting for the grinder, Ms. Qin's neighbors, who were outraged by the police violence, quietly turned off the power supply to Ms. Qin's home. The neighbors also rejected the police's request to use their power later on.
Eventually, the police still managed to open Ms. Qin's door with the hacksaw. They ransacked her place and videotaped her home. They also confiscated the couple's cellphones, which had pictures of the police breaking into their home.
Ms. Qin's son rushed back around 2 p.m. upon learning about the harassment. By the time he returned home, the place was in a mess after the raid and Ms. Qin was sitting on the ground after being pushed by the police.
Ms. Qin's son questioned Shang, "What are you doing? Why did you break our gate and door?"
Shang refused to answer and quickly left with the items confiscated from the couple.
Hebei Woman's Home Ransacked After Surveillance Cameras Recorded Her Spreading Information about Falun Gong
Police in Baoding City, Hebei Province ransacked and videotaped Ms. Liu Qiuzhen's home on March 21, 2020. Officers confiscated her Falun Gong books, computer, printer, and other personal belongings.
The police claimed that they began looking for Ms. Liu after surveillance cameras recorded her putting up and giving out information about Falun Gong in February.
Unable to find Ms. Liu, the police harassed her son and kept urging him to persuade his mother to turn herself in. Her son and several other relatives were under tremendous stress as a result.
The police promised Ms. Liu's son that they wouldn't do anything to her. Believing the police, Ms. Liu went to the police station on March 21, only to be taken back home and have her place ransacked.
Although the police didn't detain Ms. Liu due to the epidemic, she was given 11 days of administrative detention to be served in the future.
Qu Yongguang, head of the local Domestic Security Division, also ordered police officer Wei Guanglei to visit Ms. Liu at home every two weeks.
Related reports:
33 Falun Gong Practitioners Sentenced for Their Faith During Coronavirus Lockdown in China
The Persecution of Falun Gong Continues in China Despite Coronavirus Pandemic
194 Falun Gong Practitioners Targeted for Their Faith in January 2020
Chinese Communist Regime's Courts Sentence 193 Falun Gong Practitioners As New Coronavirus Explodes