Recalling Master Li's Lectures in Paris 25 Years Ago
April 16, 2020 | By a Minghui correspondent
(Minghui.org) Mr. Li Hongzhi, the founder of Falun Dafa, held a seven-day lecture series in Paris in March 1995. Twenty-five years later people who were there recalled the event and shared their happy memories.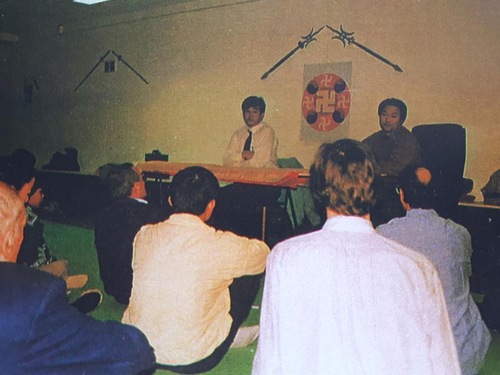 Master Li gives a lecture on Falun Dafa in Paris in March 1995.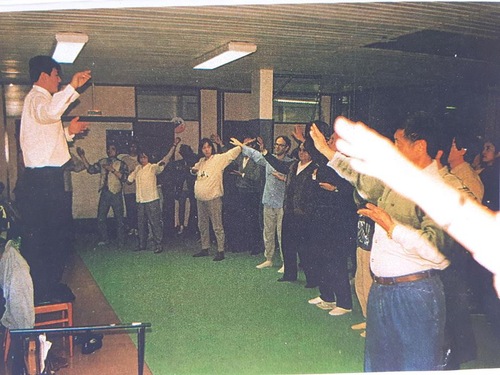 Master Li teaches the exercises.
An Amazing Experience
Ms. Chen, a clothing designer, was told by a friend that a qigong master would give a lecture at the Chinese Embassy on March 13, 1995. Her friend said the instructor was a true qigong master and urged her to attend.
Ms. Chen, who sat in the last row, noticed that many embassy staffers and their family members were there. Her first impression of Master Li was that he was kind and easygoing. As she listened, she felt that what Master Li was saying was very profound, and she realized that Falun Dafa was a spiritual practice. She was moved and happy that she had the opportunity to learn.
Ms. Chen recalled that when the lecture was over some attendees accompanied Master Li to the exit to say goodbye. Suddenly, a woman and her daughter rushed in. The woman, who was walking with a cane, said they were late because they couldn't find the room.
Master Li asked her why she needed the cane. She explained that she had been hit by a car. Master Li told her to put the cane down since she no longer needed it. When the lady hesitated, Ms. Chen and the other attendees encouraged her to listen and put the cane down. She reluctantly put it down but did not take a step. She walked by holding the wall. When Master Li told her to walk by herself without touching the wall, she stepped away from the wall and walked by herself.
Everyone who witnessed this was moved. Ms. Chen and the others felt very fortunate to learn Falun Dafa.
Ms. Chen explained how she benefited from practicing Dafa. She said that she had allergies before she began practicing, and that her doctor told her that she was allergic to many things and no medicine would help.
Just one month after she began practicing Falun Dafa, her allergies disappeared. She was so happy that she wanted to introduce Dafa to others, so she began going to a practice site in Paris to help spread the practice. She also told her friends and family.
People were surprised when the Chinese Communist Party (CCP) initiated the persecution in 1999. Ms. Chen couldn't understand it because Falun Dafa teaches people how to improve their morality and health. She went to the Chinese Embassy and spoke up for Falun Dafa. She has continued to clarify the truth since then.
A True Spiritual Practice
Ms. Zhou said that her mother in China phoned her and said that Master Li would travel to France and hold a lecture about Dafa. Her mother urged her to attend.
During the first lecture held on March 13, Master Li said that everyone present had a predestined relationship to be there. He said that he spread the practice to guide people toward high levels.
Ms. Zhou was moved, and realized that she was learning a true spiritual practice. Though she had learned a little about qigong during its peak of popularity in the 1980s, she had never understood the deeper meanings.
Master Li taught the exercises after each lecture standing on a chair, so the attendees at the back of the room could clearly see. Everyone was excited and happy. The embassy staffers even had group photos taken with Master Li.
Introduced to Falun Dafa
Songbo is Chinese but was born outside China. He followed his parents to worship Buddha and read Buddhist scriptures. In the late 1970s he attended school in France to learn business management. He later worked for a financial investment company.
In 1995, a friend told him about the lecture series in Paris and he attended. He said that while listening to Master Li he came to understand what it meant to truly cultivate. He realized that following Buddhism and reading its scriptures was just a formality, and he did not know how to cultivate.
After attending Master Li's lectures he understood that cultivation was not about reading scriptures, but improving one's character according to high-level principles. He began practicing Falun Dafa and following its principles of Truthfulness-Compassion-Forbearance in his daily life.
Songbo said that the changes were dramatic. He learned to control his hot temper, and became peaceful and generous. Falun Dafa changed his view of life and the world.
Twenty-five years have passed. These practitioners have benefited from practicing Dafa and have been uplifting continuously.