Toronto, Canada: Practitioners Commemorate April 25 Peaceful Appeal
April 29, 2020 | By Minghui correspondent Zhang Yun
(Minghui.org) Twenty-one years after the April 25 event in Beijing, Falun Gong practitioners in the Toronto area took part in several activities to commemorate the history-making peaceful appeal of 1999. Practitioners gathered in front of the Chinese Consulate in Toronto to protest the ongoing persecution. Many practitioners who could not come to the consulate made phone calls to China to talk to people there about Falun Gong.
The Canadian government, as in many other countries, is recommending that people practice social distancing to curb the spread of the coronavirus. Practitioners made sure that they sat at least six feet apart from each other in front of the Chinese Consulate while they maintained their vigil.
Significance of the April 25 Event
On April 25, 1999, an estimated 10,000 Falun Gong practitioners gathered at the Beijing State Council Appeals Office to request the release dozens of practitioners who had been arrested in Tianjin two days earlier. The gathering was spontaneous, as practitioners felt they should go to the appeals office to explain their case after they heard about the arrests of the practitioners in Tianjin.
Three months later, on July 20, 1999, then-Chinese Communist Party (CCP) leader Jiang Zemin launched a nationwide suppression of the practice. The persecution in China has continued for over two decades.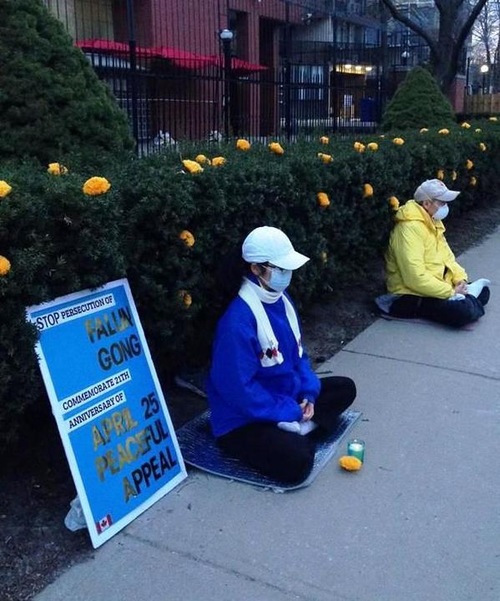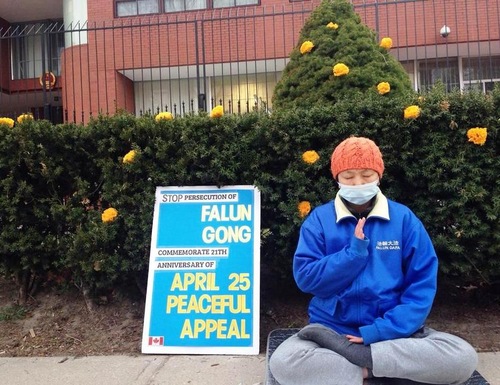 Peaceful protest by Falun Gong practitioners in front of the Chinese Consulate in Toronto on April 25, 2020.
Ms. Pan was among the practitioners at the vigil outside the Chinese Consulate. She said that the international society has, with the current pandemic, seen how the CCP censors information and misinforms the public.
"Upholding our principles and integrity are critical, even when facing a totalitarian regime," she said. "That is what Falun Gong practitioners did on April 25, 1999."
Ms. Pan said that the principles of Falun Gong, Truthfulness-Compassion-Forbearance, are consistent with traditional values and contradict the CCP's ideology of struggle and deception. That is why the regime could not tolerate Falun Gong.
"Many passing drivers have shown their support," Ms. Pan added. "Some took pictures and some rolled down their windows and called out, 'Thank you! Please keep it up!'"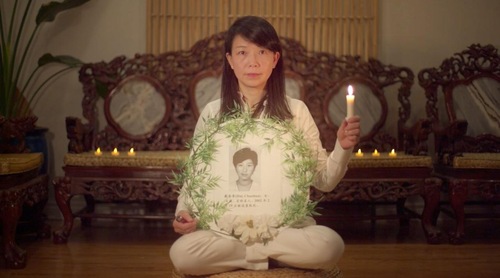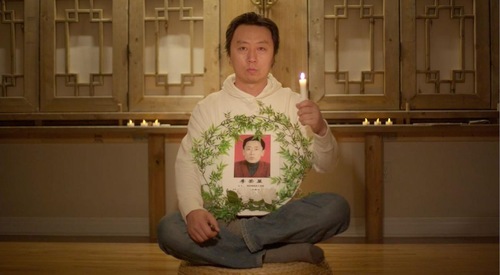 Because of social distancing and the widespread stay-at-home policies, practitioners held their annual April 25 candlelight vigil online this year to commemorate victims of the 21-year-long persecution in China.
Young Practitioner: Righteous Versus Vicious
A young practitioner named Jack often chats with people from mainland China online to tell them about Falun Gong and the persecution. He has seen how the last 20 years of slanderous CCP propaganda has turned many Chinese against Falun Gong. Many Chinese netizens have been brainwashed by the CCP's defamatory propaganda and write hateful things in the online chat groups.
"Some practitioners have been doing this [clarifying the truth about Falun Gong] for the past 10 or 20 years. I really admire their perseverance and compassion," Jack said.
Jack has also seen a lot of positive feedback from Chinese netizens. The CCP's internet army, also known as the "Fifty Cent Brigade," named after the amount of commission per post, is also active in these online chats. They once flooded a discussion forum thread with lies, but one reader wrote: "The more reckless you [the Fifty Cent Brigade] are, the more clearly people will understand that [Falun Gong] practitioners are extraordinary and righteous."
Family Member of a High-Ranking CCP Officer: Falun Gong Is Great
Falun Gong practitioner Li Zhen has been calling people in China to discuss the CCP's crimes and ask people to renounce their affiliations with the regime.
She recently spoke with a young man whose uncle is a senior CCP official. "High officials here care about the citizens very much," the young man said. "That is why we already knew about the decision [to lockdown] 15 days before the Wuhan lockdown. My family has plenty of food, medicine, and even medical equipment."
When Ms. Li brought up the topic of Falun Gong, the man said that one of his uncles is a practitioner. "He was sentenced to more than 10 years in prison [because of his belief], but he is still very determined. When he was released, he had nothing left and his wife had even divorced him," the man continued. "He is a very nice person and I really respect him."
The young man also said that he knew the CCP had been lying all along, and he often argued with a teacher about that in class.
His parents then returned home and told him not to accept overseas phone calls. The man hung up the phone, but not before asking Ms. Li to call him back later.
When Ms. Li called him back the following day, the young man asked, "Auntie [a respectful term for older women in China], you are so nice and so patient. I'm just curious – are you paid by the U.S. Government to do this? Many people have said that you are."
Ms. Li explained that she paid for making the overseas phone calls out of her own money. The man said he believed it. "Falun Gong is indeed great!" he said. Then he added, "I will become a government officer soon and I will certainly be kind to practitioners."
Witness to April 25 Event: A Pure Land
Gan Na from Beijing participated in the original April 25 event in 1999. "Everyone was peaceful and kind. And some volunteered to maintain order. So there was little impact on traffic," she recalled.
Throughout the day and upon leaving, no trash was left on the ground, Ms. Gan said. "We are all Falun Gong practitioners and we try to be good citizens wherever we are. It's like a pure land."
Despite the merits of Falun Gong, because of the ongoing persecution and the CCP's campaign of slander and deceit, many people in China still do not understand what Falun Gong is. Ms. Gan decided to join the efforts to make phone calls to China and tell people the real story of Falun Gong.
She recently talked with a retired Party secretary in Beijing. When Ms. Gan mentioned renouncing the CCP organizations, the man agreed to do so and thanked her.
Politely referring to him by his title of "Party secretary," Ms. Gan offered to talk more about Falun Gong. The man agreed to listen but said, "But please do not call me 'Party secretary' anymore—I am not longer part of it."
By the end of the conversation, the man was very grateful to hear how the principles of Falun Gong, Truthfulness-Compassion-Forbearance, have changed society for the better. "I think this is what I have been waiting for," he said.