Canada: Elected Officials Offer Congratulations on World Falun Dafa Day
May 12, 2020 | By a Minghui correspondent in Toronto, Canada
(Minghui.org) As of May 4, 2020, proclamations have been received from 35 elected Canadian officials in recognition of the 21st World Falun Dafa Day, as well as the 28th anniversary of the practice's introduction to the world.
Falun Dafa, also known as Falun Gong, is a meditation and self-cultivation practice based on the principles of Truthfulness-Compassion-Forbearance. Introduced to the public on May 13, 1992, by Mr. Li Hongzhi, it is practiced by over 100 million people in over 100 countries.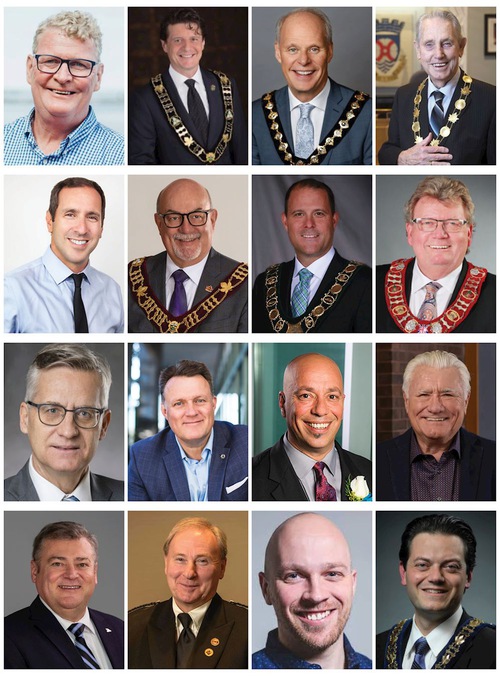 Sixteen mayors and city councilors have issued proclamations to commemorate the 21st World Falun Dafa Day.First row (from left): Steve Clarke (Orillia mayor), Aldo DiCarlo ( Amherstburg mayor), Dan Carter (Oshawa mayor), Gord Krantz (Milton mayor). Second row: Josh Matlow (Toronto councilor), Gary McNamara (Tecumseh mayor), Walter Sendzik (St. Catharines mayor), Ed Holder (London mayor). Third row: Andrew Keys (Markham councilor), Mike Savage (Halifax mayor), Jason Farr (Hamilton councilor), Wayne Campbell, Niagara Falls councilor). Fourth row: Bob Kwapis (Newmarket councilor), Jamie McGarvey (Parry Sound mayor), Brad Bradford (Toronto councilor), Jeff Lehman (Barrie mayor).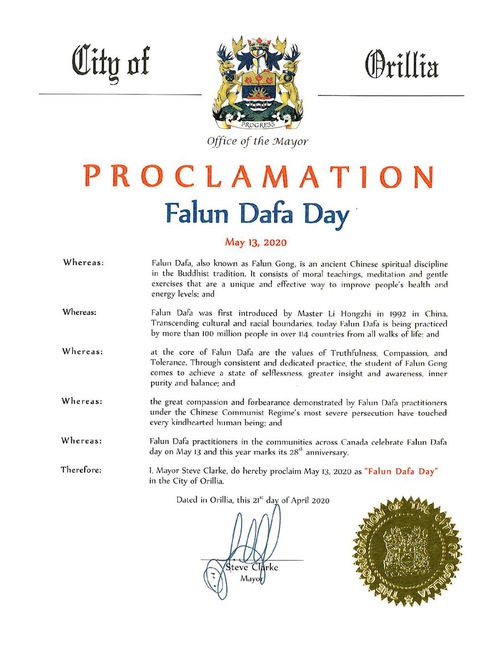 "...at the core of Falun Dafa the values of Truthfulness, Compassion, and Tolerance. Through consistent and dedicated practice, the students of Falun Gong comes to achieve a state of selflessness, greater insight and awareness, inner purity and balance.
"...the great compassion and forbearance demonstrated by Falun Dafa practitioners under the Chinese Communist Regime's most severe persecution have touched every kindhearted human being," wrote Steve Clarke, mayor of Orillia in Ontario.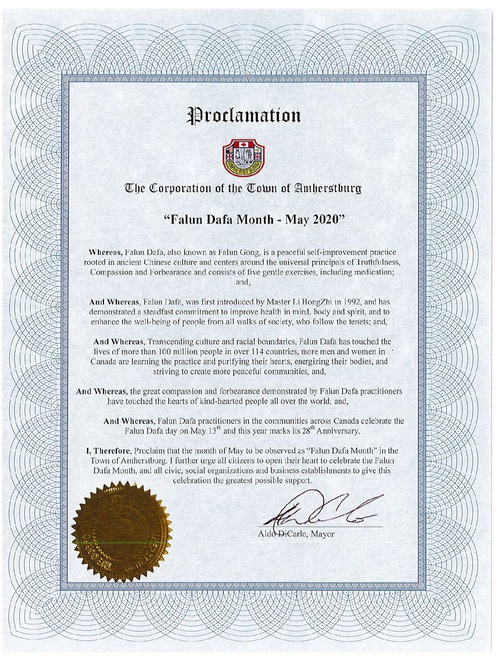 Aldo DiCarlo, mayor of Amherstburg, Ontario, proclaimed May as "Falun Dafa Month." He wrote, "I further urge all citizens to open their heart to celebrate Falun Dafa Month, and all civic, social organizations and business establishment to give this celebration the greatest possible support."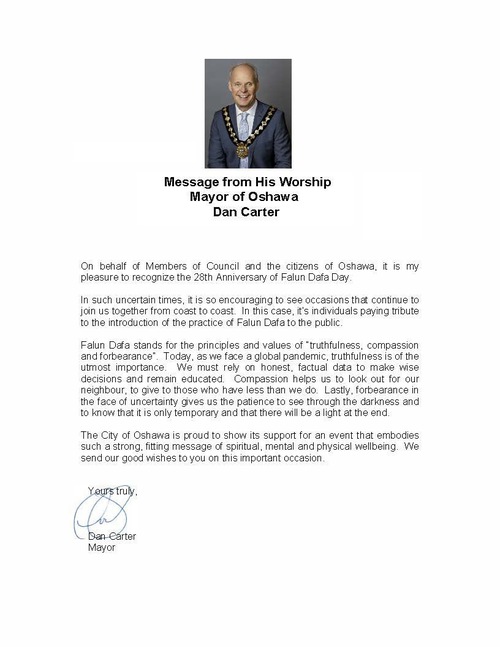 Dan Carter, mayor of Oshawa, Ontario, said he was pleased to recognize World Falun Day on behalf of the city council and local residents. "In such uncertain times, it is encouraging to see occasions that continue to join us together from coast to coast. In this case, its individuals paying tribute to the introduction of the practice of Falun Dafa to the public. 
"Falun Dafa stands for the principles and values of 'truthfulness, compassion and forbearance'. Today, as we face a global pandemic, truthfulness is of the utmost importance. We must rely on honest, factual data to make wise decisions and remain educated," he wrote in his proclamation.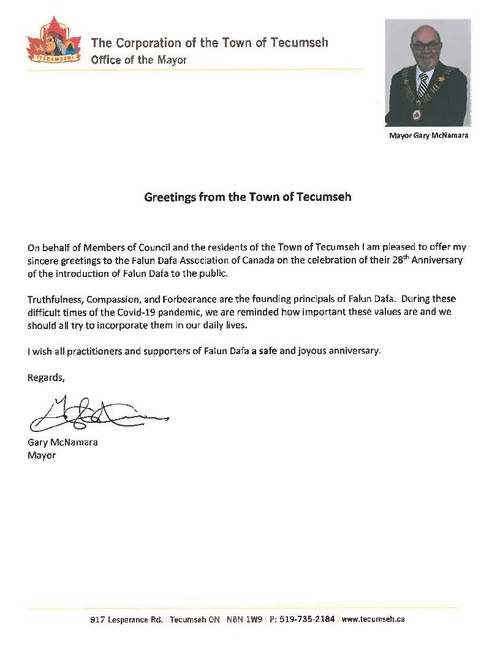 Tecumseh Mayor Gary McNamara wrote, "Truthfulness, Compassion, and Forbearance are the founding principles of Falun Dafa. During these difficult times of the Covid-19 pandemic, we are reminded how important these values are and we should all try to incorporate them in our daily lives."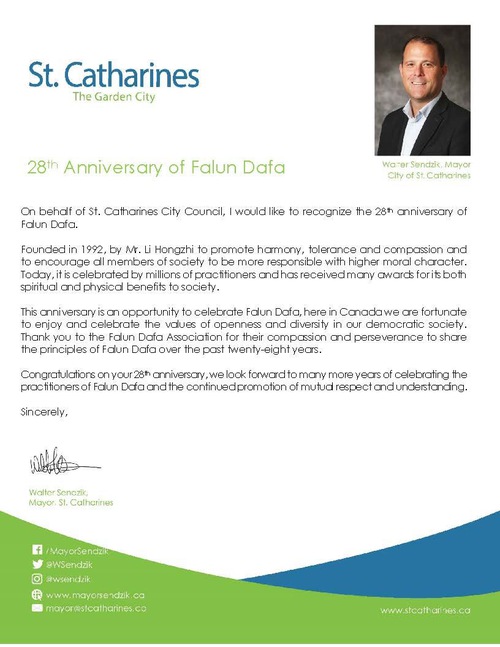 St. Catharines Mayor Walter Sendzik wrote, "Here in Canada we are fortunate to enjoy and celebrate the values of openness and diversity in our democratic society. Thank you to the Falun Dafa Association for their compassion and perseverance to share the principles of Falun Dafa over the past twenty-eight years."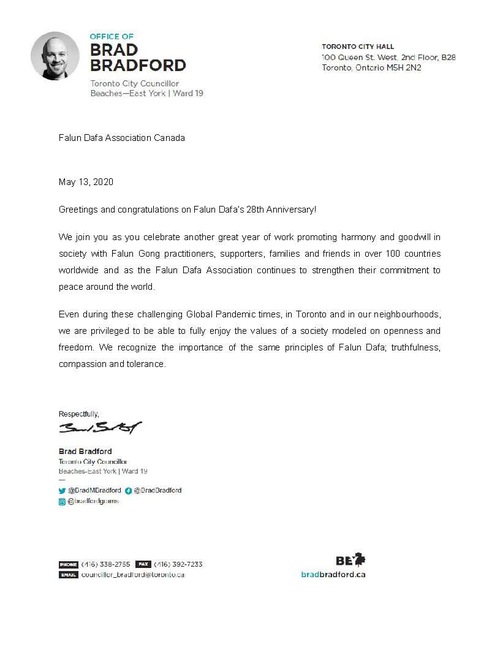 "We join you as you celebrate another great year of work promoting harmony and goodwill in society with Falun Gong practitioners, supporters, families and friends in over 100 countries worldwide and as Falun Dafa Association continues to strengthen their commitment to peace around the world," wrote Toronto Councilor Brad Bradford.
"Even during these challenging Global Pandemic times, in Toronto and in our neighborhoods, we are privileged to be able to fully enjoy the values of a society modeled on openness and freedom," he continued.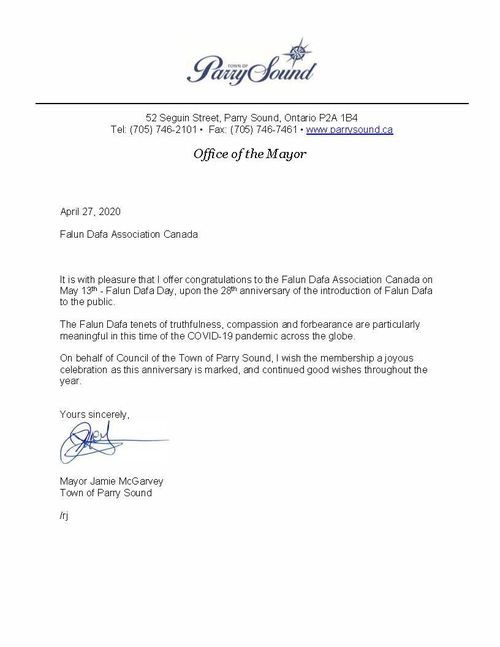 "The Falun Dafa tenets of truthfulness, compassion and forbearance are particularly meaningful in this time of the COVID-19 pandemic across the globe," wrote Jamie McGarvey, Mayor of Parry Sound.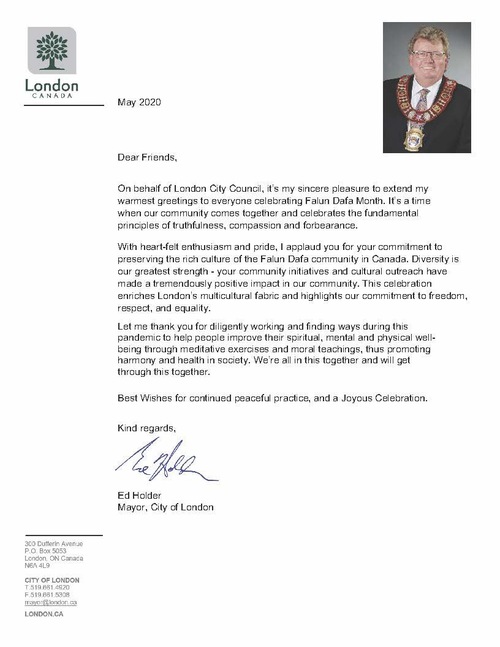 "Let me thank you for diligently working and finding ways during this pandemic to help people improve their spiritual, mental and physical well-being through meditative exercises and moral teachings, thus promoting harmony and health in society," wrote Ed Holder, Mayor of London, "We're all in this together and will get through this together."
"All Falun Dafa activities, including classes and practices, are offered by volunteers, opened to the public, and free of charge; over 100 million practitioners in 114 countries have been benefited from practicing Falun Dafa," Mike Savage, Mayor of Halifax, Nova Scotia, wrote in his proclamation.