Once Incarcerated for 11 Years, Jiangxi Man Again Arrested for His Faith
May 14, 2020 | By a Minghui correspondent in Jiangxi Province, China
(Minghui.org) Having served one labor camp term and two prison terms, totaling 11.5 years, a Yichun City, Jiangxi Province resident was arrested again for his faith in Falun Gong.
Mr. Yang Dexin, 52, has been detained for more than nine months at Nanchang City No. 1 Detention Center after being arrested on July 29, 2019. The police had monitored him for a while before arresting him.
Another practitioner, Ms. Peng Xiaolan, who was visited by Mr. Yang on that day, was also arrested and had her home ransacked.
Four months before Mr. Yang's arrest, the police harassed his 87-year-old mother during the Chinese Communist Party's annual Congress in March 2019 and attempted to get her to provide his contact information to them. After she refused to comply, the police intimidated her and ordered her to ask Mr. Yang to go to the police station to answer some questions, if he comes to visit her.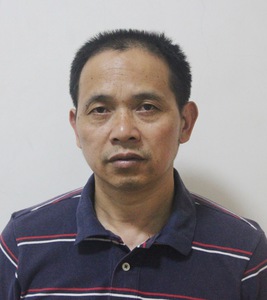 Mr. Yang Dexin
Mr. Yang began practicing Falun Gong, an ancient mind-body discipline, in 1996. He credits the practice for helping him quit many bad habits, including drinking and smoking. He also stopped cursing people and strives to be a good person by following Falun Gong's principles of Truthfulness-Compassion-Forbearance.
After the Chinese communist regime ordered the persecution of Falun Gong in 1999, Mr. Yang was given three years of forced labor in 2000 and sentenced to seven years in prison in 2005 for upholding his faith. 
He was beaten, tortured, and forced to do unpaid labor for long hours when serving time at Yuzhang Prison. He was also subjected to intensive brainwashing designed to force him to renounce his faith.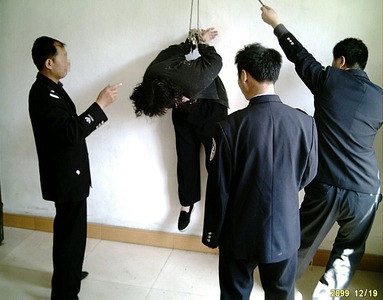 Reenactment of the hanging torture to which Mr. Yang was subjected in Yuzhang Prison
Mr. Yang was arrested again on February 26, 2016, when he was distributing Falun Gong informational flyers in front of a middle school. He was later sentenced to another 1.5 years in Yuzhang Prison.
The authorities continued to harass him after he was released in August 2017. He moved away from home to avoid persecution. Yet the police continued to harass his mother and brothers.
Related reports:
Mr. Yang Dexin Tried for Distributing Informational Flyers
Mr. Yang Dexin Imprisoned for Over Ten Years, Arrested Again