Finland: Outdoor Activities Draw Support for Falun Gong
June 1, 2020 | By a Minghui correspondent in Finland
(Minghui.org) Falun Gong practitioners in Helsinki held activities in the square outside the Kamppi Center shopping complex on Saturday, May 23, 2020. After months of stress due to the coronavirus, more people were out on the streets. 
Gatherings of less than 10 people are now allowed in Finland, as the country gradually lifts coronavirus restrictions. Local practitioners decided that it was a good time to talk to people about the benefits of Falun Gong and explain the Chinese Communist Party's (CCP) two-decade-long persecution of innocent practitioners in China. 
Louhi, a college student, signed the Falun Gong practitioners' petition calling for an end to the CCP's persecution. Looking at the paper lotus flower, a practitioner gave her, Louhi said, "Truthfulness, Compassion, and Forbearance are such good values. I need them, especially Forbearance." She said the CCP's persecution was absolutely unacceptable.
A young man named Nico said he would like to make a video about Falun Gong and post it on social media. He talked to practitioners about the practice and took some introductory materials to give to his team members. He took a look at the magazine Compassion, and was surprised to see how serious the persecution is.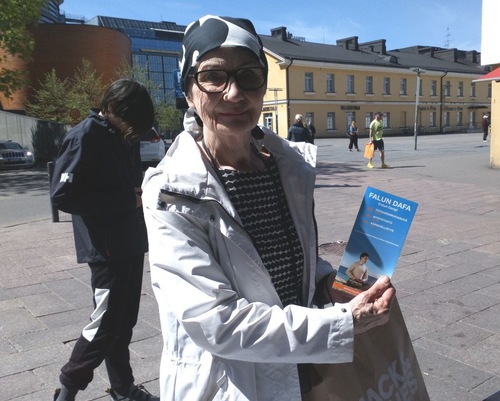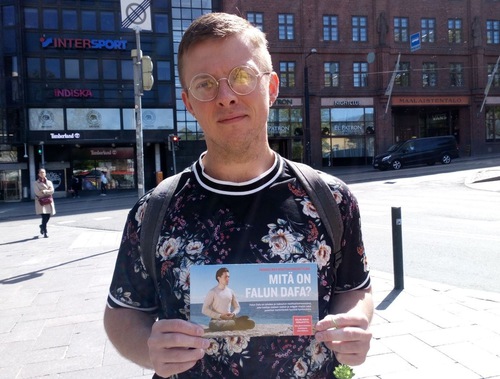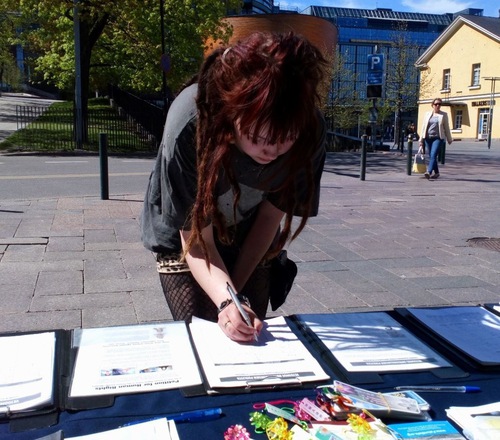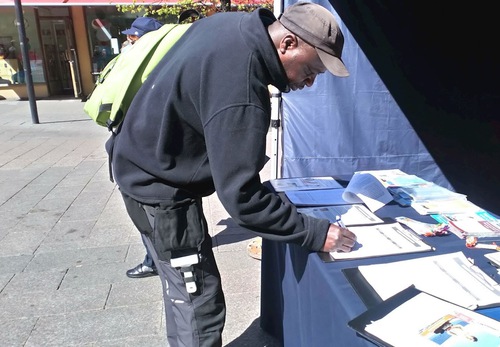 Passersby sign the petition to support Falun Gong.
A woman named Nina told a practitioner, "My brother has been working on improving human rights in Chile, which were trampled by the dictatorship, so I know how important your work is. I wish you good luck. The Chinese Communist Party has covered up so much. It's time for the world to wake up to it. We have a lot to do." 
A man named Kim read the information on the display boards and said, "The Mao era has taken many lives." He shared his views of the Great Cultural Revolution in China. He was very knowledgeable about the CCP's bloodthirsty nature and its crimes. He signed the petition without hesitation.
Tamza, originally from Gambia, signed the petition after hearing that it called for human rights. A practitioner told him more about the persecution of Falun Gong in China. "I know how you feel," Tamza said, "Where can I find you? I would like join your work."
Sanar from Estonia showed great interest in Falun Gong. A practitioner gave him the schedule for the group exercise sites in the city. Sanar said he would like to go to one after work. 
Sanar mentioned that he had visited China but didn't have a good impression, because he had been swindled and lost a lot of money during his trip. The practitioner told him that the CCP had caused the degeneration of morality, and the Chinese people had been the direct victims. It wasn't because China was bad, but because the CCP was wicked.