Toronto, Canada: Raising Awareness at Downtown Sites
June 12, 2020 | By the Minghui correspondent station in Toronto
(Minghui.org) Falun Gong practitioners have resumed activities at two sites in downtown Toronto now that the city's coronavirus restrictions have been relaxed. One site is in Chinatown and the other is at Pacific Mall, the largest Asian shopping mall in North America. 
Nonessential businesses in Ontario were ordered to close on March 17, 2020, to curb the spread of the Wuhan coronavirus pandemic. Falun Gong practitioners in Toronto also put a pause on their activities to raise awareness of the practice and the Chinese Communist Party's (CCP) persecution.
After returning to the streets from a more than two-month hiatus, practitioners spoke to people about Falun Gong (also called Falun Dafa) while adhering to the government's social distancing guidelines. Many people were touched to see the practitioners out again at this special time.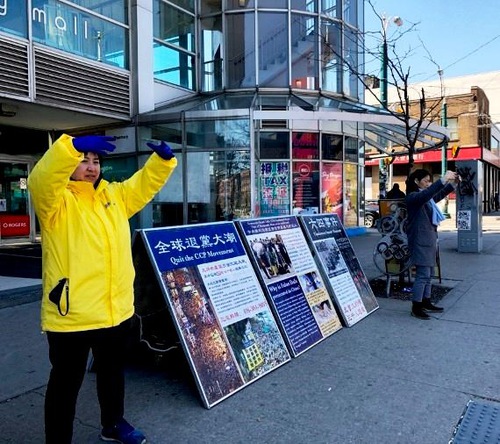 Demonstrating the Falun Gong exercises in Toronto's Chinatown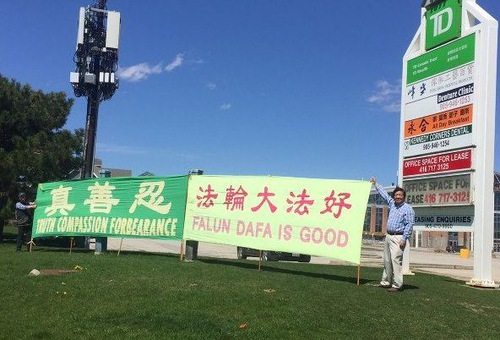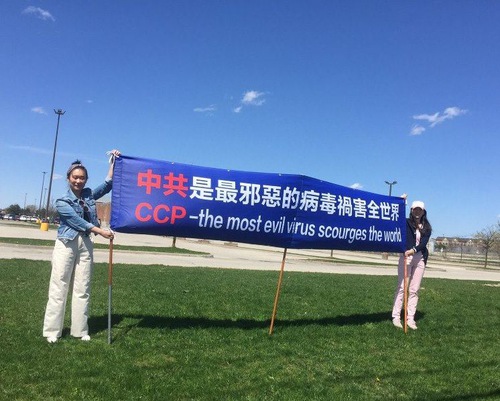 Holding large banners in front of Pacific Mall, a major Asian shopping mall in Markham, Ontario.
A Chinese Immigrant: I am Reborn After Quitting the CCP
"The CCP only has a few days left," said Mr. Song, an immigrant from China who was passing the Falun Gong site in Chinatown. "I came to some understanding of Falun Gong before and I know Falun Gong is good, and [Falun Gong's principles of] Truthfulness-Compassion-Forbearance is right. These are universal values that people should revere.
"The CCP has never said anything truthful. Its news is fake, its TV series and movies are deceiving people," he added.
When a practitioner commended Mr. Song for being aware of the truth, Mr. Song shared his opinion about the current coronavirus pandemic: "The Party is extremely evil. It is so evil it uses 1.4 billion ordinary citizens as its foundation to deceive people all over the world."
The practitioner talked to Mr. Song about the CCP's two decades of persecution of Falun Gong and its state-sanctioned organ harvesting from Falun Gong practitioners. "I know about this. The Communist Party is just evil," Mr. Song replied.
"I also know that China is not the same as the CCP. I respect traditional Chinese culture, but the Party has destroyed China's traditional culture."
The practitioner advised Song to renounce his membership in the Party and its affiliated organizations. Mr. Song agreed and wrote his name down on a form for the practitioner to post on The Epoch Times website later. In the comment column on the form Mr. Song wrote, "From this moment, I am reborn."
Mr. Song appeared rather joyful, so the practitioner suggested that he also explain the importance of quitting the party to his friends and family. Mr. Song said he would.
"I can't thank you enough, I am so fortunate to have come across you today," Mr. Song said.
Chinese Tourists: Falun Gong Practitioners Are Kind
Ms. Cui and her daughter, from Tianjin, China, arrived in Toronto for a tour in March, but because of the pandemic in China they could not return as scheduled. Flights became so expensive that they have decided to stay in Toronto for the time being.
Without any income in Canada and burdened by rent, they have found life hard and so they often go to Chinatown to buy cheap vegetables for a dollar per bag. They recently came across Ms. Shen, a Falun Gong practitioner, in Chinatown.
Ms. Shen was talking to a Chinese man who was a Christian when she saw Ms. Cui and her daughter. She greeted them and the man she had been talking to stood aside to allow Ms. Shen to talk to the ladies.
After learning about the mother and daughter's plight, Ms. Shen took $50 from her purse and handed it to them. They were touched, but declined the money. The man she had been talking to was also touched by the gesture. Ms. Shen then talked to them about Falun Gong and the persecution in China and all three of them agreed to quit the CCP and its affiliated organizations.
Ms. Shen later called Ms. Cui so she could deliver some summer clothes to her. Ms. Cui accepted a few articles of clothing and expressed her appreciation. Ms. Shen also gave Ms. Cui an MP3 player with audio recordings about Falun Gong.
"This experience really made me realize the kindness of Falun Gong practitioners," Ms. Cui told a practitioner later. "On first glance, I could feel that Falun Gong practitioners were very kind and compassionate, really too kind. I really felt closer to you than I do my siblings. I was so touched, my eyes were truly brimming with tears. I have your contact details and I will come to learn Falun Gong from you."