People in Munich Condemn CCP's Brutal Persecution
June 15, 2020 | By De Xiang, a Minghui correspondent in Munich, Germany
(Minghui.org) Falun Gong practitioners in Munich, Germany held activities at Odeonsplatz on June 6, 2020, introducing the benefits of the practice and exposing the Chinese Communist Party's (CCP) persecution over the past 21 years. Appalled by the CCP's brutality, people in Munich condemned the persecution.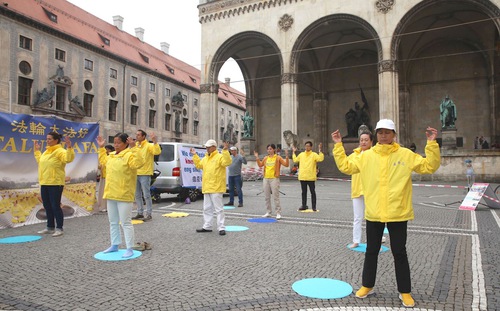 Practitioners demonstrate the Falun Gong exercises at Odeonsplatz.
Many passersby by stopped to watch practitioners' exercise demonstration. Some read the exhibition display boards about Falun Gong or signed a petition calling for an end to the persecution. Many condemned the persecution and asked practitioners what they could do to help stop the atrocities.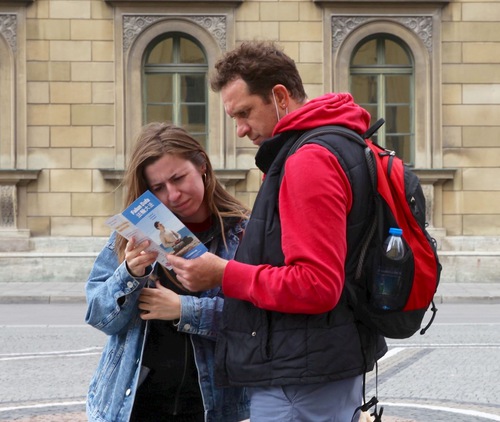 A young couple reads a Falun Gong flyer.
Upon hearing the benefits of Falun Gong and the CCP's crimes, a young couple signed the petition. They encouraged practitioners to hold more public activities to inform the public.
Two women stopped to talk to the practitioners. One of them signed the petition and the other said she signed a petition before and was interested in learning Falun Gong. She encouraged the practitioners to keep up the good work.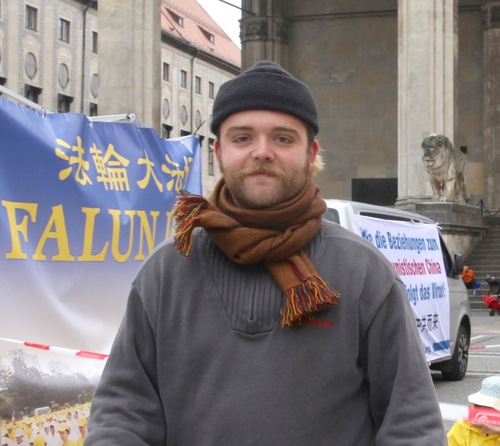 College student Moritz Keilholz signed a petition against the persecution.
A college student named Moritz Keilholz denounced the persecution of people living according to the principles of Truthfulness-Compassion-Forbearance. He hopes the German government will do what's right and stand up to the CCP.
Mr. Stäpfer, who works in a hospital, said the CCP's persecution is barbaric. He had been following news about China during the outbreak of the pandemic. "Those who voiced their opinions were imprisoned. People were beaten on the street. It's disgusting that such things are happening in the 21st Century. When they watch TV, the news is propaganda. They don't have freedom of speech."
Mr. Stäpfer felt ashamed and disappointed that German politicians have not spoken out enough about the persecution of Falun Gong and the CCP's crackdowns in Tibet, Xinjiang, and Hong Kong. He suspects that this has to do with economic gains.