Celebrating World Falun Dafa Day at Ramat Gan National Park, Israel
(Minghui.org) Dozens of Falun Dafa (also called Falun Gong) practitioners from throughout Israel gathered at Ramat Gan National Park on Saturday, May 23, 2020, to celebrate World Falun Dafa Day.
The park was crowded with children riding scooters, parents with their children, youngsters riding bicycles, runners, senior citizens strolling arm in arm, and families sitting on the grass under the trees.
This was the first Saturday after the park had re-opened to the public, following two months of lockdown, during which all the parks in Israel were closed to the public due to the pandemic that has paralyzed the world.
The lockdown was an opportunity for many to reflect on their lives and learn to appreciate the simple things. It seems that at times like these, the tenets of Falun Dafa (Truthfulness, Compassion, and Forbearance) resonate more with people.
Practitioners told people about the benefits of Falun Dafa and gave them a chance to try the five exercises firsthand.
Many people who stopped to observe were curious, and asked questions. The practitioners who were teaching the exercises were wearing yellow shirts with "Falun Dafa" written on them, making it easier for newcomers to find them. Children of local practitioners also participated in the event.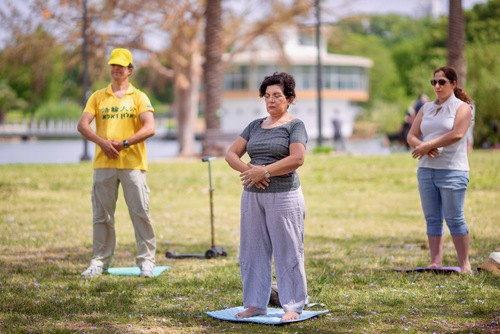 Practitioners doing one of the Falun Dafa exercises
People who stopped by the information table were given paper lotus flowers and learned about the benefits of the practice, as well as the forced organ harvesting and persecution by the Chinese Communist Party against the practice in China.
Practitioners demonstrated the exercises and passersby joined in to learn.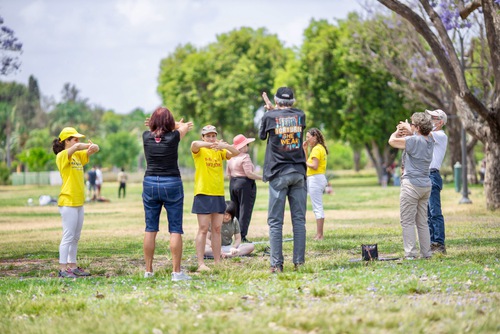 Passersby learning the exercises
During the lockdown, an online group was established by local Falun Dafa practitioners to teach the exercises. Some people who learned via the online group came to the park to participate in the activities. The practitioners found that teaching the exercises in person was most effective. When practitioners explained the exercises in person, a personal connection was established, and the participants were able to ask questions not only about the movements, but also about the Dafa principles of Truthfulness, Compassion, and Forbearance, and the practice in general.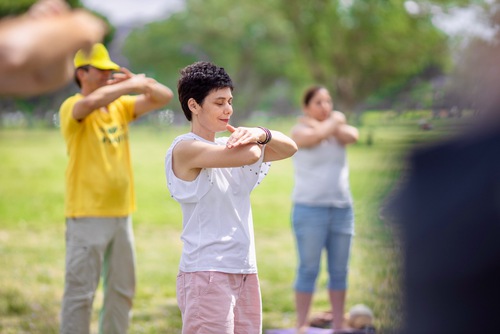 Practicing the exercises
Hana Slutsky from Ramat Gan said after doing the exercises, "I tried to do the exercises accurately, and I felt peaceful and calm. It is so different from the exercises I do at the gym. I believe your messages can be of great help here in Israel. Thank you for introducing me to the practice of Falun Dafa."
Menashe from Tel Aviv, who came to learn the exercises, added, "Having faith in something so real, I can derive tremendous physical and spiritual strength from it. I felt great doing the exercises. If I did this on a daily basis, it would make me forget about all the hassle of day-to-day life. As for the persecution, I know all about the totalitarian regime in China, which doesn't seem to care at all about its citizens."
Shira from Tel Aviv said, "I enjoyed it immensely. I gained tranquility and peace of mind. It was a real experience getting to know Falun Dafa for the first time. Although it was difficult for me to stand on my feet because of surgery, it gave me tranquility and patience. I would like to study it more."