Duisburg, Germany: Falun Dafa Practitioners Hold First Public Activity After Easing of Coronavirus Restrictions
June 2, 2020 | By Falun Dafa practitioners in Germany
(Minghui.org) Falun Dafa practitioners in Germany held activities in the center of Duisburg in the state of North Rhine-Westphalia on Saturday, May 23, 2020. For two months, the German government had imposed strict lockdown measures to stop the spread of coronavirus. As the situation gradually improved in May, certain restrictions were eased in the middle of the month. This was the first time practitioners held activities in public after lockdown measures were eased.
People were initially reluctant to take information from practitioners. After observing the gentle exercises demonstrated by practitioners, however, several went to the table to sign the petition calling for an end to the persecution of Falun Dafa in China, while others expressed interest in learning the exercises.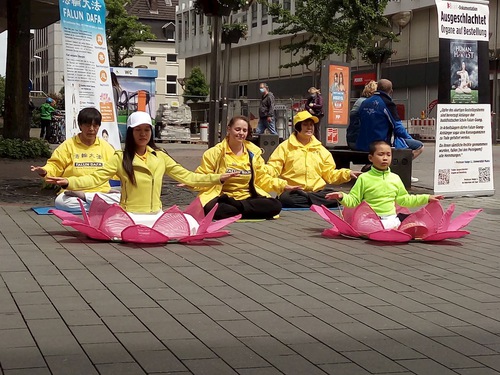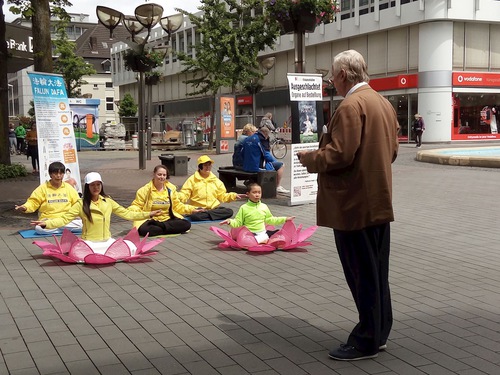 Drawn by the practitioners' exercise demonstration, passersby stop to learn more about the cultivation practice.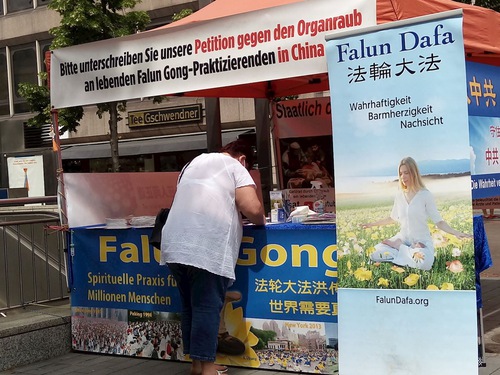 Local resident sign the petition to call for an end to the persecution of Falun Dafa in China.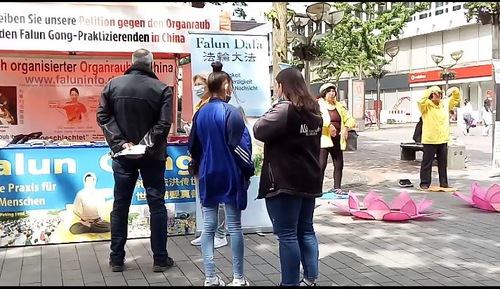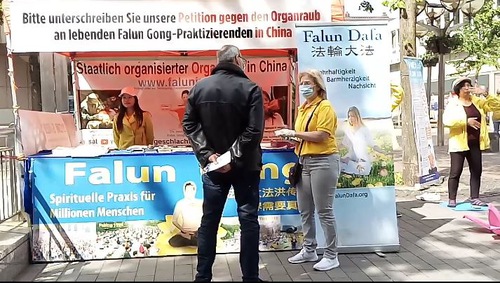 Practitioners tell passersby about Falun Dafa.
A woman approached the practitioners and said, "At last, I see something on improving one's mental well-being. Activities like this are very rare nowadays." She said she meditated at home but that it was the first time she had come across Falun Dafa. She took several brochures to learn more about the cultivation practice.
A middle-aged man and his female companion walked past the information booth before turning around. The man walked up to the table and signed the petition. He told practitioners he had seen Falun Dafa activities in other cities and knew what was happening in China. His companion also signed the petition and took some informational materials.
Two students asked practitioners about Falun Dafa and why its practitioners are imprisoned and tortured in China. They signed the petition and then asked where they could learn the exercises.
A middle-aged man asked if he could take photos. He wanted to tell people on Whatsapp after learning about Falun Dafa and its health benefits.
By the end of the day, several pages were filled with petition signatures. A few more people came to sign the petition just as practitioners were about to pack up. One woman told practitioners that she had come especially to sign the petition.