Wife in Her 80s Secretly Sentenced to One Year, Bedridden Husband Dies in Despair
June 23, 2020 | By a Minghui correspondent in Heilongjiang Province, China
(Minghui.org) While a woman in her 80s was serving time for practicing Falun Gong, her paralyzed husband died at home alone, at the age of 82.
Falun Gong, also known as Falun Dafa, is an ancient spiritual and meditation discipline that has been persecuted by the Chinese Communist Party since 1999.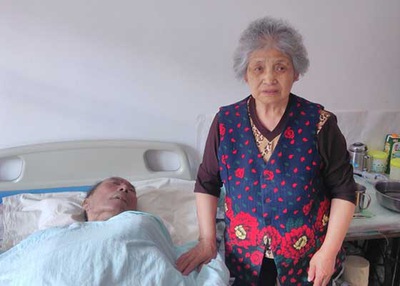 Ms. Fan Guiqin and her bedridden husband Mr. Wen Defang
Ms. Fan Guiqin, of Jiamusi City, Heilongjiang Province, was arrested in a police sweep on July 26, 2019. More than 40 local Falun Gong practitioners were arrested on the same day.
The police returned to Ms. Fan's home several times after the arrest and searched her place. They also harassed her family and ransacked her son's home.
Ms. Fan's husband, Mr. Wen Defang, had been relying on his wife as the sole caregiver after he suffered a stroke and became bedridden and incontinent 15 years ago.
After Ms. Fan was arrested, Mr. Wen often cried and had trouble eating. He lived in fear and distress every day. His health was also deteriorating quickly.
Ms. Fan's family frequented the police station and judiciary agencies to seek her release but to no avail.
The police submitted Ms. Fan's case to the Xiangyang District Procuratorate in October 2019. The Xiangyang Court later secretly sentenced her to one year without informing her family.
Mr. Wen died at home alone on April 17, 2020.
Related report:
Wife, Nearly 80, Arrested for Her Faith, Bedridden Husband Struggles to Find Caregiver