Helsinki: People Voice Support of Falun Gong in the Capital City of Finland
June 24, 2020 | By a Falun Gong practitioner in Finland
(Minghui.org) The annual Helsinki Day was held on June 12, but the celebration was reduced to a few activities of small groups due to the COVID-19 pandemic. Falun Gong practitioners organized an information day event at Kamppi Center.
Kamppi Center is a complex in the Kamppi district of the center of Helsinki. It is the new downtown commercial and residential center of the city.
Some of the practitioners demonstrated the exercises to calming music, while others passed out fliers and talked to passersby. Both locals and visitors voiced their support of Falun Gong.
Walking by the event, Pusal, a French national, said, "I want to help you collect signatures. You [Falun Gong practitioners] have endured so much hardship. I support you!"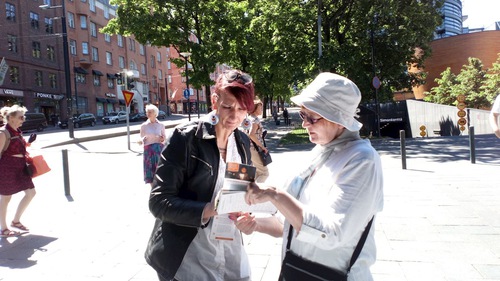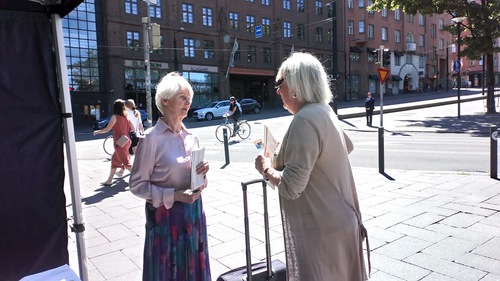 Finns want to learn more about Falun Gong and the persecution of this cultivation practice in China.
Solome, a composer of music, signed the petition calling for an end of the persecution of Falun Gong in China. During the conversation, a practitioner shared with him her experiences of cultivating, and how her health improved. Solome said that he would learn more about the practice, and would give it a try.
Ilmeri took a flier and signed the petition. She said that she knew a Chinese family in Kouvola who had told her that Falun Gong was persecuted brutally in China.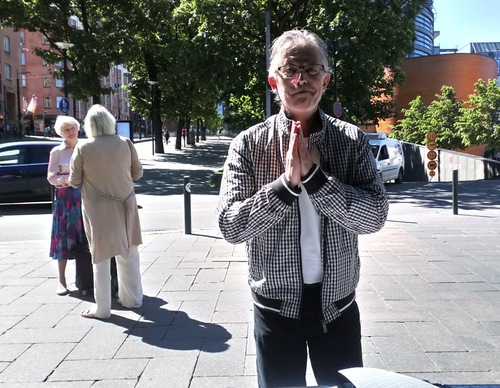 This gentleman pressed his hands together to thank the practitioners volunteering at the site.
Mr. Kaisaneko is from Brazil and has three siblings in Brazil who are employed in the medical field. All three have been infected with the coronavirus. A practitioner said that Falun Gong is a powerful cultivation practice of the Buddha School, and encouraged him to introduce the practice to his siblings.
Kaisaneko said he had already felt the energy field from the practitioners and definitely wanted to learn the practice. "Can you give me the address and time of the class? I like meditation. I have a long summer vacation coming up and I wanted to try it."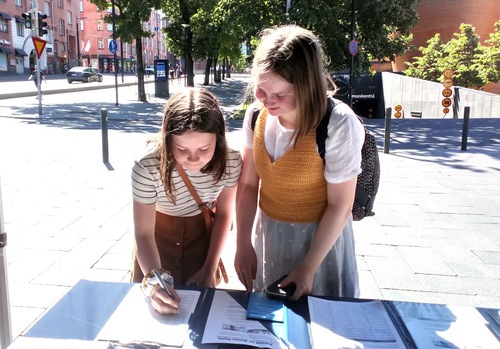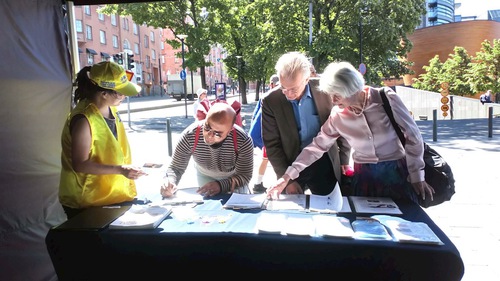 Finns sign a petition calling for an end to the persecution of Falun Gong.
Oona and Aada are juniors at a high school. A practitioner talked about the practice and the persecution in English, and Oona translated it into Finnish for her friend. The two friends asked how to sign the petition online, and planned to share it with more friends.
Anna, who lives near the Chinese Embassy, said she often saw Falun Gong practitioners protesting outside the embassy. "The embassy called the police. When police saw how you are so peaceful, they went back to their patrol car and read Akkaankkaa (a Finn comic book about Donald Duck.)"
Nick is a tourist from the Netherlands who has a good understanding of the danger posed by communism. He said, "Communism is not limited to being inside China. The ideology of Communism has controlled most of the world, including the media and governments. It is very necessary to spread the truth."