Beijing in "Partial Lockdown" Due to New Coronavirus Outbreak
June 27, 2020 | By a Minghui correspondent
(Minghui.org) The CCP virus (Wuhan coronavirus) is now raging in Beijing. At least 9 of the city's 16 administrative districts have reported clusters of infections in a number of markets, with more than a hundred officially confirmed cases across Beijing. Twenty-eight neighborhoods and townships have been listed as high-risk areas, and a number of residential communities around Yuquan East Market and Xinfadi Market are under lockdown, causing devastating losses to vegetable farmers.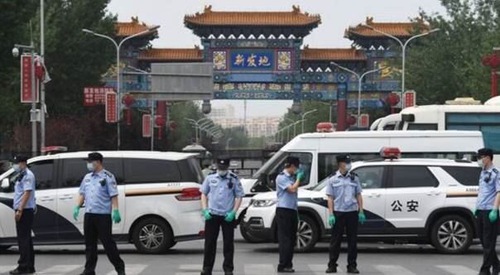 Xinfadi wholesale market in Beijing
Beijing Raises Emergency Response Level
On the evening of June 16, 2020, Beijing held a press briefing, at which Chen Bei, deputy secretary-general of the Beijing Municipal Government, stated that the city's emergency response had been raised to a higher level.
Strict restrictions were placed on all communities, and all movements in and out of Beijing were to be strictly controlled. Those under special surveillance would not be allowed to leave the city. Flights, trains and buses were suspended on a large scale. From June 17, all kindergartens, primary schools, middle schools, and vocational schools in Beijing would be closed. College students would not return to their universities, and extracurricular training institutions would stop all in-person classes and group activities.
In addition, libraries, art galleries, public places, and parks would operate at no more than 30% of their capacity and open only within designated time frames. Indoor and outdoor sports and fitness facilities would open to limited number of people, and basketball, football, volleyball and other group combative sports were forbidden. Cultural and entertainment venues, sports and fitness venues, swimming pools, etc. would be shut down. Nursing homes, welfare homes, and mental health facilities would be locked down.
Some local residents said in an interview with foreign media that the actual infection situation in Beijing they saw was far more serious than what was reported in the official announcement.
The new round of outbreaks has spread to Liaoning, Hebei and Sichuan. At the same time, the centers for disease control in Lüliang in Shanxi, Daqing in Heilongjiang, Dalian and Dandong in Liaoning issued a notice on June 13 warning against travel to Beijing unless absolutely necessary.
"We Could See a Massive Outbreak in One to Two Weeks"
According to an emergency doctor in Beijing, the new outbreak is very dangerous and unpredictable. "We could see a massive outbreak in one to two weeks," the doctor said. "We have received strict orders and are not allowed to go anywhere."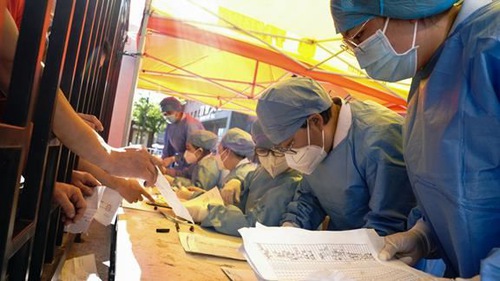 Doctors busy at testing site
The second round of outbreaks in Beijing has turned the entire city into a war zone. All communities are under lockdown, and people are in panic. Security personnel are everywhere on the street; Tiananmen Square is completely empty, and the subway is deserted.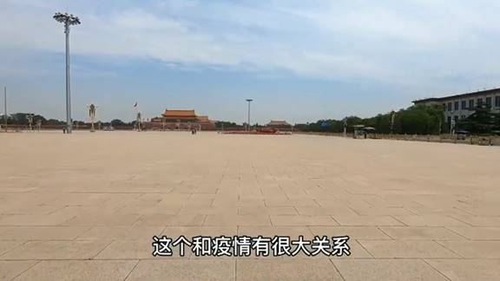 Empty Tiananmen Square (screenshot from a web video)
Top Beijing Official Declares "Critical Stage"
Cai Qi, Secretary of the CCP Beijing Municipal Committee, held three meetings to combat the new coronavirus outbreak, declaring that Beijing had entered a "critical stage." The provinces of Liaoning, Shanxi, and Heilongjiang have also issued warnings to residents not to travel to Beijing.
On the morning of June 13, Pang Xinghuo, deputy director of the Beijing Center for Disease Control and Prevention, said at a coronavirus press briefing: Of the 7 confirmed patients in the last two days, 6 had not been out of town in the last two weeks and had no contact with people from abroad or Hubei Province, but all of them had been to the Xinfadi wholesale market.
The National Health Commission announced 11 new cases on June 12, saying 7 patients were from Beijing and that all of them were related to the Xinfadi wholesale market. All market personnel were screened for the virus, and 46 tested positive.
Fengtai District, where the Xinfadi wholesale market is located, has locked down 11 neighborhoods in close vicinity to the market; three nearby primary schools and six kindergartens have also shut their doors.
While the Xingfadi market was shut down and guarded by armed police, a number of other farmers' markets were also closed.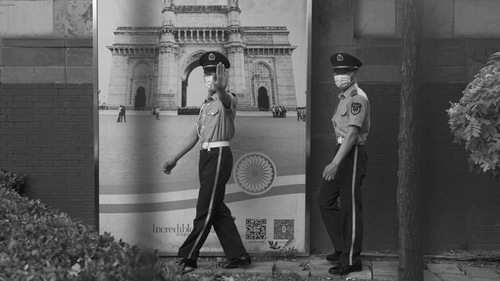 Beijing in "partial lockdown" with armed police everywhere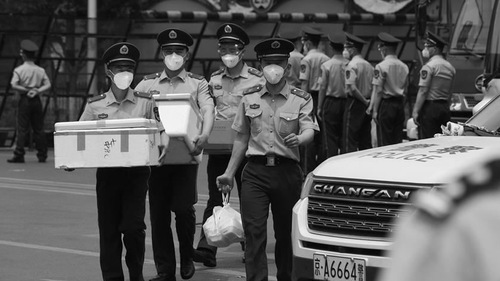 Armed police everywhere in Beijing
Accused "Imported Salmon" Turns Out to Be Fake
Eager to find a scapegoat for the new round of infections in Beijing, CCP authorities blamed imported salmon, causing the removal of salmon from shelves across China. The CCP has also suspended salmon imports from Europe.
However, the whole thing turned out to be a joke as more and more restaurants admitted that the "salmon" they used was not imported but rather freshwater rainbow trout. Meanwhile, European salmon producers have stated that their employees had been tested and no positive cases had been found.
Netizens were outraged by the false accusation of salmon. The following are some of their postings:
"The CCP bullied salmon since the fish can't defend themselves."
"The chopping board has no travel history, and salmon don't have lungs (and can't have pneumonia)!"
"It's crazy! While the real source of infection has not been identified, the whole Chinese nation is targeting salmon! It's the same as the whole country blaming bats earlier."
"The catering sector reopened long ago. Japanese and seafood restaurants are major players, and people who buy salmon are by no means a small number, as many people enjoy eating it raw. If there were anything wrong, it would have surfaced long ago. The source of infection could not possibly be fish."
Salmon Have No Lungs and Cannot Be Infected with Coronavirus
Deutsche Welle argued that because salmon have no lungs and breathe with gills, it is impossible to get infected with the coronavirus. It proposed two possibilities for finding the virus on a salmon chopping board: One is that the virus somehow got to the surface of the salmon, and the other is that the chopping board is not contaminated by the virus on the salmon but by other sources of contamination.
China Business Network reported on the analysis of a virologist, who said only mammals can be hosts of the coronavirus; viruses in human lungs cannot be transmitted to fish, nor the other way around. The virologist said that there has been no viral disease shared by humans and fish in history.
Zhang Jie, deputy head of Fengtai District, said at a coronavirus press briefing on June 14 that samples from all salmon stalls and public areas in the Jingshen seafood market tested negative.
On June 13, Wuhan City collected samples from 20 farmers' markets in 15 districts, 25 supermarkets, 5 seafood import and export companies; seafood produce, freshwater produce, livestock stalls, cutting boards, knives, drainage ditches, frozen storage, and other environments. The samples all tested negative.
Shandong Jinan Seafood Market stopped selling salmon on June 13 and tested the salmon. All samples tested negative.
According to thepaper.cn, many places such as Wuhan in Hubei Province, Guangzhou in Guangdong Province, Xi'an in Shaanxi Province, Jinan in Shandong Province, and Harbin in Heilongjiang Province, tested salmon and seafood markets on June 14 and 15, and all samples collected also tested negative.
As the CCP's attempt to blame salmon for the second wave of coronavirus failed, some Chinese netizens looked to ancient Chinese history for why Beijing is hit with the virus.
Warnings from Heaven
Throughout Chinese history, there have been major plagues associated with the change of dynasties. When a dynasty neared its end, the rulers were often incompetent and ferocious. Based on traditional beliefs, this would lead to both natural catastrophes and man-made disasters, including floods, droughts, earthquakes, and plagues, which in turn led to inevitable upheaval and social unrest, and eventually the forming of a new era.
Around 3:00 p.m. on May 21, at the opening of the annual "Two Sessions" (the National People's Congress and the Chinese People's Political Consultative Conference), the sky in Beijing suddenly turned pitch dark, and torrential rain and hails poured down in full strength, accompanied by deafening thunder and ferocious lightning.
Some netizens shared that such unusual cosmic phenomenon could not simply be a coincidence, but a warning sign that "Heaven is about to destroy the CCP!"