New Zealand: Rally Held in Central Auckland
June 28, 2020 | By the Minghui correspondent station in Auckland
(Minghui.org) Falun Gong practitioners held a rally in downtown Auckland on June 20, 2020, to call attention to the Chinese Communist Party's human rights violations during its two decades of persecuting Falun Gong.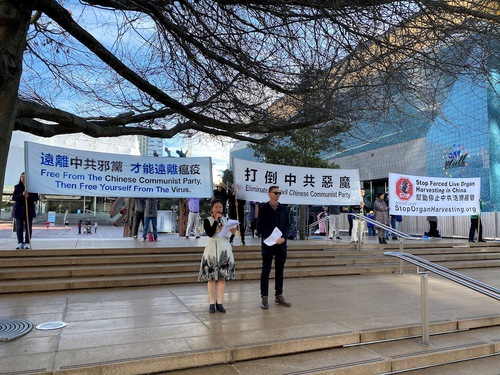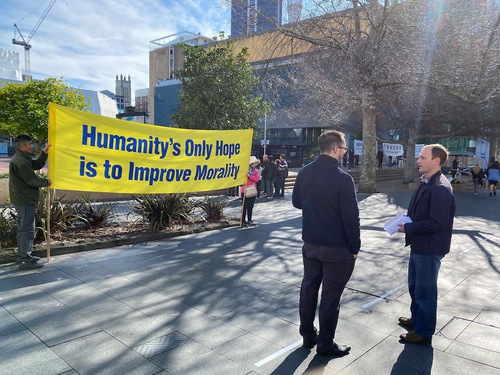 Falun Gong practitioners hold a rally in Auckland.
Many people paused to listen to the speakers at the rally and take photographs. Some even helped to distribute fliers. Practitioners collected dozens of signatures on a petition that calls for an end to the Chinese Communist Party's (CCP) 20-year-long persecution. 
"More People Should Know the Truth"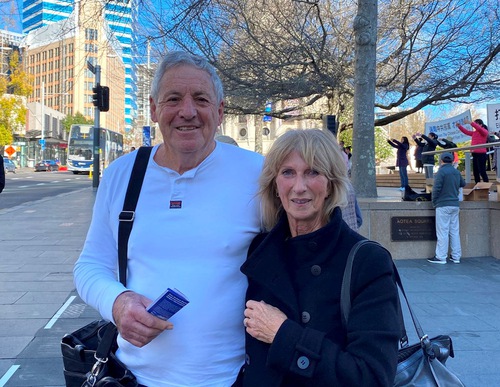 Michael and Sherrill
Michael and Sherrill stopped to talk to a practitioner. Michael said he believed what practitioners said and supported them. He pointed out that many things in China were unfair, especially when compared with the freedom people in New Zealand enjoyed.
Michael said that he had many Chinese friends who were good people, but he knows the CCP is evil, that it deceives people. He encouraged practitioners to help more people find out the truth. "This is a very good event," he said. 
He was aware that people in China who expose the truth about the persecution are imprisoned and said that more people and more governments should know about it.
Passersby Help Distribute Fliers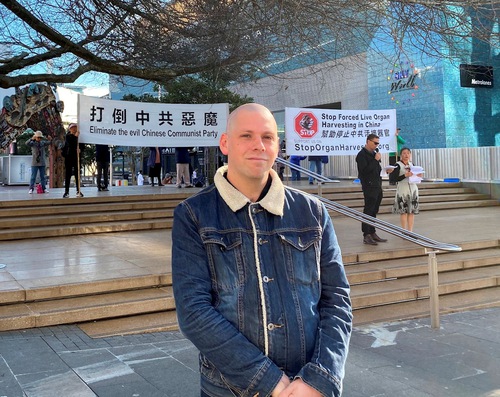 Leo Smith
Leo Smith volunteered to help practitioners distribute fliers after he listened to someone speak about what has been happening in China. He said he was against the CCP's persecution, especially the state-sanctioned live organ harvesting. 
He said he had asked the New Zealand Government to speak out against the CCP and not to do business with the Party. He pointed out that when Australia wanted to investigate the source of the pandemic, China slapped high tariffs on Australian barley. He said the CCP's reaction to the Australian Government's stance indicated that the CCP feels the pressure. He thought all countries should work together to exert pressure on the CCP.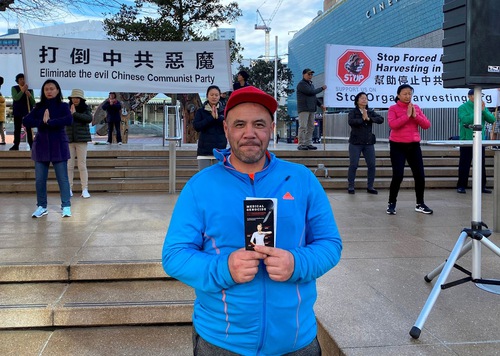 Phillip Holmes
Phillip Holmes, who is of Maori descent, helped practitioners distribute fliers and also took some to distribute among his tribe. He said he knew about the CCP's persecution of religions and people of faith. 
He said the CCP was contemptible and that religious freedom and freedom of belief—basic rights—are suppressed in China. He suggested that practitioners get help from New Zealand's Maori people and their media. He hopes more people will speak out to help practitioners. 
Desire to Learn Falun Gong
Linda Kipa accepted a flyer and right away asked where she could learn Falun Gong. She wanted to learn the sitting meditation to relieve stress. She talked with a practitioner about the CCP's authoritarian control in China. 
She said the CCP makes too many decisions for the people, who have no freedom, and that their basic rights should be respected. She said she wanted to learn Falun Gong to become more tolerant, healthy, happy, and considerate.