Liaoning Man Dies in Prison Three Years After His Wife Died in a Detention Center
June 29, 2020 | By a Minghui correspondent in Liaoning Province
(Minghui.org) Mr. Wang Dianguo, a 67-year-old resident of Anshan City, Liaoning Province, was sentenced to four years in Liaonan Prison in Dalian City for refusing to renounce Falun Gong, a spiritual and meditation discipline that has been persecuted by the Chinese Communist Party since July 1999. He died at 4 p.m. on June 16, 2020, about two years after he was taken to prison.
When his family arrived at the prison the next day, they were told that Mr. Wang had died of gastric cancer. They questioned why he was not treated or released on medical parole, but they got no answers. Upon their repeated requests, the guards played a portion of security footage, from which Mr. Wang's family learned that he had become incapacitated back in April 2020.
At the funeral home, Mr. Wang's family was not allowed to get close to his body. Noticing bruises in the corners of Mr. Wang's mouth, they asked about the injuries and were told they were caused by force-feeding. Mr. Wang's loved ones also checked with doctors involved in his treatment and learned that force-feeding was not a likely reason for the bruises. One doctor said, "Mr. Wang's stomach was all full, and it was impossible to force-feed anything. Plus he was too weak for force-feeding."
Mr. Wang's imprisonment followed his arrest at home in July 2017 when his wife, Ms. Yu Baofang, and son, Mr. Wang Yu, were also seized for practicing Falun Gong. Thirteen days later, Ms. Yu died at the Anshan Women's Detention Center.
Family of Three Arrested, Wife Dies in Custody Two Weeks Later
Mr. Wang Yu once recounted how he and his parents were arrested around 8 p.m. on July 4, 2017. Several officers hit the lock with a hammer and pried the door open with a metal bar. One of them said they were from Tiexi Police Department.
The police took the family of three to Yongle Police Station, where they kept the mother in a metal cage and the father and son in separate rooms with their hands cuffed to their chained feet.
The interrogation started after midnight. A plainclothes officer grabbed the elder Mr. Wang's hair and pulled it backward with force, making it hard for him to breathe. Two other officers stomped on the younger Mr. Wang's feet.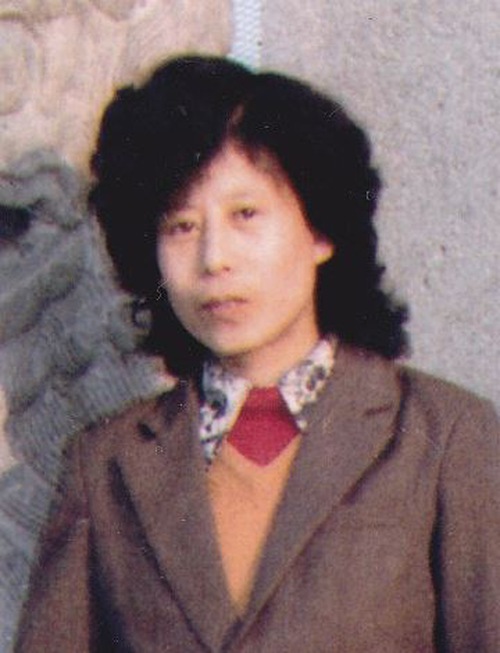 Ms. Yu Baofang
Ms. Yu was later transferred to Anshan Women's Detention Center, where she died on July 17, 2017. The police did not investigate her death, nor did they return any of the items confiscated from her home.
Sentence and Imprisonment
Mr. Wang Dianguo was tried at Tiexi Court on April 24, 2018, and he was sentenced to four years. When he and his son asked about his wife's death, presiding judge Tong Shouhui ignored them.
Before being taken to prison, Mr. Wang asked to see his wife's body. Three people beat him hard, including Bai Longfeng (director of Anshan Second Detention Center), Li (deputy director), and Wang Zhenyu (a store manager).
"You are nobody! Do you understand that?" The three people yelled at him while beating his head and face with leather boots. "Your wife is dead!"
Mr. Wang's head and face had bruises and swelling all over. He had fractures in his nasal bridge, ear cartilage, two ribs, and collarbone. After the beating, the three people handcuffed him and again linked the cuffs to his chained feet.
Mr. Wang asked to see an attorney, but his request was ignored. He was taken to Liaonan Prison in Dalian City. Noticing wounds all over him, prison officials refused to accept him. Several days later, detention center officials took him to the prison again, and he was admitted.
Related Report:
Son Recounts Mother's Death Two Weeks After Arrest, Father Still Detained
Related Article in Chinese: