Reminiscing about Master Li Hongzhi's visit to Taiwan in 1997 (Part 2)
June 3, 2020 | By Fang Hui, a Minghui reporter in Taiwan
(Minghui.org) (Continued from part I)
The founder of Falun Gong, Master Li Hongzhi, visited Taiwan in November 1997. During his one week visit, Master gave two lectures, one in Taipei and the other in Taichung. His lectures were an important milestone for the spread of Falun Gong in Taiwan.
Master mentioned his intent to visit Sun Moon Lake and other parts of Taiwan during this trip. The practitioners misunderstood and thought that he came to sightsee. They later realized that Master was concerned about Taiwan.
The trip started on November 17, right after the Taipei lecture. Mr. Hong Jihong was the primary coordinator for the journey. The first stop was the Palace Museum followed by Liberty Square and Sung Yat-Sen Memorial Hall.
The Best Guide for the Palace Museum
Several practitioners accompanied Master on the museum tour on November 17. Before Mr. Hong could arrange a guide, Master was already leading the group.
They started on the third floor and made their way down. Master explained to the group the origin of each cultural relic, how it was made, how to use it, how to appreciate its beauty, and so on. Given Master's explanation, every practitioner knew how to enjoy these antiques.
There was a golden bone, of which even the experts of the Palace Museum did not know its origin. Master told everyone it was a dragon bone and that every one of its tiny particles carried the image of the dragon. Mr. Hong sensed that Master knew of every historical relic in the world.
Ms. Nie said that Master had the group view all the antiques displayed in the museum and spoke about each and every one of them. When she wondered whether she could consummate, Master said to her, "You have already started practicing. Why can't you succeed in it?"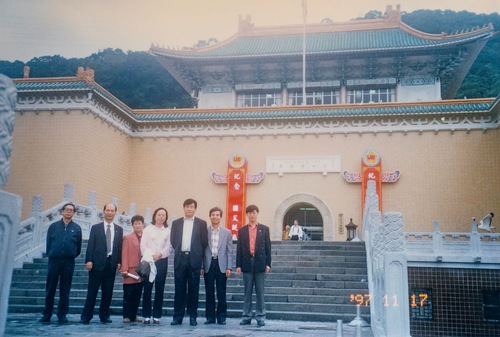 Master Li and a group of practitioners at the Palace Museum on November 17, 1997
Falun Gong's Spread in Taiwan
Mr. Hong said, "We had lunch at the Grand Hotel, and Master insisted in paying the entire bill." After lunch, they toured Liberty Square (the formerly Chiang Kai-Shek Memorial Hall) and Sun Yat-Sen Memorial Hall. 
Mr. Hong told Master that more than 100 practitioners did the exercises together at Liberty Square once a month at that time. Master said that there would be many practitioners at this site in the future.
Falun Gong practitioners in Taiwan gradually matured in their cultivation by 1998. After the April 25, 1999, appeal by 10,000 practitioners in Beijing, the number of practitioners skyrocketed to over 10,000, a 10-fold increase from the year before.
Thanks to Master's trip to Taiwan, many practitioners had a chance to meet and get to know each other. They were moved by his words and deeds and thus followed suit. Some participated in the experience-sharing gatherings three times in China. They further understood the preciousness of Dafa and the unparalleled opportunity to obtain it.
Visiting Eastern Taiwan
Mr. Hong planned the itinerary and Master approved. They started in the eastern parts of Taiwan on the third day. Traveling with Master in one car were Mr. Hong, who drove; Mr. Hong's wife; and one Chinese practitioner who had come to Taiwan with Master.
They left for Hualien in the morning on November 18. They stopped halfway in Yilan City to see practitioners Mr. Cheng Wenhuang and his wife Ho Laichin.
The couple had attended two of Master's Fa classes, one in Jinan and the other in Guangzhou. On their wall were three photos of these classes. Master looked at those pictures one by one. Looking at the Guangzhou photo, Master sighed, "It has been more than three years already."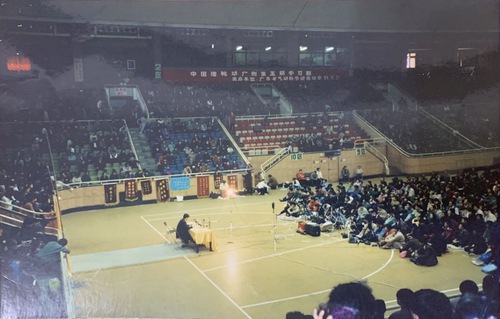 Master's lecture in Guangzhou on December 21, 1994 – Master's last lecture series in China.
Master then chatted with the couple for more than an hour. He compassionately asked them how they had spread the Fa in Taiwan. He also asked if they'd received the videotapes of his Fa teachings in the United States. He indicated that most of the attendees were highly educated.
Master then told Ms. Ho that many teachers would come to learn Falun Gong from her in the future. She doubted this, because she did not have much education, and she did not know many people. Sure enough, many college professors later came to study the Fa with her.
The Greatness of Falun Gong
Mr. Hong realized too late that he had not put gas in the car in Yilan City before they left for Hualien. The tank was almost empty when they got to a village, but there was no gas station in the village. 
While Mr. Hong was annoyed at his negligence and worried about being trapped in the village, Master closed his eyes. After a while, Mr. Hong and his wife both were flabbergasted to see that the needle on the gas gauge now pointed to "Full." 
They stayed overnight in Hualien. Mr. Hong tried to serve Master with two over-easy eggs for breakfast the following morning. Master said that he did not eat raw food. Mr. Hong and his wife thus learned that practitioners should not eat raw food.
Mr. Hong planned for Master to visit Nanhe Temple on the seashore near Hualien because the famous old monk Guangchin had cultivated there. He knew the location very well. But for some inexplicable reason, he could not see the temple and passed it. When he thought of turning back, Master said, "Just keep going. We do not go back."
Mr. Hong was not enlightened and questioned himself. Master explained, "Guangchin has already been in the Fa."
Mr. Hong did not realize how anxious Master was to visit Sun Moon Lake. They stopped at many tourist sites for photos along the way. At one stop at the seashore, he saw Law Wheels chasing after them. At another stop, Master looked at the sea and said, "Something big will happen in two years, and a new island will rise up out of the sea a few miles from here."
On September 21, 1999, (two years later), a devastating earthquake occurred near a small town six miles southwest of Sun Moon Lake.
Mr. Hong felt very bad that Master had so far paid for everything on the trip. When they were near Taitung County, he decided to pay for dinner at a good restaurant. Just then Master told him to pull over and that they would go eat. "But there is no restaurant," said Mr. Hong.
Without saying a word, Master started out and everyone followed. Amazingly, not far away was a simple family-style cafeteria. Master paid the bill again. 
Sun Moon Lake Is the Lifeblood of Taiwan
It was already midnight when they arrived at Sun Moon Lake. Master specifically told the group not to bother him before seven a.m.
After breakfast on November 20, Mr. Hong proposed several places to visit, including Wenwu Temple and the Aboriginal Cultural Village, and to take a lake cruise. Master declined the offer and said, "Let us leave." 
Mr. Hong was confused. He wondered about the real reasons that Master had come all this way without seeing any of the sights. He did not even look at the lake.
Master explained, "The God in Sun Moon Lake was a good divine. But he was disturbed by the over-development."
Mr. Hong was still confused, but he did not ask Master for an explanation at the time. Years later, Mr. Hong got another chance to ask Master about it. Master said that the existence of Sun Moon Lake involves the entire life chain of Taiwan. 
Before leaving Sun Moon Lake for the lecture to be held in Taichung, Master wrote a poem addressing the beauty of Sun-Moon Lake:
"A pool of water crystal clear,Reflecting the splendor of smoke-likeclouds here and there,Here in this chaotic world,It has kept its rare beauty." ("A Visit to Sun-Moon Lake," Hong Yin)
Different Cultivation Level, Different Scene
Mr. Hong arranged a light schedule for Master on November 21. They toured the Botanical Garden, the History Museum, and the Shin-Kong-Mitsukoshi Building, which was the tallest landmark in Taiwan at the time. 
Inside the building elevator, Master said, "Wow, the heavenly maidens are casting flowers." He then taught them how to see.
Mr. Hong said, "I only see some golden and white things. I do not see any heavenly maidens."
Indeed, the level of cultivation reflects the scene a practitioner can see!
Lucky to Hear the Teachings Again
On the last day, November 22, of Master's trip to Taiwan, many practitioners saw him off at the airport. In the waiting room, Master lectured again for about an hour. 
Ms. Liao Shiaolan recalled, "The airport was very busy in the afternoon and there were a lot of travelers. Something incredible happened. When Master was ready to enter customs, the crowd around him suddenly parted to make room for him. Master waved at us until we could no longer see him. This scene was very impressive and unforgettable."
Ms. Liao added, "We were new practitioners and did not realize the importance of diligent practice. Many of us were still lingering at the stage of 'how long we can sit to meditate.' Master encouraged us, saying that, unlike us in Taiwan, practitioners in China have practiced in a very oppressive environment."
Ms. Huang Chunmei recalled, "Master hinted that time is running short. One day today is like a second in the past."
Ms. Chen Shienlin said, "Master was very happy to see his Taiwanese disciples and said that he would come back. The practitioners respected Master and did not dare to sit too close to him. But Master was very kind and told us to get closer. I was so happy to sit just next to him."
Ms. Chen added, "There was one thing that impressed me very much. After passing through customs, Master returned and pointed at Ms. Nie and us. I knew that Master wanted us to resolve our conflicts. Ms. Nie is from China and had different thoughts and manners and ways of speaking. Some conflicts were inevitable at the time because we were new practitioners and had a lot of human notions.
"Now, I realize that this – resolving conflicts – is also a part of cultivation, a process of xinxing elevation and self-sublimation."
(The end)