Finland: 'What You Are Doing Is Great!'
June 6, 2020 | By a Falun Gong practitioner in Finland
(Minghui.org) Falun Gong practitioners in Helsinki held activities on the square at Kamppi Center on May 30, 2020. They introduced the ancient spiritual practice and exposed the Chinese Communist Party's (CCP) persecution throughout the past 21 years.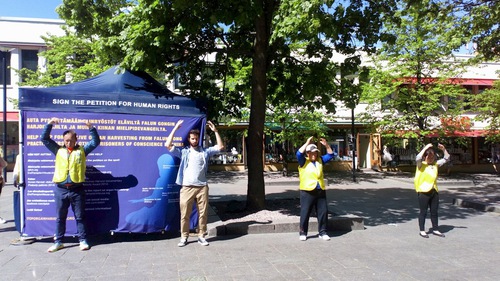 Falun Gong practitioners demonstrate the exercises at Kamppi Center on May 30, 2020.
A young man named Kristian stopped on his way to the shopping center to sign the petition calling for an end to the persecution. He told a practitioner, "The Chinese Communist Party has persecuted so many people. I know that it has never stopped persecuting Christians." 
Linda, a local resident, told a practitioner, "I would like to sign. I signed one a few years ago, but I want to sign again."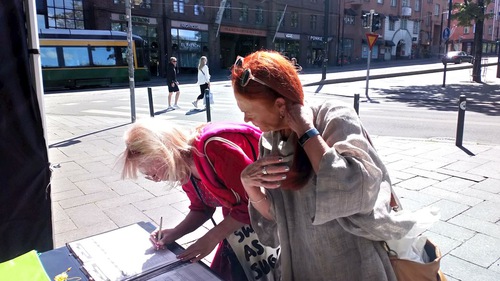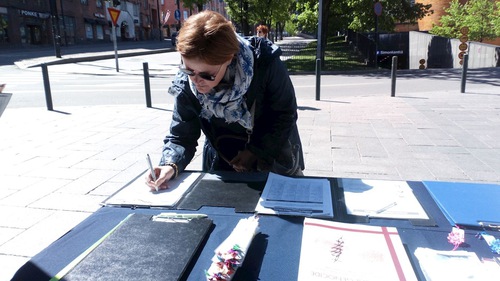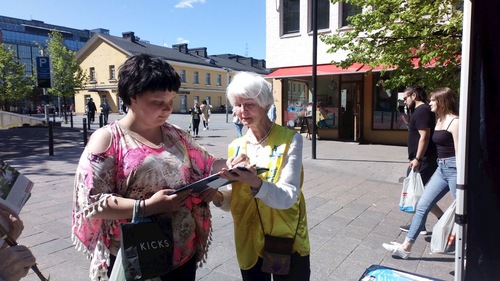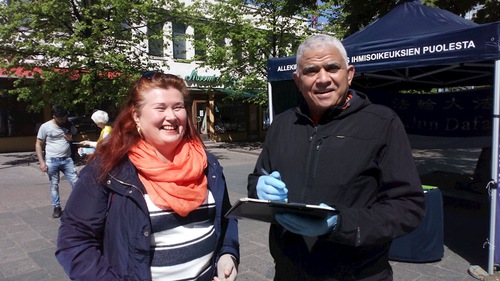 Finnish people sign a petition against the CCP's persecution.
Kamil, an immigrant from Iran, wanted to make a donation to Falun Gong. A practitioner told him, "We don't take donations, but would like more people to know the truth about Falun Gong. We collect signatures." Kamil asked to sign the petition. 
A tall young police officer told a practitioner, "I know a little about Falun Gong, but I would like to learn more about it." After hearing the practitioner's introduction, the police officer took some brochures about the CCP's organ harvesting from living practitioners. He was very touched that practitioners had been persistently calling for an end to the persecution for 21 years. He planned to sign the petition online.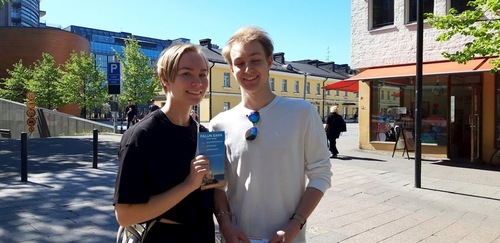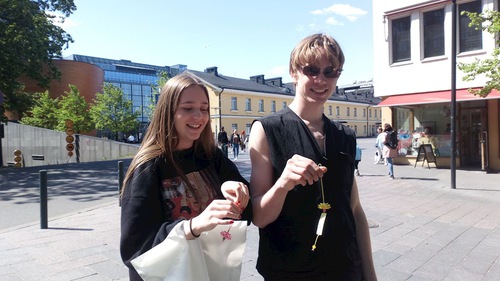 Finnish people support Falun Gong.
Pia, a college student, had studied Chinese culture and politics. She knew about China's serious violations of human rights. She and her friends signed the petition and asked about the CCP's infiltration into Finnish society.
Katarina, another local resident, told practitioners, "What you are doing is great!"
A man came to the Falun Gong booth, wanting to buy a copy of Falun Gong's main book Zhuan Falun. He said he had browsed the book online, but wanted to have a physical copy and learn the Falun Gong exercises after he read Zhuan Falun. He was surprised to hear about the CCP's atrocities against Falun Gong and said that no one had any reason to infringe upon others' beliefs. He knew that the CCP also persecuted other groups of people and couldn't understand why the media kept silent on this issue.