Dortmund, Germany: Falun Dafa Information Day Attracts Locals
July 1, 2020 | By a practitioner in Germany
(Minghui.org) Falun Dafa practitioners held activities in Dortmund's city center on June 20, 2020, to introduce the meditation system to the public. Germany adopted stay-at-home policies after the coronavirus outbreak, but recently relaxed restrictions. Practitioners have held activities in Dortmund three times since the city's reopening to promote Falun Dafa and bring awareness to the continued persecution of practitioners in China.
Dortmund is the eighth largest city in Germany, with a population of about 600,000 people. The city is known as a hub for technological innovation, and was an important center for coal, steel, and beer before WWII.
Some local people who stopped at the Falun Dafa booth were already familiar with the practice and wanted some updates on the efforts to end the persecution. Others were learning about Falun Dafa for the first time and were impressed by the peaceful exercises and wanted to learn the practice.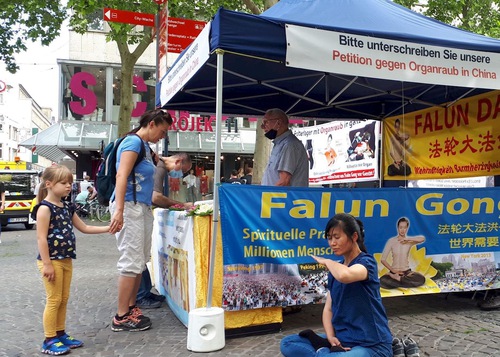 Falun Dafa information day in Dortmund, Germany, on June 20, 2020.
A man in his 40s said that he is a reader of The Epoch Times and had read a lot about Falun Dafa. "No need to tell me about this," he said to a practitioner, "I know about it and I understand what's going on." Without hesitation, he signed a petition that calls for an end to the suppression of Falun Dafa in China.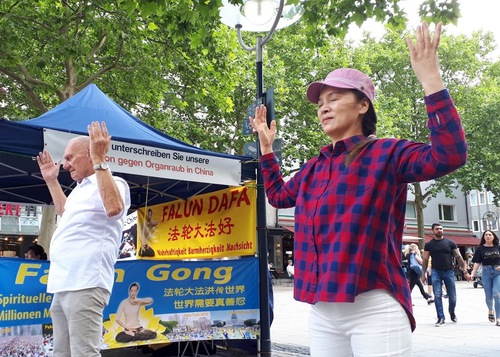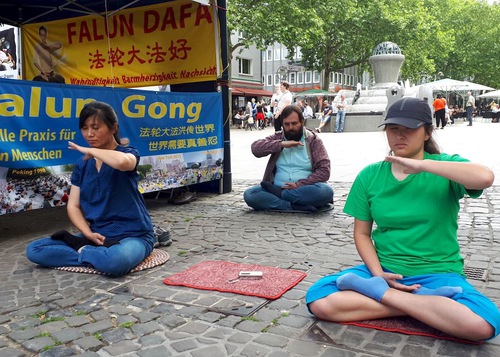 Practitioners demonstrate the Falun Dafa exercises in Dortmund's city center.
Passerby Claudia stopped at the booth and talked to a practitioner for a long time. She was aware of the human rights abuses in China and said that the Chinese Communist Party is despicable and has committed countless crimes. "There is surveillance everywhere in China and people do not have freedom," she explained.
She said that China's totalitarian regime is now threatening the entire world, and because of economic incentives, many governments and businesses have chosen to work with the regime while shying away from human rights issues.
After learning that Falun Dafa improves both physical health and provides spiritual guidance through the principles of Truthfulness-Compassion-Forbearance, Claudia was very excited and left her phone number so that she could be contacted later about the practice.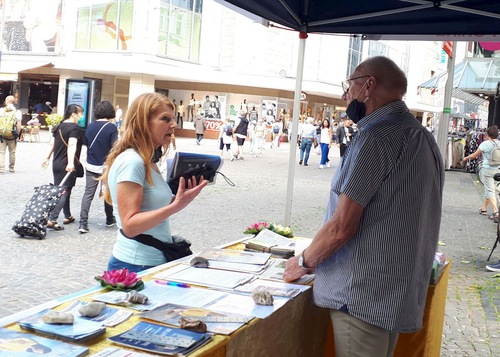 A woman stopped to ask for more information.
A pregnant woman walked by the booth and was drawn by the gentle exercises. She said she was interested in meditation, but was not sure if it would be suitable during pregnancy. A practitioner assured her that the exercises would be beneficial to both mother and baby. The woman signed a petition calling to end the suppression in China and thanked the practitioner. She said she would come back the following day to learn the exercises.