USA: 28 Members of Congress Write to Support Falun Gong and Condemn the Persecution
July 24, 2020 | By a Minghui correspondent in Washington, D.C.
(Minghui.org) July 20, 2020, marks 21 years since the Chinese Communist Party (CCP) started its persecution of Falun Gong, a spiritual and meditation practice based on the values of Truthfulness, Compassion, and Forbearance. Twenty-eight U.S. Senators and House Representatives wrote letters to express their support for Falun Gong's resistance to the persecution and to condemn the CCP's human rights violations.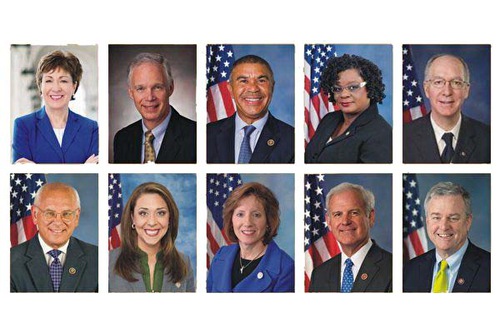 From left to right in the first row: Senator Susan Collins, Senator Ron Johnson, Representative William Lacy Clay, Representative Gwen Moore and Representative Bill Foster. From left to right in the second row: Reps. Paul Tonko, Jaime Herrera Beutler, Vicky Hartzler, Bradley Byrne and David Trone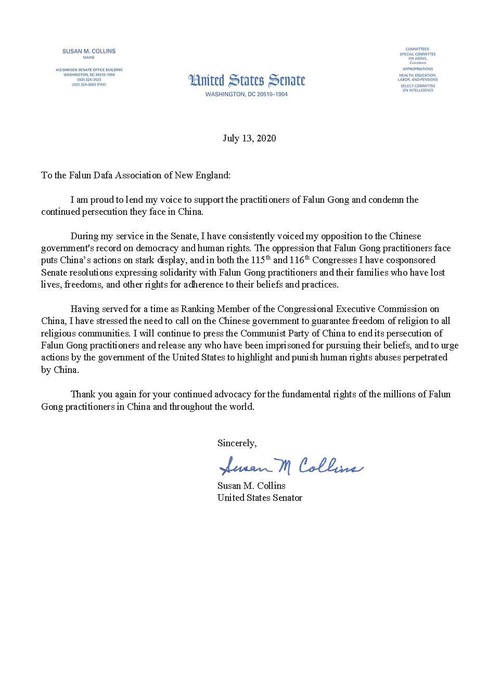 Letter from Senator Susan Collins of Maine
"I am proud to lend my voice to support the practitioners of Falun Gong and condemn the continued persecution they face in China," Senator Susan Collins stated in her letter.
"Having served for a time as Ranking Member of the Congressional Executive Commission on China, I have stressed the need to call on the Chinese government to guarantee freedom of religion to all religious communities. I will continue to press the Communist Party of China to end its persecution of Falun Gong practitioners and release any who have been imprisoned for pursuing their beliefs, and to urge actions by the government of the United States to highlight and punish human rights abuses perpetrated by China."
Letter from Senator Ron Johnson of Wisconsin
"For 21 years, the Chinese Communist Party has been waging an intensive, comprehensive, and unforgiving campaign against those who practice Falun Gong, outlawing your spiritual movement with the intent to suppress your beliefs," Senator Ron Johnson stated. "Practitioners have remained strong and united against their oppression and I applaud your continued determination and perseverance."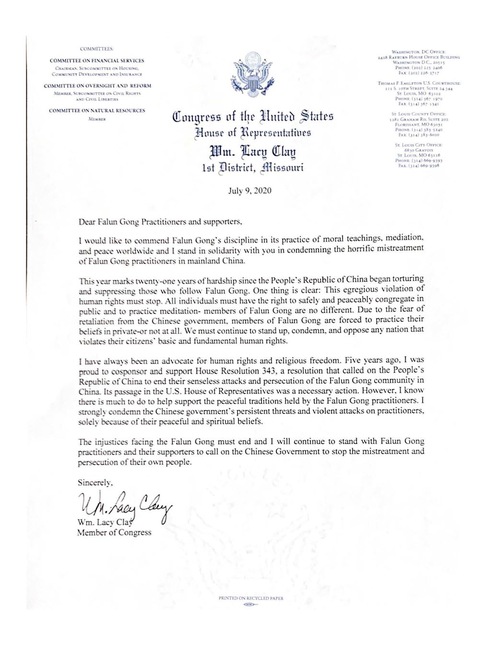 Letter from William Lacy Clay, Member of Congress from Missouri
"I would like to commend Falun Gong's discipline in its practice of moral teaching, [meditation], and peace worldwide and I stand in solidarity with you in condemning the horrific mistreatment of Falun Gong practitioners in mainland China," stated William Lacy Clay, Member of Congress.
"This year marks the twenty-one years of hardship since the People's Republic of China began torturing and suppressing those who follow Falun Gong. One thing is clear: This egregious violation of human rights must stop. All individuals must have the right to safely and peaceably congregate in public and to practice meditation- members of Falun Gong are no different."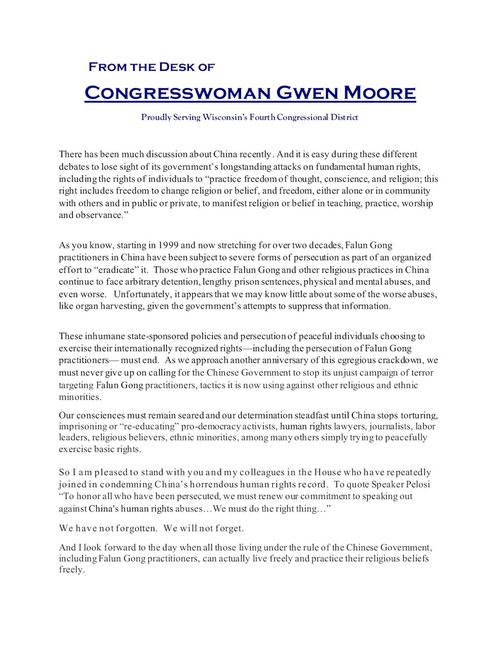 Letter from Congresswoman Gwen Moore of Wisconsin
"There has been much discussion about China recently. And it is easy during these different debates to lose sight of its government's longstanding attacks on fundamental human rights, including the rights of individuals to 'practice freedom of thought, conscience, and religion; this right includes freedom to change religion or belief, and freedom, either alone or in community with others and in public or private, to manifest religion or belief in teaching, practice, worship and observance.'
"Our consciences must remain seared and our determination steadfast until China stops torturing, imprisoning or 're-educating' pro-democracy activists, human rights lawyers, journalists, labor leaders, religious believers, ethnic minorities, among many others simply trying to peacefully exercise basic rights," she said.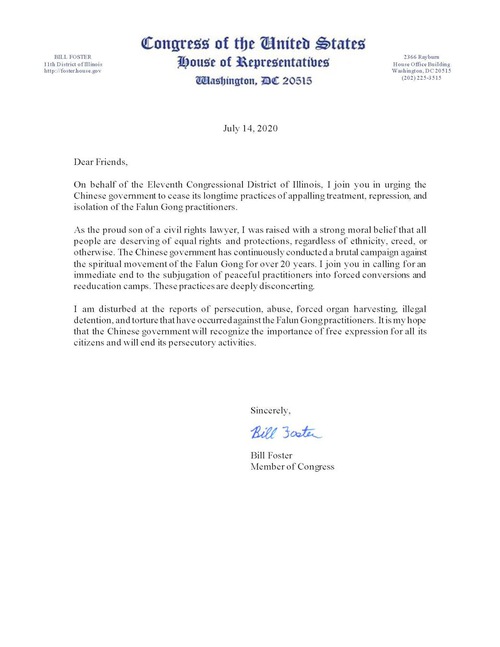 Letter from Bill Foster, Member of Congress from Illinois
"On behalf of the Eleventh Congressional District of Illinois, I join you in urging the Chinese government to cease its longtime practices of appalling treatment, repression, and isolation of the Falun Gong practitioners," stated Representative Bill Foster.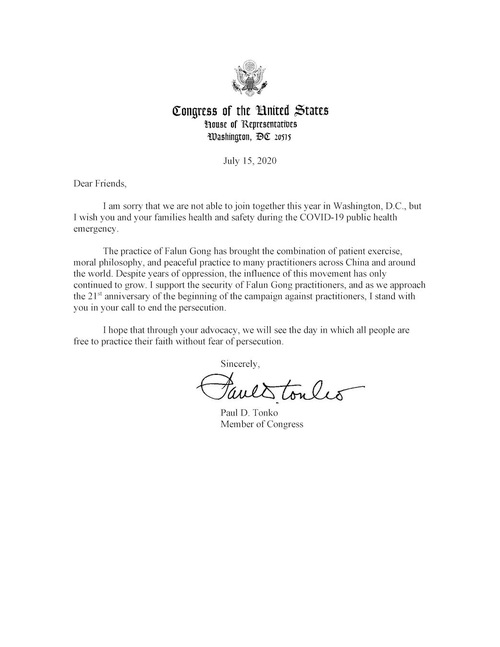 Letter from Paul Tonko, Member of Congress from New York
"The practice of Falun Gong has brought the combination of patient exercise, moral philosophy, and peaceful practice to many practitioners across China and around the world," said Representative Paul Tonko.
"Despite years of oppression, the influence of this movement has only continued to grow. I support the security of Falun Gong practitioners, and as we approach the 21st anniversary of the beginning of the campaign against practitioners, I stand with you in your call to end the persecution."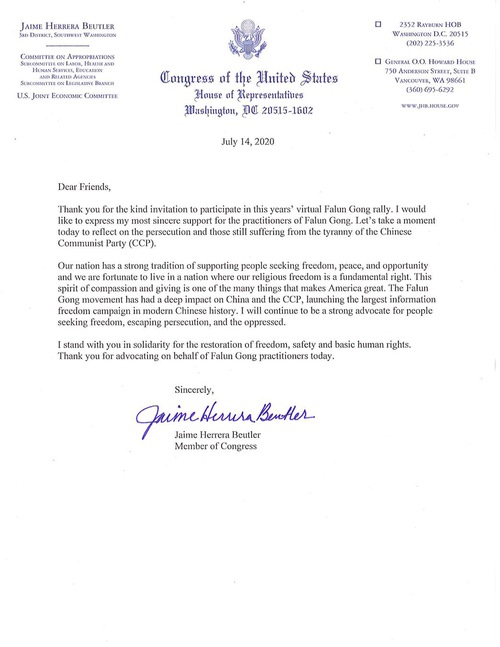 Letter from Jaime Herrera Beutler, Member of Congress from the State of Washington
"Thank you for the kind invitation to participate in this years' virtual Falun Gong rally," stated Representative Jaime Herrera Beutler. "I would like to express my most sincere support for the practitioners of Falun Gong. Let's take a moment today to reflect on the persecution and those still suffering from the tyranny of the Chinese Communist Party (CCP)."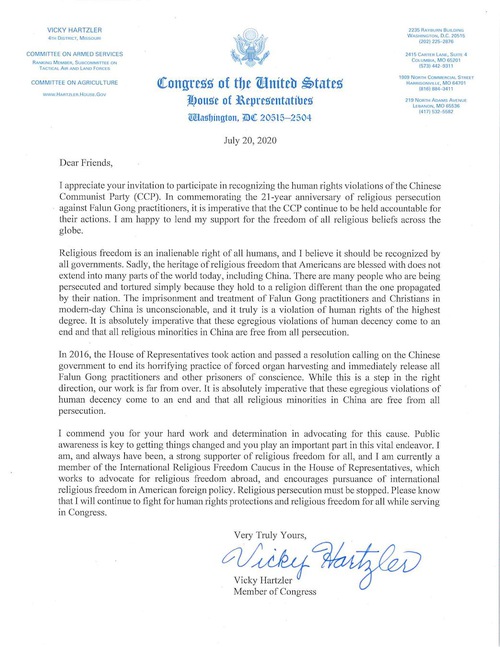 Letter from Vicky Hartzler, Member of Congress from Missouri
"I appreciate your invitation to participate in recognizing the human rights violations of the Chinese Communist Party (CCP)," stated Representative Vicky Hartzler. "In commemorating the 21-year anniversary of religious persecution against Falun Gong practitioners, it is imperative that the CCP continue to be held accountable for their actions. I am happy to lend my support for the freedom of all religious beliefs across the globe."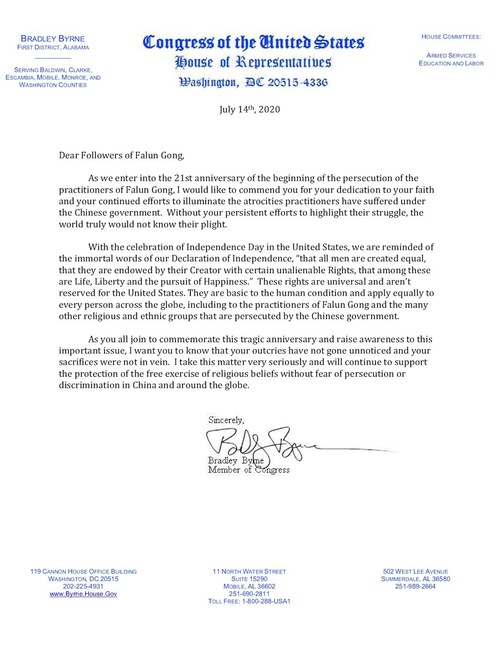 Letter from Bradley Byrne, Member of Congress from Alabama
"As we enter the 21st anniversary of the beginning of the persecution of the practitioners of Falun Gong, I would like to commend you for your dedication to your faith and your continued efforts to illustrate the atrocities practitioners have suffered under the Chinese government," stated Representative Bradley Byrne. "Without your persistent efforts to highlight their struggle, the world truly would not know their plight."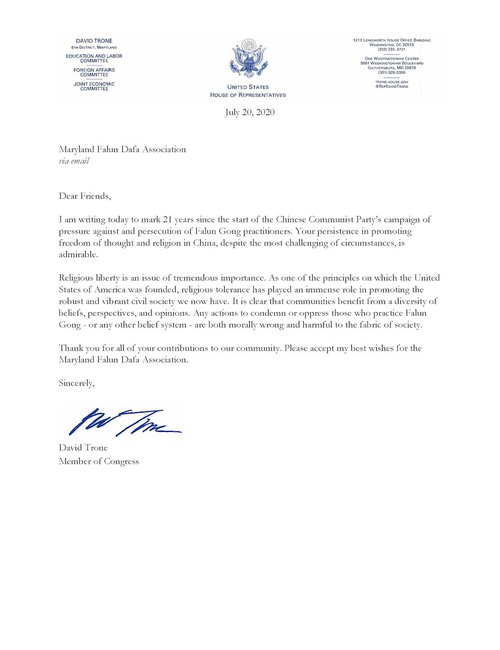 Letter from David Trone, Member of Congress, of Maryland
"I am writing to mark 21 years since the start of the Chinese Communist Party's campaign of pressure against and persecution of Falun Gong practitioners," stated Representative David Trone. "Your persistence in promoting freedom of thought and religion in China, despite the most challenging of circumstances, is admirable."
(To be continued)