Australia: Elected Officials and Community Leaders in Adelaide Condemn the Persecution
July 28, 2020 | By a Falun Gong practitioner in South Australia
(Minghui.org) Falun Gong practitioners in South Australia gathered in Adelaide on July 21, 2020, to draw attention to the 21-year-long persecution in China by the Chinese Communist Party (CCP). Several elected officials and community leaders spoke during the event and urged that these severe human rights violations end immediately.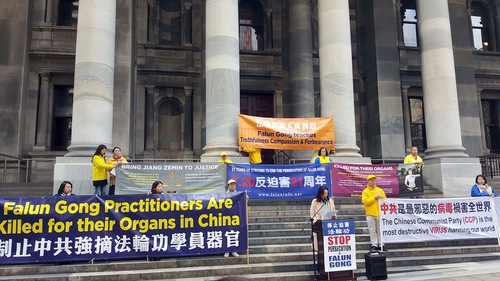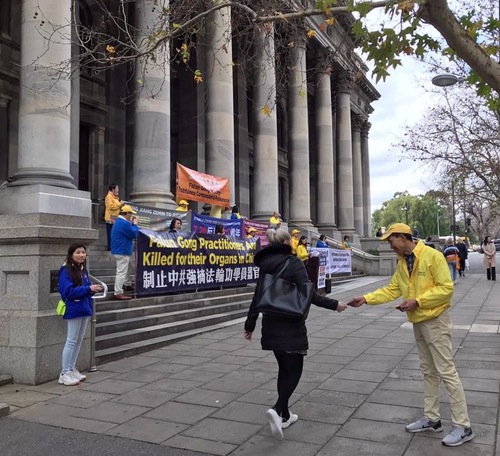 Practitioners held a peaceful rally in front of Parliament House in Adelaide, Australia, on July 21, 2020.
Practitioners Punished for Speaking the Facts
Two practitioners described the persecution they were subjected to in China. Zhang Lin was sent to detention centers three times, sentenced to a labor camp once, and also sentenced to prison. Besides torture and slave labor, she underwent a forced abortion.
She recalled, "Such mistreatment brought enormous suffering to me and my family, both financially and mentally." She said the authorities also monitored her closely and frequently harassed her family.
Sveta Mei, coordinator for the Falun Dafa Association in South Australia, said, "Ms. Zhang's experience is one of the countless examples in which Falun Gong practitioners suffered for their belief." In the past 21 years, more than 4,300 practitioners have lost their lives due to the persecution, while the total number of practitioners detained could be in the millions.
The detention facilities include prisons, labor camps, detention centers, mental hospitals, and brainwashing centers. Besides being tortured physically, practitioners are also subjected to force-feedings, sexual abuse, psychiatric abuse, and even forced organ harvesting.
The persecution goes beyond physical torture. Mei explained, "Falun Gong practitioners are mistreated for talking about their own experiences of the practice or telling people about the terrible suppression they endured. When the misdeeds of the CCP remain unchecked, more harm will occur to both Chinese residents and people from all around the world." She explained that because the CCP withheld information about the coronavirus and suppressed whistleblowers, the whole world is now paying the price.
Legislative Council Member: Speaking for Justice
Tammy Franks, member of the South Australia Legislative Council, attended the rally and said she felt pain for the torment that practitioners have endured. She said that many countries including Australia did not pay enough attention to this. She said, "Although there were supportive voices in the parliament, the Australian government as a whole could have done better on this issue."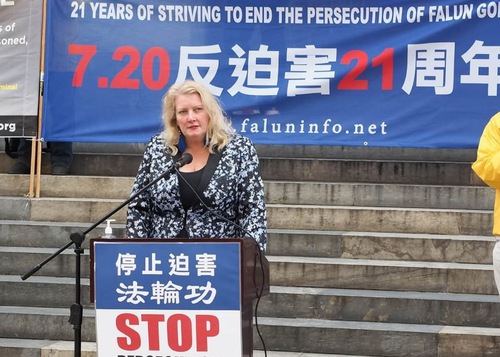 Tammy Frank, a South Australian Legislative Council member, speaks at the event.
Nonetheless, she said justice is justice, regardless of one's race or religious belief. When she began working with Amnesty International 20 years ago, she began to speak up for human rights and learned about Falun Gong. She congratulated practitioners for the progress they've made and said she hopes more officials will step forward to side with practitioners.
Seeing the True Nature of the CCP
Damian Wyld, deputy mayor of Tea Tree Gully, said that Falun Gong practitioners have worked hard during the past 21 years to expose the CCP's brutality. He pointed out that thanks to their efforts, the world now knows the CCP's true nature.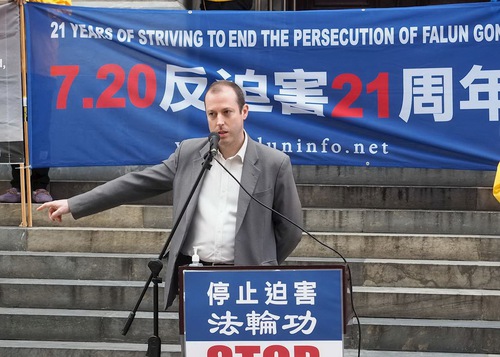 Damian Wyld, deputy mayor of Tea Tree Gully, says he supports Falun Gong practitioners.
Pointing to the practitioners' banners, he said the principles of Truthfulness, Compassion, and Forbearance are very valuable and are connected with all of us. He has chosen to support Falun Gong practitioners. He called on other officials to do the same and break away from the CCP's influence.
Remaining Silent Is the Same As Being the Criminals' Accomplices
Phuong Nguyen and Kim Thoa Nguyen, Vietnamese community leaders, spoke at the event and condemned the human rights violations in China. Kim said that remaining silent when faced with the vicious persecution is no different than acting as accomplices for these criminals.
Phuong said that Falun Gong is a peaceful meditative group, but the CCP has persecuted it for 21 years. It was not until the coronavirus pandemic that people in international society knew how the regime spread lies and damaged the world. The Australian government must awaken and raise its voice to condemn these human rights violations in China.
Anti-totalitarian activist Chau Huynh said the suppression of Falun Gong has continued for a long time. Were people to do nothing to change the situation, the CCP would continue persecuting innocent practitioners and other groups. She urged the international community to take action and address this issue.
Uyghur community representative Eldana Abbas highlighted the crime of forced organ harvesting. She said that this genocide cannot be ignored, and more people need to know the CCP's bad deeds so that the regime can be stopped.