Freiburg, Germany: Public Support for Falun Gong Efforts to End the Persecution
July 6, 2020 | By a Falun Dafa practitioner in Germany
(Minghui.org) Falun Dafa practitioners held an event on June 27, 2020, in downtown Freiburg to introduce Falun Dafa (also called Falun Gong) and raise awareness of the ongoing persecution of the practice in China. Practitioners spoke of the evil nature of the Chinese Communist Party (CCP) and advised people to maintain a distance from the Pary, to ensure a safe future. 
Practitioners displayed banners, information boards, and pictures, many of which exposed the CCP's torture and state-sanctioned organ harvesting from living Falun Gong practitioners for economic profit. Due to the coronavirus pandemic, practitioners could not distribute fliers in person, so they placed fliers and other informational materials on a table for passers-by to pick up. Many people paused to learn about Falun Dafa and talk with practitioners, and many signed the petition calling for an end to the persecution.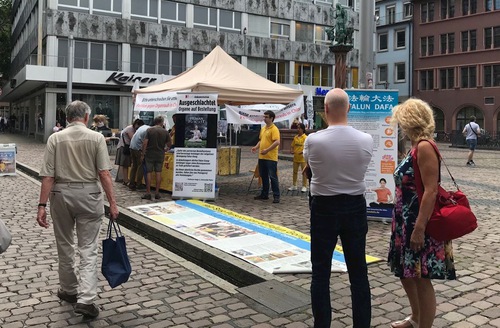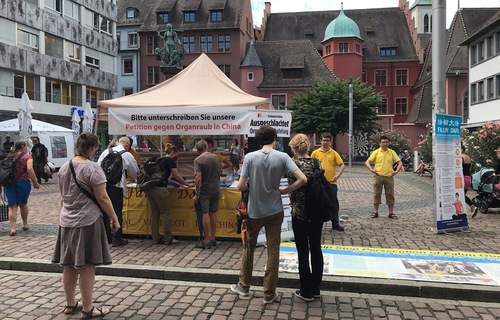 Falun Dafa practitioners raise awareness at an event in Freiburg, Germany on June 27. 
A young couple wanted to know what happened after seeing the banner with the words "Please sign the petition calling for an end to the organ harvesting from living practitioners in China." A practitioner told them about the CCP's organ harvesting of prisoners of conscience. They described how former Canadian Secretary of the Asian-Pacific David Kilgour, and lawyer David Matas investigated and wrote a book titled "State Organs: Transplant Abuse in China."
The couple was appalled to find out about such atrocities. They signed the petition and said they would read about it more online. 
A woman picked up some informational materials and left. She returned after quite a while with another woman. She put the printed materials back on the table and said, "Producing these materials cost money. I have looked at them, and know now about the organ harvesting from living practitioners, and the cultivation practice Falun Gong. I know how evil the CCP is and how these issues relate to Germany. I'm returning all the materials to you for others to read." Then she signed the petition.
Her friend also signed and said that they'd read through the information over coffee nearby. Before leaving, they wished the practitioners success in their endeavor. 
Ms. Hundert, another passerby, signed the petition and watched the exercise demonstration – the sitting meditation. She excitedly asked, "Is this qigong?" 
A practitioner told her it was the fifth of five Falun Gong exercises, and there was a weekly group practice in a Freiburg park. She took a card with the schedule and contact information for the practice site. 
Several other women also expressed interest in Falun Gong and were pleased to learn more about it.