Vancouver: Rally Calls for Release of Canadian Citizen and Falun Gong Practitioner Sun Qian, Imprisoned in China
July 6, 2020 | By a Falun Gong practitioner in Vancouver
(Minghui.org) Falun Gong practitioners held a rally in front of the Chinese Consulate in Vancouver on July 2, 2020. They called on Canadian Prime Minister Trudeau to ask the Chinese Communist regime to immediately release Sun Qian and stop the persecution of Falun Gong.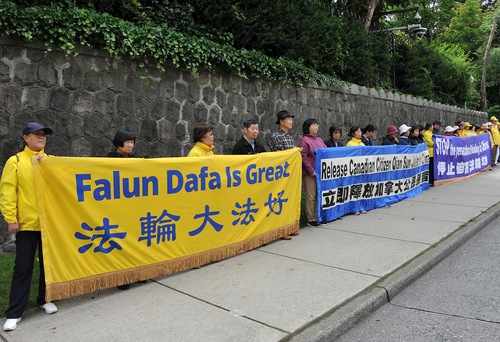 Rally in front of the Chinese Consulate in Vancouver on July 2, 2020 calling for the immediate release of Canadian citizen Sun Qian.
Ms. Sun Qian, a Chinese Canadian businesswoman, was sentenced to eight years in prison in Beijing for her belief, Falun Gong. Sun, 54, is the founder, director and Vice President of Lidman, a listed company in China. She was ranked in the top 100 richest people in 2012 and 2016. 
She was granted Canadian citizenship in 2007 and lived in Vancouver. On February 19, 2017, more than 20 police officers broke into Sun Qian's home in Beijing. She has been illegally detained for more than three years. 
Her family hired 13 different lawyers, but 11 of them were forced to withdraw due to pressure from the Chinese judicial department. 
"Sun Qian was arrested in 2017 and has suffered physical and mental torture," said Su Zhang, spokesperson from the Vancouver Falun Dafa Association. "This detention and torture violates her basic rights as a Canadian citizen. We call on the Canadian government to seek her unconditional release." 
"Ms. Sun started practicing Falun Gong to improve her health," said Lili Chen. "Her business became successful. Now she suffers physically and mentally. Her assets were confiscated. 
"I suffered unlawful imprisonment in China for my belief," Chen explained. "We come here today to raise our voices and let people know the evil nature of the Chinese Communist Party (CCP). We hope Sun will soon be released and that the Chinese people will finally have freedom." 
"The sentencing of Sun angers the world's people who have a sense of justice," rally attendee Linda said. "The CCP has passed the national security law for Hong Kong, which will accelerate the demise of the Party. The CCP is a horrible rogue regime. 
"I call on the international community to expel China from the United Nations. The whole world should work together to take down the CCP regime." 
Krystyna Dodds, a spokesperson for Canada's Global Affairs Department, said the government is closely following Sun Qian's case and is providing consular assistance to her and her family.