Perpetrators Involved in Persecution of Falun Gong Face Consequences: A Case Study of Shandong Province
Sept. 18, 2020 | By a Minghui correspondent in Shandong Province, China
(Minghui.org) Jiang Kongchen, police chief in the Shidao Town of Rongcheng City, Shandong Province, had been actively targeting local Falun Gong practitioners since the Chinese Communist Party (CCP) launched a nationwide campaign against Falun Gong in July 1999. Under his directive, many Shidao practitioners were arrested and forced to go through brainwashing sessions held at the Shidao Hotel.
After the CCP staged the Tiananmen Square Self-Immolation Incident in January 2001 to defame Falun Gong, Jiang deceived local practitioners into coming to his police department to watch the state-run TV broadcasting about the staged incident. Waving letters sent to him from some practitioners, he yelled, "You practitioners were telling me 'Good is rewarded with good and evil meets evil.' That is nonsense and I don't believe it! Look, I am healthier than you all!"
Shortly after that, Jiang was diagnosed with late-stage liver cancer. He visited numerous hospitals, but his condition deteriorated. Within a few weeks, he died.
Sadly, Jiang is not the first one who has faced consequences for persecuting Falun Gong. While the misfortune may appear coincidental, many Falun Gong practitioners believe that the perpetrators' involvement in the persecution was a major contributing factor in their misfortunes.
Falun Gong, also known as Falun Dafa, is a peaceful meditation system based on the principles of Truthfulness-Compassion-Forbearance. Since the persecution began in July 1999, many Falun Gong practitioners have been subjected to arrests, detention, imprisonment, various forms of physical and psychiatric abuses and even forced organ harvesting.
Despite the harsh environment, practitioners have been working hard to expose the persecution and urge law enforcement, government officials, judicial workers, and other perpetrators to stop committing crimes against practitioners. While some heeded practitioners' advice, others charged ahead with the persecution.
Unfortunately, some of the perpetrators who continued to persecute Falun Gong died prematurely or faced other forms of misfortune. This article gives an overview of such cases in Shandong Province, the birthplace of Confucius, who had taught people to value virtue and focus on self-cultivation.
In both Western and Chinese culture, the principle of karmic retribution—that is, being held ultimately accountable for one's own actions—is widely accepted. Stated another way, good deeds will be rewarded, while evil will incur its due. Articles such as this are meant as a compassionate reminder of this principle to those who would commit wrongdoing.
Falun Gong practitioners cherish life and sincerely hope the perpetrators involved in the persecution will learn a lesson from these cases so as to have a better future.
Shandong: One of the Worst Provinces in the Persecution
Shandong Province, home of Confucius, has a rich history filled with traditional Chinese culture. After the CCP began to suppress Falun Gong in 1999, the province became one of the worst provinces with the most practitioners targeted for their belief. Based on information collected by Minghui, over 4,000 practitioners are confirmed to have died as a result of the persecution, and 433 of them were residents of Shandong Province, making it the province with the fifth highest death toll after Heilongjiang, Liaoning, Hebei, and Jilin.
An earlier report from Minghui showed that in 2019 alone, at least 1,391 practitioners in Shandong were mistreated for their belief. This included harassment, arrest, detention, home ransacking, confiscation of personal property, illegal trial, sentencing, and imprisonment.
Ms. Zhao Jinhua from Zhaoyuan (under the administration of Yantai) was arrested by police on September 29, 1999, for refusing to renounce Falun Gong. She died 10 days later on October 7 at the age 42. This was the first known death as a result of the persecution of Falun Gong.
Twenty years have passed and such brutality continues. Ms. Guo Zhenxiang, also from Zhaoyuan, was arrested on January 11, 2019, as she handed out informational materials about Falun Gong at a bus station. Within several hours, the police notified her family that she had died during detention.
Her son knew that Ms. Guo had been very healthy and suspected the death was caused by torture. He hired two lawyers to seek justice for his mother. Local officials threatened to suspend the lawyers' licenses if they investigated the case. In addition, the officials tapped the lawyers' phones and dispatched agents to follow them 24 hours a day. The lawyers felt like they had no choice but to quit.
Information collected by Minghui showed that 2,289 individuals in Shandong Province who were involved in the persecution of Falun Gong had faced various forms of consequences between July 1999 and July 2020.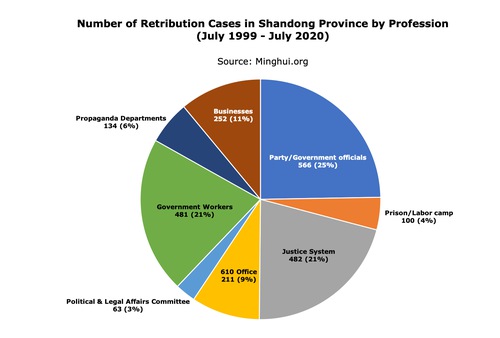 Among the documented retribution cases, 25% concerned officials from the Party or government agencies. The justice system (which includes police, procuratorate, the courts) is directly responsible for the arrest and prosecution of Falun Gong practitioners, and it accounted for 21% of the retribution cases. Another 21% involved low-level government workers. The rest of the cases concerned perpetrators working in prisons, labor camps, propaganda departments, businesses, "610 Office" and Political and Legal Affairs Committees (PLAC).
Launched on June 10, 1999, the 610 Office is an extralegal agency given the power to override the law enforcement and judicial system and has branches at every government level. The 610 Office and the PLACs (an extrajudicial agency also given the power to persecute Falun Gong) at all government levels play a key role in implementing the persecution policy from the former CCP leader Jiang Zemin. Perpetrators in the two agencies that faced consequences for their involvement in the persecution of Falun Gong accounted for 12% of the documented retribution cases.
Cases Scattered Across Province
Except for 15 cases with unknown locations, the remaining 2,274 retribution cases concerned perpetrators from all 17 cities in Shandong Province. Weifang had the most cases (480), followed by Yantai (312) and five other cities with triple-digit cases.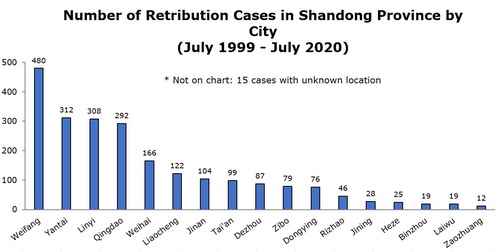 In addition to the case mentioned at the beginning of the article, below are a few more examples.
Liu Chuandong, an education officer in Huaibei Prison, crashed his motorcycle into a roadblock outside the prison entrance on May 22, 2005. He died two days later. People who knew him well said his death may well be a result of his involvement in the torture of a Falun Gong practitioner named Li Guang, a former reporter and program host of Laizhou Television Station. Mr. Li was imprisoned for upholding his faith in Falun Gong. Liu once shocked Mr. Li with electric batons. Mr. Li died as a result of the electric shocks and other forms of torture in November 2004, and his death was reported as a suicide.
Qin Li, a deputy director of Shandong Public Security Department who was in charge of the 610 Office, was diagnosed with lung cancer shortly after retirement in 2013.
Xu Zhubao, director of Shandong Public Security Department, was diagnosed with gastric cancer shortly after being promoted to this position in late 2014.
Wang Renyuan, former Secretary of Shandong Province PLAC, died of cancer. His successor Cai Limin was demoted in 2015.
Related Article in Chinese: