"Go to Manipur" – Remembering the Days Before the Lockdown (Part 3 of 3)
Sept. 4, 2020 | By a Falun Dafa practitioner in India
(Minghui.org) Continued from Part 2
The Third School
The third school, whose principal had come to meet with the practitioner at the first school as mentioned earlier, had sessions throughout a whole day despite the heat and crowded conditions. The principal, a catholic priest, and the children and teachers participated wholeheartedly.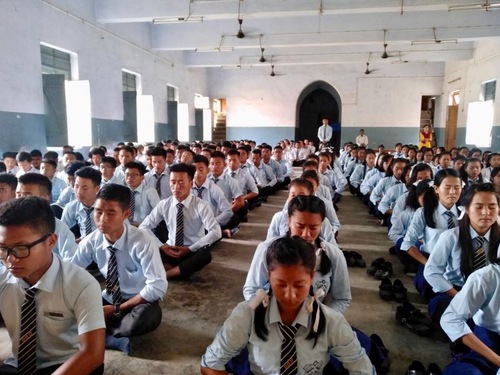 Older classes do the 5th exercise during one session.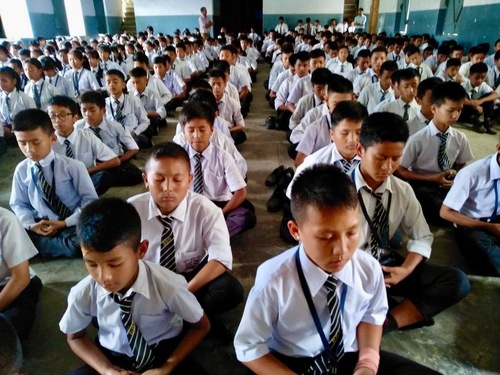 Younger classes learn the Falun Dafa exercises.

Below is a letter from the principal:
This is to certify that (name of practitioner) of Falun Dafa, organized a program for the students and teachers of (name of school). She spent the whole day in the school on July (date), 2018, animating the students and teachers, teaching them the five exercises of Falun Dafa and instructing them on the values of Truthfulness, Compassion and Tolerance.
In the context of corruption and mismanagement, where hatred and violence have a free hand, she patiently and with great tolerance taught the students and teachers as a model of the virtues she taught. I saw her as a person of great sincerity and dedication.
She has performed all her tasks to our satisfaction and I feel confident that she will be able to carry out the responsibility of world renewal efficiently.
All of us at (name of school) feel happy to have been trained by her and wholeheartedly join the Falun Dafa family.
I wish her God's blessings and best luck in all her future undertakings.
With every good wish,(name of principal)
At another school, there was a small voluntary morning session for boys, which was also attended by some of their parents.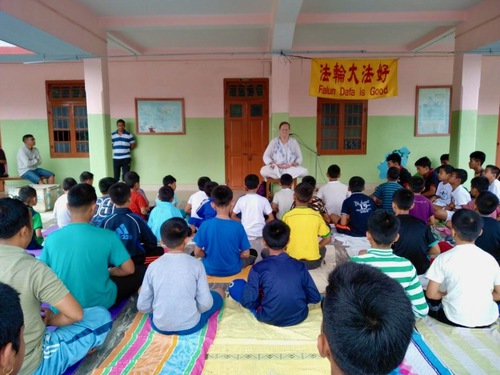 Boys do the 5th exercise during a voluntary morning session at another school.

Within just a few days, around 5,000 students and teachers benefitted from the Falun Dafa exercises and the principles of Truthfulness, Compassion and Tolerance. They were greatly moved and shocked by the severe human rights violations in China and the persecution of Falun Dafa that still continues today. The sessions were presented using a variety of posters and banners. Fliers, magazines, books, DVDs, and Shen Yun materials were left at the school libraries and distributed widely.
How the Instructional Sessions Are Run
All the sessions in Manipur as well as at others schools in India were conducted in more or less the following way: At the beginning, all the students and teachers sit down and close their eyes for a few minutes of relaxation and peace while listening to the music of Pudu or Jishi. After that, the practitioner gives a short introduction to Falun Dafa. All present would then do the five exercises along with the music. Finally, everyone repeats a few times, "Truthfulness-Compassion-Forbearance is good. Falun Dafa is good." They do so with their hearts and minds, not just their voices.
Then, the practitioner explains the persecution in China with the help of posters. Most children are totally attentive and focused on this part, even at the very end of long sessions. Those who were asked to hold up the posters appeared to feel honored to step up.
If time permits, there is a question-and-answer session. Alongside the formal sessions, many conversations also take place with teachers and principals during tea breaks and on other occasions.
More Opportunities Present Themselves
Two of the principals called their counterparts at sister schools in two other northeastern states that the practitioner had visited in 2016. Both of them warmly invited the practitioner to go back to their schools and conduct more Falun Dafa sessions.
In addition to the four schools mentioned above, the practitioner held a press club meeting, and the leading newspaper published an article later.
The university was closed due to a long and intense strike, so the practitioner could not go there or donate books and other materials to its library as she did in other northeastern states.
The state library was open, however, and it gratefully accepted a variety of materials related to Falun Dafa, including those about the persecution. A librarian of a leading college happened to visit the library when the practitioner was there and happily accepted materials for his college's library.
When the practitioner was walking around in town one day, some girls remembered her from their school's session. On another occasion, when the practitioner gave a Falun Dafa flyer to a man sitting on a chair, he saw the words Falun Dafa and immediately stood up with respect. He was very moved and said his daughter had told him about the Falun Dafa session at her school.
The first principal was ready to help to organize more sessions at other schools, but the practitioner deferred them for future visits. The practitioner deeply felt that it was enough for this first-time visit and that she had done as much as she could. She felt the amazingly arranged school programs were "too wondrous to behold."
During this visit and previous trips to remote areas, the practitioner felt that she wasn't meeting the principals and other people for the first time. They seemed somehow familiar, as if she had a deep bond and affinity with them from some unknown past.
Besides all these wonderful experiences, there was an intense atmosphere all around town every day due to strikes and many other issues. The practitioner felt deep in her heart and mind that her "mission in Manipur was completed" for the time being. She decided to return to New Delhi earlier than planned and again canceled and lost a plane ticket in order to take an earlier flight. She is full of gratitude for being able to play an instrumental role and has a deep wish for a peaceful future for this part of India.
The practitioner would like to give a big thanks to everyone who helped with the sessions in Manipur and hopes that the schoolchildren, "the little flowers," and their teachers will keep Truthfulness, Compassion and Tolerance as well as Falun Dafa deep in their hearts and minds and spread their fragrance and beauty all around, especially during the current lockdown.
In addition, she wishes to express much gratitude to the Teacher of Falun Dafa, who had once again prepared a wonderful path for the practitioner to walk in another state of India—Manipur, "the jeweled land."