Germany: People Encourage Practitioners to Expose the Persecution: "You're Doing the Right Thing!"
Sept. 5, 2020 | By a Falun Dafa practitioner in Germany
(Minghui.org) A welcome morning rain washed away the scorching heat and brought a cool breeze to the pedestrian-only street in downtown Stuttgart. Falun Dafa practitioners from the city and surrounding areas returned to King Street (Königstraße) to hold an information event on August 22, 2020.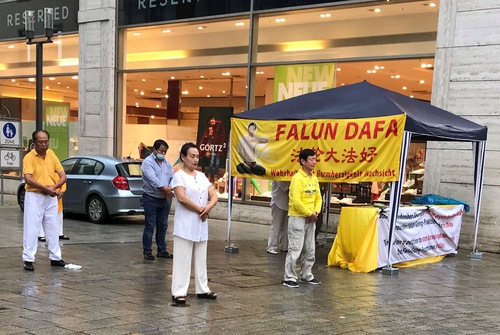 Practitioners demonstrate the exercises.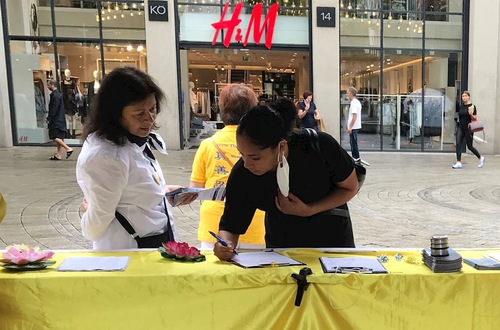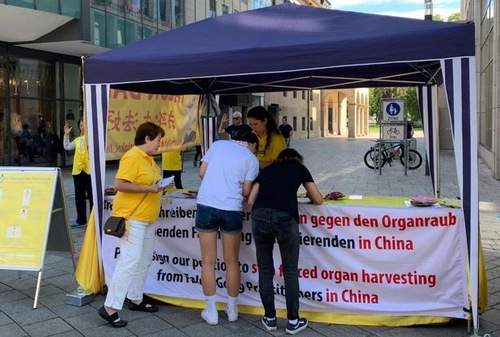 People sign a petition calling for an end to the persecution of Falun Dafa in China.
It was drizzling when practitioners set up their tent. A gentleman who had signed the petition before walked by. He warmly greeted practitioners and encouraged them to continue their efforts.
Carle told practitioners after signing the petition that her father was from Cuba, which is also a totalitarian communist country, and that she was very clear what the Communist Party is and what it can do. She said everyone should pay attention to the killing of Falun Gong practitioners for organs in China.
Eirini and her family waited patiently while a practitioner talked to another passerby. They read the display boards while they waited. When the practitioner turned to her, Eirini asked, "What can I do to help you?" The practitioner showed her the petition form and she immediately signed it.
Sibylle directly walked to the tent and signed the petition. She said she watched a documentary about the forced organ harvesting from living people in China and the torture methods used on Falun Gong practitioners. She praised practitioners and said, "You are doing the right thing! I hope you succeed!"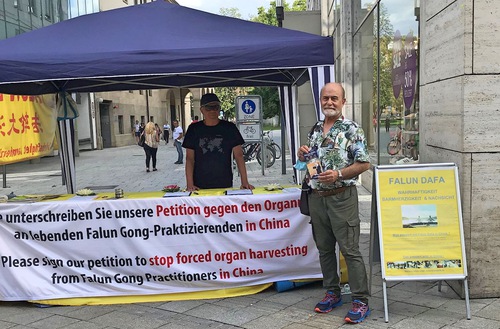 Dr. King, a visiting professor from Montreal, Canada.
Dr. King, a visiting professor from Montreal, Canada and the chairman of a children's rights protection organization, asked a practitioner to take a photo of him with the banner in the background. The message on the banner invites people to sign the petition to stop the Chinese Communist Party's (CCP) harvesting of organs from living Falun Dafa practitioners. He said the photo would be shown to the audience at a large conference.
One girl asked, "I want to sign the petition but I am only 15 years old." A practitioner asked if she understood what the petition was for. She nodded and said, "I read the display boards. I want to sign my name to state my stance against forced organ harvesting from living people."
A practitioner gave her some information about the persecution of Falun Gong. She thanked the practitioner and took some fliers before leaving.