Warsaw, Poland: "We Know That Righteousness Will Prevail"
Sept. 6, 2020 | By a Falun Gong practitioner in Poland
(Minghui.org) Falun Gong practitioners participated in the 12th Warsaw Cultural Festival that commenced on August 30. They introduced the cultivation practice to the community and raised awareness of the ongoing persecution in China. 
In addition to putting up posters and distributing materials in Warsaw's Old Town, during the festival parade they did the dragon dance to represent Chinese culture. The dragon dance was very popular with spectators.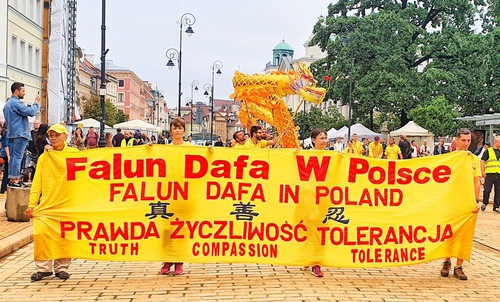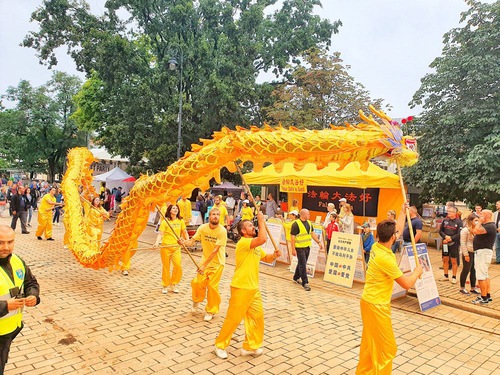 Falun Gong practitioners participate in the 12th Warsaw Cultural Festival.
Because of the coronavirus pandemic, there were fewer groups and participants in the event compared to prior years. Nonetheless, many people stopped at the booth for updated information. Some signed the petition in support of the criminal complaints against Jiang Zemin, former Chinese Communist Party (CCP) leader, for suppressing Falun Gong, while others signed the petition asking Polish officials to work towards an end to the persecution in China.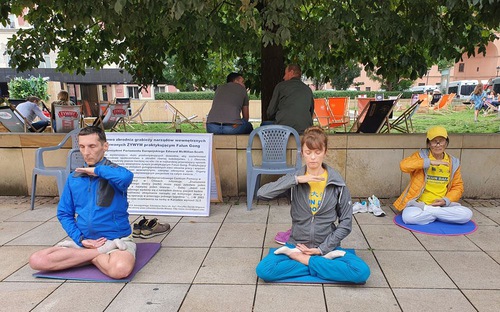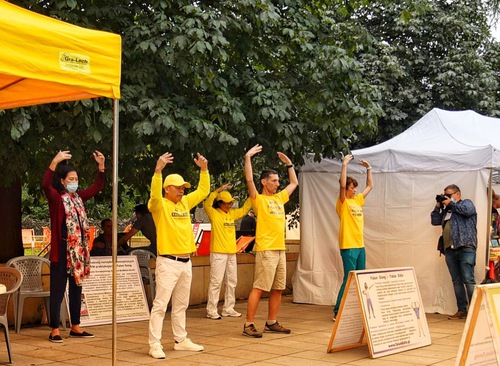 Demonstrating the Falun Gong exercises
Krysia talked with a practitioner about what is going on in China. Having seen a Shen Yun performance in Lodz, she knew that the CCP was against traditional Chinese culture and that it suppresses freedom of belief. "The persecution is really terrible," she remarked, "but please don't worry. We know that righteousness will prevail and you will succeed one day." She signed a petition and hugged a practitioner.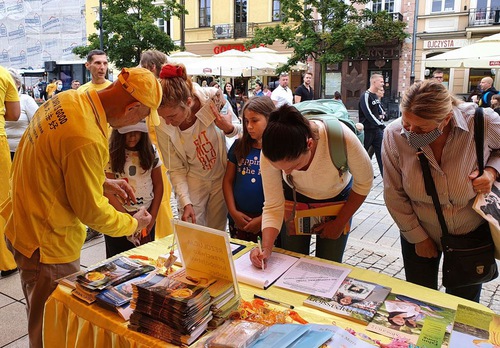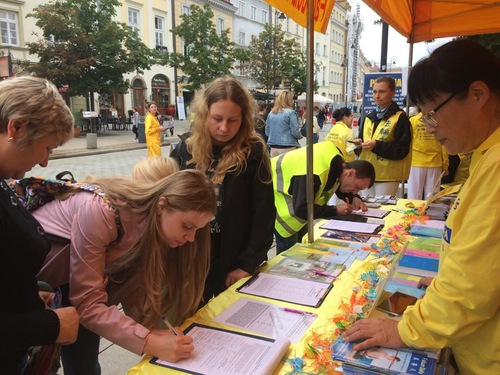 Passersby sign petitions calling for an end to the persecution in China.
Surprised to hear about the mistreatment practitioners have suffered in China for their belief, Alicja signed both petitions. "I can see a clear contrast between the good and the evil," she said. "The Falun Gong practice is beautiful and peaceful, while the suppression is brutal and overwhelming." 
Impressed by the delicate handmade paper lotus flowers, Alicja learned from a practitioner how to make them. She also found out that the lotus flower symbolizes a practitioner's cultivation practice—retaining one's purity and elegance while growing up from the mud. She made sure to take a Falun Gong pamphlet before leaving.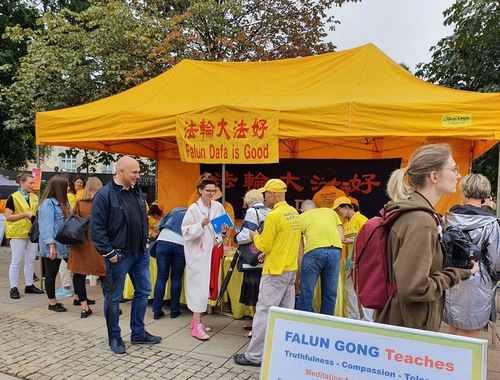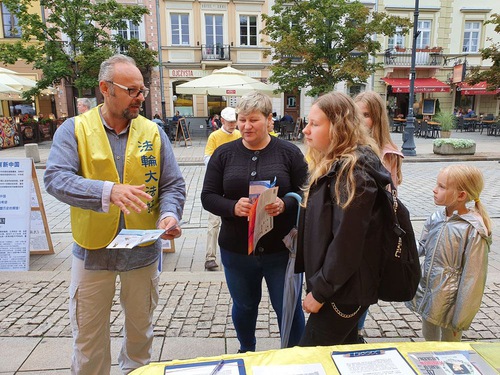 Bypassers stop at the Falun Gong information booth. 
Gawroński signed a petition and stayed to chat. "I heard someone say that Falun Gong practitioners are right to expose the CCP's brutality, but they are too weak and it makes no difference. I don't agree," he said. "We need to let more people know about this and we have to stand up for our principles. If not, the totalitarian regime will devour us." 
Then Gawroński added, "Thank you for your efforts. People need to remind each other about what is right and what is wrong."