Japan: Practitioners Hold Peaceful Protest in Front of Chinese Embassy on New Year's Eve
Jan. 5, 2021 | By a Falun Dafa practitioner in Japan
(Minghui.org) Falun Dafa practitioners in Japan held a peaceful protest in front of the Chinese Embassy in Tokyo on New Year's eve. They demanded the Chinese Communist Party (CCP) end the 21-year-long persecution.
Practitioners held banners and stood quietly on the sidewalk across from the embassy throughout the cold night. The banners read: "Falun Dafa is good. Truthfulness-Compassion-Forbearance is good." and "Heaven Disintegrates the CCP."
In order to not block pedestrians and be compliant with epidemic prevention requirements, some practitioners did the exercises in a park nearby and rotated with the practitioners standing in front of the embassy.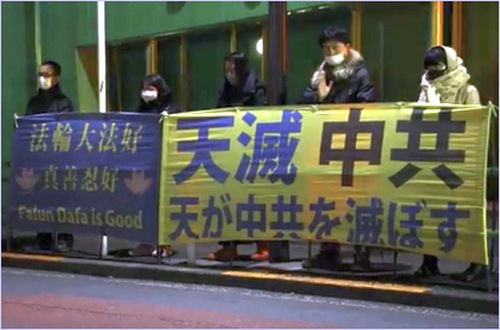 Practitioners hold banners in front of the Chinese Embassy and call for an end to the persecution.
A practitioner who participated in the event said, "We have no fear even though it is very cold and the coronavirus epidemic is spreading. We demand that the CCP regime stop the persecution and the live organ harvesting. I came to join the event to inform people and so that everyone enjoys a happy life. I participate in this event every year."
A practitioner who persists in clarifying the truth in front the embassy year-around said, "We persevere every day no matter how hard it is. I try my best to persevere throughout the hot summer months. I have participated in this peaceful protest in front of the embassy for 19 years."
Why do they persevere? A practitioner said sincerely, "We wish the embassy staff to learn the truth and have a safe future. The CCP's persecution of Falun Dafa will ultimately lead to the collapse of the Party and implicate many innocent people, including those working for the CCP regime and its embassies. I hope the staff does not participate in the persecution and has a safe future."