Virginia, USA: Sharing the Beauty of Falun Dafa with the Local Community
(Minghui.org) Falun Dafa practitioners in the greater Richmond, Virginia, area recently participated in two events, the annual Ukrop's Monument Avenue 10K race, and the 24th Annual Asian American Celebration.
On the morning of April 23, 2022, practitioners gathered under clear, sunny skies for the Monument Avenue 10K. One of the nation's most popular races, this year's event hosted nearly 20,000 participants, attracting everyone from first class athletes, to casual runners, to groups of friends who came out to walk the course.
Falun Dafa practitioners participated as a spirit group in support of the runners and demonstrated Dafa's five exercises as runners covered the 6.2 mile course in the beautiful, historic Fan district of Richmond.
Some runners thanked practitioners for coming out as they passed by, some stopped to take photos, and some commented on the good energy they felt coming from the group as they passed by. Practitioners have participated in the event for many years and have always received a warm welcome from the local community.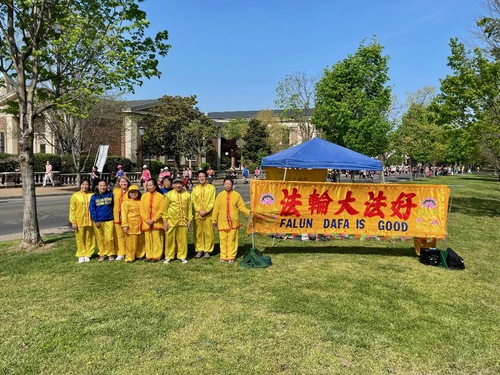 Richmond and Virginia Beach practitioners gathered for the annual Monument Avenue 10k race on April 23, 2022.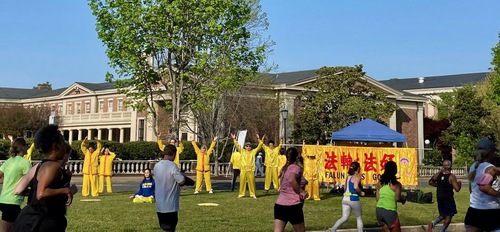 Demonstrating the exercises at the Monument Avenue 10K
On May 21 practitioners participated in the 24th Annual Asian American Celebration at the Greater Richmond Convention Center.
A brightly decorated booth welcomed people to learn about the peaceful practice of Falun Dafa. A variety of information was available for visitors to browse, including copies of the book Zhuan Falun, Falun Dafa flyers, a recent Certificate of Recognition of Falun Dafa Day by the governor of Virginia, and the book The 20-Year Persecution of Falun Gong in China, among other materials.
To start off the morning, a neighborhood resident, a retired pediatrician, came over to help as a practitioner was carrying things in from her car. After learning about Falun Dafa, he brought his wife to the booth later that day so they could get more information. They were both very moved by Dafa's principles of Truthfulness, Compassion, and Forbearance. His wife commented that she was dealing with some health issues, and expressed an interest in learning the exercises.
Many others also expressed a great deal of interest in learning the exercises, with some stopping to learn some of the movements that day, while others said they were interested in coming out to learn at the local practice site.
One gentleman watched from a distance as practitioners demonstrated the exercises. A few minutes later he walked over and said that he felt the good energy from across the room, and that was what drew him over to the booth. He was very interested in learning more about Dafa and was happy to learn that there was a practice site in Charlottesville, Virginia, where he and his wife live. He said the principles of Truthfulness, Compassion, and Forbearance really resonated with him, and he would like to read Zhuan Falun, the main book of the practice.
Visitors were offered lotus flowers with the words "Falun Dafa is good, "Truthfulness, Compassion, Forbearance" attached, bringing smiles to their faces. Many people expressed their joy and gratitude, with some even returning with their friends or families, who also wanted to get a beautiful lotus flower with the special phrases. Some commented that "Truthfulness, Compassion, and Forbearance" is just what the world needs.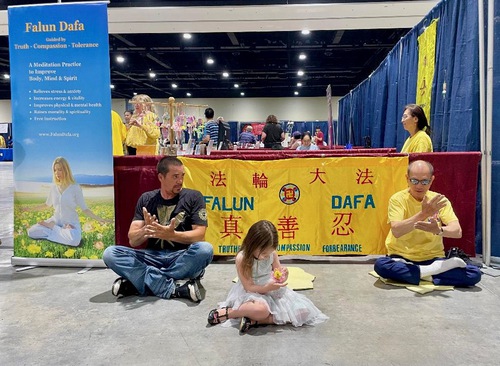 Asian American Festival attendees learn the exercises.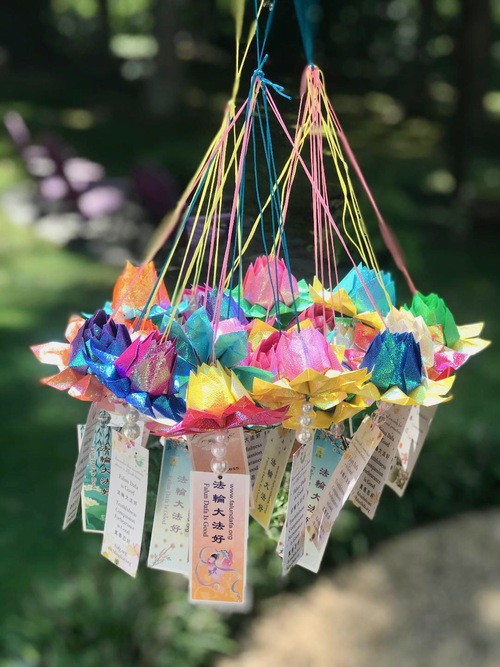 Some of the lotus flowers that were shared with festival attendees
All content published on this website are copyrighted by Minghui.org. Minghui will produce compilations of its online content regularly and on special occasions.