Stockholm, Sweden: Public Condemns Chinese Regime's Persecution During Activities to Expose It
(Minghui.org) Falun Dafa practitioners held a series of activities in Stockholm on July 20, 2022, to tell people about the Chinese Communist Party's (CCP) 23-year-long persecution. They clarified the truth in front of the Chinese Embassy and beside the parliament building. They also called for an end to the persecution and for the disintegration of the CCP.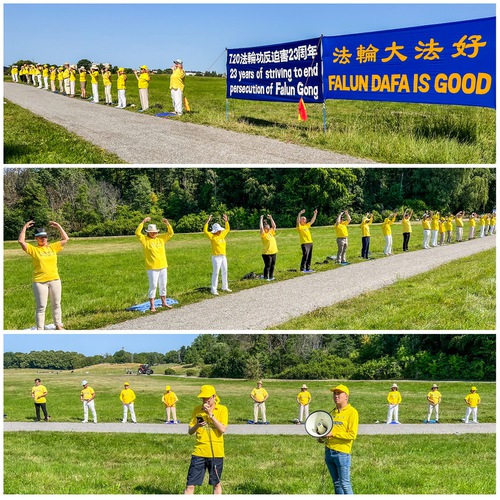 Practitioners demonstrate the Falun Dafa exercises in front of the Chinese Embassy on July 20, 2022, to mark 23 years of the CCP's persecution.
At 9:30 a.m., practitioners lined up neatly on the lawn across from the Chinese embassy, and did the Falun Dafa exercises. Some practitioners clarified the truth to passersby and distributed leaflets. One practitioner read an open letter to the Chinese embassy through a loudspeaker. In the letter, the staffers in the embassy were advised to recognize the true nature of the CCP as soon as possible, cherish the opportunity to learn more about the persecution, and quit their memberships in the CCP and its affiliated organizations for a safe future.
Practitioner Calls to End the CCP's Persecution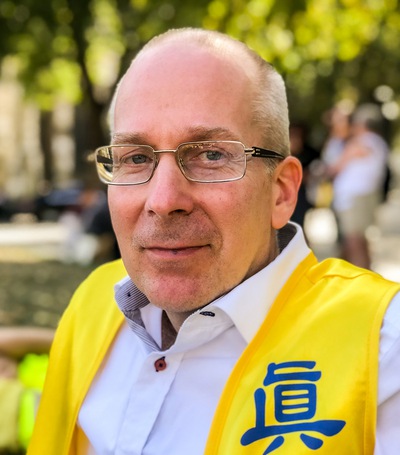 Veteran practitioner Anders
Anders began practicing Falun Dafa more than 20 years ago. "I began practicing in the fall of 1995. Before that, I was always searching for the true meaning of life."
He said, "Practicing Falun Dafa has benefited me both physically and mentally. I can face all kinds of hardships in work and life calmly."
Anders traveled to China for three consecutive years from 1996 to 1998, where he met many Chinese Falun Dafa practitioners. He said, "They were all very kind-hearted. I could not believe and did not understand why the CCP started to persecute these kind and innocent people on July 20, 1999. What's worse is that this persecution is still going on today.
"I want to tell people that the CCP is trying to control the whole world. Please recognize it and join us Falun Dafa practitioners to stop this persecution."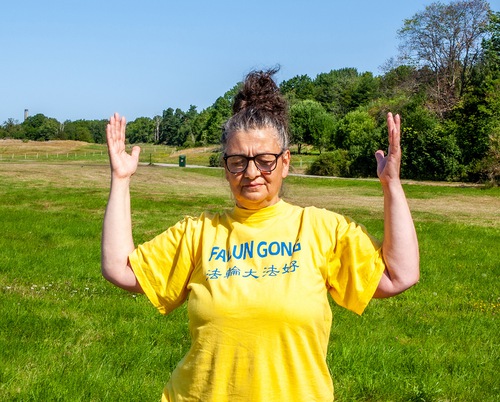 Janett practices the second exercise.
Janett from Gothenburg is a teacher and was a cancer patient four years ago. She began practicing Falun Dafa two years ago. She says practicing Falun Dafa eliminated her cancer and gave her a new life. She wanted to let more people know how good Falun Dafa is, so she participated in various local truth-clarification activities to expose the CCP's lies.
On the 23rd anniversary of practitioners peacefully protesting the persecution, she wanted to tell practitioners in mainland China, "Now more and more people around the world are standing with Falun Dafa practitioners. We are constantly thinking of you. People all over the world are calling on their governments to pay attention to the CCP's brutal persecution that is still taking place in China. We will work harder to clarify the truth to the world and stop the CCP's persecution as soon as possible."
People Sign Petition to Protest the Persecution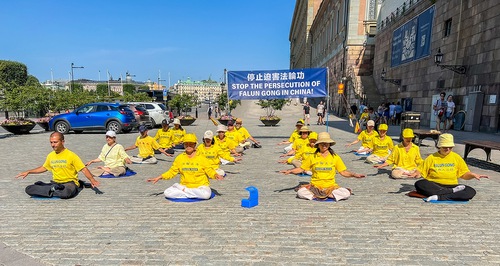 Practitioners demonstrate the Falun Dafa exercises beside Sweden's parliament building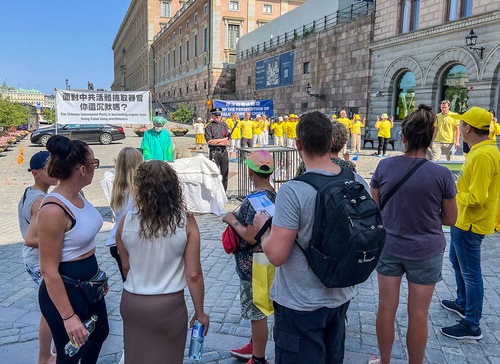 Re-enactment of the CCP's organ harvesting.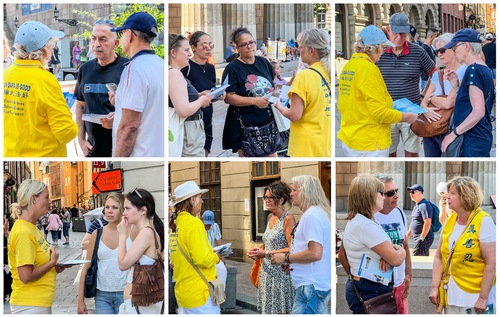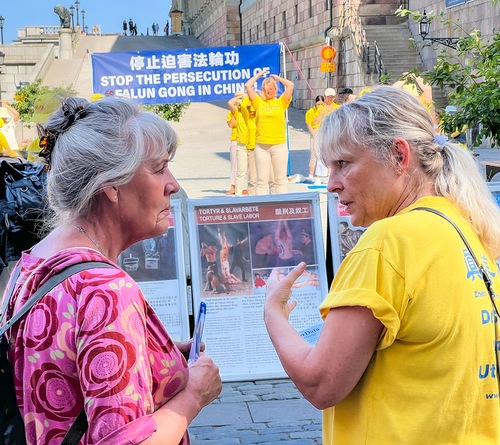 Exposing the CCP's persecution to the public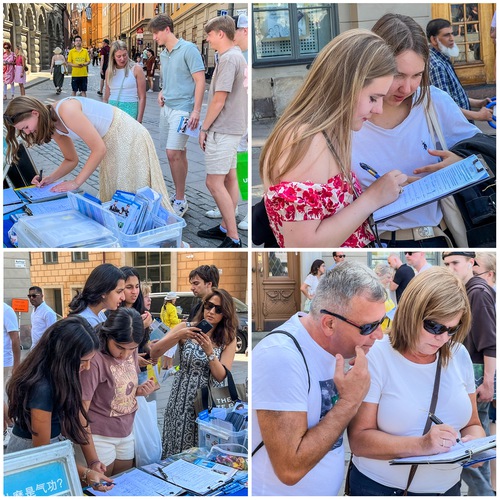 People sign the petition calling for an end to the persecution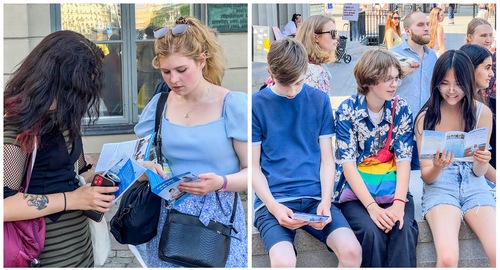 People read information about the persecution
That afternoon practitioners went to Stockholm's city center and demonstrated the exercises beside the parliament building. They exposed the CCP's atrocities by re-enacting the CCP's organ harvesting and torture. Many people condemned the CCP and signed a petition to end the persecution.
The peaceful exercise demonstration and the re-enactment of the CCP's torture drew many people to stop and watch. One woman from Spain said she was stunned to learn the extent of the CCP's brutality, "Organ harvesting from people while they are alive is terrifying. I thought it was that underworld gangs kidnap people. I didn't expect that the Chinese government colluded with hospitals to kill people and sell organs. The CCP can do such evil things. No wonder the suppression of Hong Kong is so vicious."
She explained that she was a businesswoman and had business contacts in Shenzhen City and Shantou City in Guangdong Province, China. She lived in Hong Kong for many years.
"Thinking of Hong Kong now makes me sad and I appealed for the students in Hong Kong," she said. "I have deep feelings for China. The Chinese people are friendly, but the CCP is too evil." She and her friends signed the petition to support Falun Dafa. She also took informational materials in Spanish, wishing to learn more about Falun Dafa.
Alex is a journalist from the U.S. and was happy to see practitioners telling people about the CCP. He said, "Dictatorial governments are particularly afraid of people knowing the truth. They have done a lot of shameful things and tried their best to cover them up with lies."
He said he admired practitioners' courage in spreading the truth about the persecution. After signing the petition, he recounted his personal experience.
"Eight years ago, I went to China to study news writing for three years. I went to Xinjiang, where I did an in-depth investigation and interview, and learned that the CCP detained many Uyghurs in concentration camps for brainwashing and carried out many inhumane acts. Later, I wrote these real situations into reports and posted them online to the public. But I didn't expect this to cause me so much trouble. Soon after my report was published the Chinese government deported me on trumped-up charges."
He took a lot of pictures during the event in Stockholm and said he would help practitioners spread the truth to more people through various channels.
Chinese Medical Doctor Renounces the CCP
"Can you give me a copy of the information in Chinese?" A well-dressed middle-aged lady asked a practitioner. She explained that she had just left China. She said, "I got around the information censorship and learned some things a few years ago. Practitioners' petition in Beijing in 1999 was peaceful. I really admire them. But the CCP spreads lies about it. I've finally left China and I want to know more about Falun Dafa."
The practitioner explained, "Falun Dafa teaches people to be good by following the principles of Truthfulness-Compassion-Forbearance. Over 100 million people of all ethnic groups around the world practice Falun Dafa. They have become healthy and compassionate people through cultivation. Falun Dafa has won numerous awards around the world. But only in China does the CCP persecute it and conducts organ harvesting from live practitioners."
The lady listened carefully and nodded. "I am a doctor and believe in Christianity. But under the CCP's control, no one is allowed to have a spiritual belief. When I attended my nephew's wedding and talked to my friends about religious beliefs, my nephew almost drove me out, fearing that my words might have a negative impact on his future. My supervisors in my work unit were also afraid that I would implicate them, and they always urged me to leave early. I am sad about China."
She said, "I believe that live organ harvesting is true, because I often recommended my patients go to Beijing Armed Police Hospital for organ transplant surgery. They never had to wait long for an organ."
When she learned that the practitioner could help her quit the CCP on the The Epoch Times website, she readily gave her pseudonym to quit her membership in the CCP and its affiliated organizations. Before leaving, she took copies of all the truth-clarification materials and asked where and when the practitioners' next truth-clarification activity would be held. She said, "Next time I will bring my husband so he can learn about Falun Dafa."
All content published on this website are copyrighted by Minghui.org. Minghui will produce compilations of its online content regularly and on special occasions.