Miraculous Effects of Falun Dafa: Recovery from Breast Cancer (Part 1)
(Minghui.org) According to data from the International Agency for Research on Cancer (IARC), an agency of the World Health Organization, 19 million new cancer cases emerged in 2020, including 2.3 million breast cancer cases.
The seriousness of breast cancer is also seen in the fatality statistics. Out of the 4.4 million female deaths caused by malignant cancers, 680,000 were attributed to breast cancer. 
Despite these challenges, there is still hope. As witnessed by tens of millions of Falun Dafa practitioners, this practice offers enormous benefits to its practitioners in terms of both mind and body, including recovery from malignant breast cancer. 
Actress: Mother Found Miracles
Ms. Wang Hongwen moved from Taiwan to Canada in 2013 and became an actress for New Century Films. 
During Ms. Wang's high school years, her mother was diagnosed with breast cancer, which devastated her entire family. The illness, along with the side effects of the chemotherapy, caused her mother enormous pain. She could not keep food down and she became weaker and weaker. 
Ms. Wang's mother was also worried about her three children and felt guilty that she couldn't care for them as she'd have loved to. The uncertainty about the future and the fear of death, on top of the cancer itself, led her to develop depression as well. 
"The mental and physical stress was huge at the time. My mother was in tears all day long," recalled Ms. Wang. "Whenever I got home from school, I always shared with her fun things from school to try to cheer her up. But I couldn't get a true smile from her."
It was during those darkest days of her life that Ms. Wang's mother heard about Falun Dafa from a friend and began to practice it. Every morning, she got up early to join the group exercises, while in the evening she studied the Falun Dafa teachings with other practitioners. 
"Gradually, my mother stopped weeping and talking about her suffering," Ms. Wang said. "Instead, she often shared with me some of the miracles she'd heard about at group practice.
"Noticing her happiness and excitement, I was so relieved that upon returning to my own room, I was in tears – joyful for the positive changes in her," Ms. Wang continued. "Finally, I saw a genuine, relaxed smile on her face."
Although she didn't know much about Falun Dafa at the time, Ms. Wang felt fortunate for her mother's discovery of the practice. "Falun Dafa saved my family and gave us a healthy, happy mother," she explained.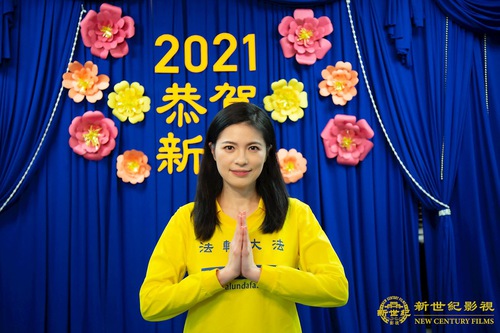 Ms. Wang Hongwen from New Century Films is grateful for Falun Dafa. 
Breast and Brain Cancer Healed in One Month
Ms. Chen, a Hong Kong resident, was diagnosed with late-stage breast cancer in 2016 and underwent chemotherapy. One year later, the disease recurred and spread to her brain. The doctor said it was incurable and she had only one month to live. As a result, she was told to just return home, and her family started preparing for her funeral. 
In those desperate days, a friend recommended Falun Dafa to Ms. Chen. As Ms. Chen had practiced Buddhism in the past, she found Zhuan Falun to be a very special book. All her questions about life were answered and she had the desire to cultivate well, according to the teachings of Falun Dafa. She tried to follow the principles of Truthfulness-Compassion-Forbearance and began to do the exercises. 
In the beginning, she was still weak. When taking a shower, she had to take a break halfway through. Going to a nearby park for group exercises also required help. But Ms. Chen was persistent and persevered. Gradually, she was able to walk to the park by herself. Without any medication, her breast cancer and brain cancer were fully healed within one month. 
Six years have passed, and Ms. Chen is still in remission and healthier than in her pre-cancer days. "Climbing stairs in the past, I had to take a break once every several steps," she said. "Now I am not tired no matter how far I walk."
Ms. Chen is very grateful that Falun Dafa has given her a second life and saved her family. "That is why I always tell people to remember 'Falun Dafa is good, Truthfulness-Compassion-Forbearance is good.'"
Ms. Chen recovered from breast cancer and brain cancer after she began practicing Falun Dafa. 
Former Cancer Patient Hasn't Seen a Doctor for 10 Years
Ms. Luo Meihua, who lives in Taiwan, was born prematurely. She was often sick as a child and needed to see doctors from time to time. One day in 2003, she heard about Falun Dafa but did not really start practicing it at the time. 
In 2006 Ms. Luo began to learn another qigong system, but it did not help her. In 2011, she had surgery for breast cancer followed by repeated radiotherapy, which left her very weak and dizzy each time. She felt extremely frustrated and hopeless and often thought of suicide. 
In February 2013, Ms. Luo met a friend in New Taipei City, who recommended that she watch a Shen Yun performance in the United States. She heeded the advice. From the beginning of the show to the end, Ms. Luo was moved to tears. After returning to Taiwan, she attended a 9-day seminar to watch the video lectures of Mr. Li Hongzhi, the founder of Falun Dafa. After that, she joined the group exercises and took part in various activities introducing Dafa to communities. 
About 10 years have passed and Ms. Luo has been healthy this whole time. She no longer needs to see doctors or take medication. "Without Falun Dafa and Master Li, I would have been dead many years ago," she explained. "To me, Dafa is so precious."
Ms. Luo Meihua recovered from breast cancer when she started practicing Falun Dafa ten years ago. 
"I Could Not Live Without Dafa"
Ms. Nie Ge, a former employee at Jilin University of Technology in China, recalls that she suffered numerous misfortunes in life. 
She was diagnosed with breast cancer in 1990 and soon after had surgery. The chemotherapy and medication caused osteoporosis, but she did not know it at the time. When riding a bike to work one day in May 1999, she twisted her ankle and fractured her left tibia and fibula. 
It was not until then that Ms. Nie learned that she had osteoporosis. She stayed in the hospital for two months, wearing casts the first month and splints the second month. But the bones still did not mend well. She ended up having another surgery to insert a steel plate. At that time, she could not do anything physical and had to avoid even small pebbles when she was out walking. 
On May 21, 1995, a coworker asked her if she would like to join a group that was doing the Falun Dafa exercises. "I did not take it seriously in the beginning," she recalled, "but I liked the music and the exercises also gave me lots of energy."
After reading a copy of Zhuan Falun borrowed from her coworker, Ms. Nie found the book to be very good and she read it several times. Although she wasn't even thinking about curing her illnesses, she was surprised to find that all of her symptoms were gone. "I was so happy that I could do household chores, ride to work again, and regain my former energy," she said. "I knew I could not have lived without Dafa." Since her cancer had disappeared, she told her employer to stop the special cancer subsidy issued to her. 
After the Chinese Communist Party (CCP) began to suppress Falun Dafa in 1999, Ms. Nie was detained four times within 18 months. She was tortured each time for refusing to renounce her belief. 
Ms. Nie moved to Canada in 2009 and can now freely practice her belief.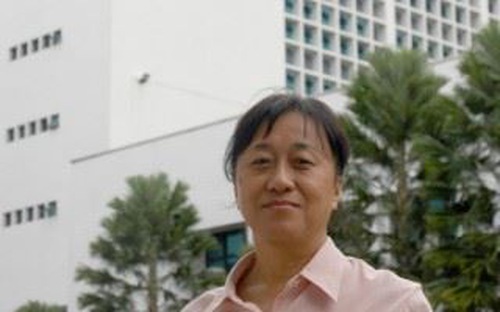 After Falun Dafa resolved Ms. Nie Ge's health problems, she was detained by the communist regime four times within 18 months for upholding her belief. 
(to be continued)
All content published on this website are copyrighted by Minghui.org. Minghui will produce compilations of its online content regularly and on special occasions.