South Korea: Falun Dafa Nine-Day Class Attendees Embark on a New Journey
(Minghui.org) The Tianti Bookstore, located in the Longshan district in Seoul, South Korea, holds a Falun Dafa Nine-Day Class every month. The class is held for nine consecutive days and students can take morning or evening sessions. It is free of charge and open to all. New practitioners who recently completed a nine-day class in July talked about their experiences.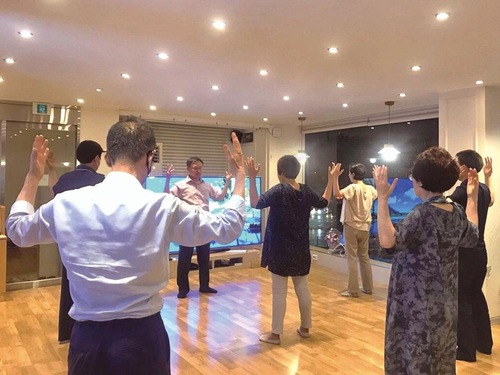 Class attendees learn the second Falun Dafa exercise during the nine-day class held in July (evening session).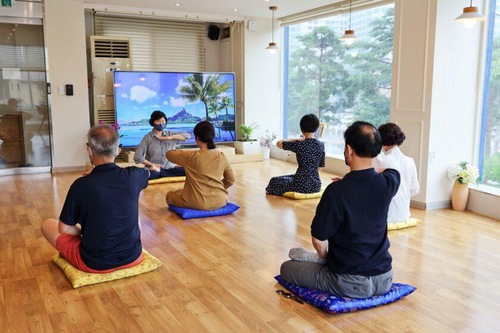 Learning the fifth Falun Dafa exercise during the nine-day class in July (morning session).
I Finally Found What I Was Searching For
Yin Chunmei, 68, studied vocal music in China. She recently met a Falun Dafa practitioner when she was walking in a park. She's cared for her mother for 15 years, and her husband who has cancer. She suffers from joint pain and various gastrointestinal diseases. Her life has been really hard.
"I bought a copy of Zhuan Falun in Chinese after that practitioner suggested I try practicing Falun Dafa," Ms. Yin said. "Although it was the first time I read Zhuan Falun, my heart was deeply touched by it. I felt that I finally found what I was searching for."
On the fifth day of the class, Ms. Yin said her body felt as light as a breeze.
"On the first day, I felt energy moving through my body like a gentle wind. It was amazing. My soul felt uplifted. Where can you find such an easy-to-learn practice with no preconditions like Falun Dafa! It suits modern people and our lifestyle very well."
A Timely Phone Conversation
Yin Xianghu, 62, worked in a Buddhist radio station and recently retired. He said that he heard about Falun Dafa before. He became interested in Falun Dafa in 2007 when he saw a banner in a park that read "The Chinese Communist Party Harvests Organs from Living Falun Dafa Practitioners." Curious, he looked into Falun Dafa. He half believed and half doubted what was taught in Falun Dafa so he stopped practicing. However, a phone call from a friend firmed up his determination to practice.
"My friend said that his sister-in-law was seriously ill and suffered from depression. One month after she began practicing she recovered. She went to a hospital for a checkup. The doctor was amazed by the improvement in her condition and asked what treatment she was undergoing. Her menstrual period that stopped also resumed. My friend said that Falun Dafa was amazing. We have been friends for a long time and I know he would not lie. I was convinced of what he said."
After the phone call, Mr. Yin searched for Falun Dafa on social media, and this time he was determined to truly practice. He signed up for the workshop at the Tianti Bookstore.
"When I was practicing the second exercise, I closed my eyes and saw a red light." Mr. Yin said, "I thought it was the color of my eyelids, but then the color began to rotate like a windmill. I wasn't sure what it was. When I thought about it later I realized that it was a Falun. The next day when I was watching Teacher Li Hongzhi's lecture video, I noticed that the background of the Falun was also red. I thought this was miraculous."
Mr. Yin said he's been interested in the universe since he was young and was especially interested in cultivation. He said, "I used to look at the sky and think that someone who looks exactly like me must also be looking at the sky but in another dimension. Because the universe is so vast, there must be other dimensions. So many things that were mentioned in the lecture videos resonated with me."
Lee Sang-woo, 60, said that he started to practice Falun Dafa after receiving a call from his eldest brother who lives in Gwangju, Jeollanam-do. "My brother said that he recently started to practice Falun Dafa and that the content was amazing. My brother read a paragraph from the book Zhuan Falun to me. He said that his health really improved since he started practicing Falun Dafa. My brother urged me to practice."
Mr. Lee has always believed in the existence of God. He said, "I think people with a lot of karma will pay a lot in life for their sins. I always believed this. I want to persevere in practicing Falun Dafa and I want to practice diligently."
Impressed by Practitioners' Kindness
The class attendees said that the third floor of the Tianti Bookstore was filled with an atmosphere of compassion and benevolence during the nine-day class. People from different social classes came to the bookstore for morning or evening sessions. Each came for different reasons.
Ms. Cheng Zhenlan said she felt comfortable and peaceful during the nine-day class. "I was deeply impressed by the way that Falun Dafa practitioners thought of and helped others," she said, "The Falun Dafa book is very interesting. Although I'm not yet familiar with the book, I know it is very magical. What's more important, I realize that if you don't have a sincere and kind heart, you can't cultivate diligently."
Teachings Resonate
Mr. Wen Renqi hesitated to join the nine-day class at first because the persecution in China caused him to have some misunderstandings about Falun Dafa. But he decided to come to the nine-day class with his friend.
He has been receiving pain treatment for years due to lumbar disc herniation and a frozen shoulder, but this temporarily relieved his pain. Instead of going to his therapy session, he decided to attend the nine-day class. He said, "I couldn't lift my arm at all. But now I can lift it a little bit. It was even easier after I practiced the exercises. I used to have insomnia. While I attended the classes, I slept for six or seven hours. When I look around the room it seems that everyone here looks healthier."
Mr. Wen said he thought the human body was a small universe since he was a child. "When I listen to the lectures, I feel a certain resonance in my heart. I always felt that someone has been looking after me. After I learned and practiced the exercises here, I felt something really flowing throughout my body. This feeling is so great."
Moved by a Practitioner
Ms. Nan Rongzhi, 65, heard about Falun Dafa from a friend. She didn't know much about it but wanted to learn more about organ harvesting from practitioners. As soon as she saw the Falun emblem, she felt that it is not ordinary. So she went to a nearby park where she met a Falun Dafa practitioner.
The practitioner looked kind and had a smile on her face. She told Ms. Nan about Falun Dafa and handed her a copy of Zhuan Falun.
"As soon as she handed me the book, I could tell that she read it many times. She gave me the book that she cherished. She told me that she read the book and practiced the exercises every day. She explained that she comes out to introduce Falun Dafa and to tell people about the persecution in China whenever she has free time. She feels happy. Looking at her, I decided that I want to cultivate as diligently as her."
Ms. Nan practiced Buddhism for years and her children are all Christians. She has been to temples and churches. She recently felt that if one is to cultivate, one must cultivate without any complaint or regret.
With the wish to cultivate well, Ms. Nan brought her husband and two friends to the nine-day class. She said she felt a tremendous amount of energy after practicing the exercises.
She said, "I learned other methods of cultivating the mind before, and I also read the Book of Changes. I've learned many things. But after reading Zhuan Falun, I felt that the principles of the universe are actually contained in this book. I felt that this is really high-level cultivation."
"I no longer fear death. I just want to live a clean life, nothing is purer than this," Ms. Nan said.
Misunderstandings about Falun Dafa Resolved
Ms. Nan's husband, An Zhongxiong, heard about Falun Dafa from a qigong master 20 years ago. Because he listened to that qigong master he thought that Falun Dafa was not a good practice, so he did not look into it. His wife recently decided to practice Falun Dafa. He didn't think much about it and just accompanied her to the Tianti Bookstore. He initially waited downstairs and read other books. He said he could feel a strong energy field coming from the third floor where the nine-day class was being held, so he walked upstairs and joined the class.
"I felt positive energy from the first day, and the energy kept getting stronger every day. After I actually practiced the exercises, I felt huge energy," Mr. An said. "I felt such a positive change after I attended the class for just a few days. I think that Falun Dafa is really amazing. After the class yesterday my vision suddenly improved. I had some misunderstandings about Falun Dafa before. After attending the classes I felt that I should practice it well, and I want to introduce Falun Dafa to my coworkers and friends."
Mr. An said, "It is not easy to enlighten to anything whether it's Christianity or Buddhism. But this can be easily achieved in Falun Dafa cultivation. When I read in Zhuan Falun the simple and clear explanations about the universe and time and space, I felt that Teacher Li Hongzhi is really extraordinary."
Li Azhen, 60, first learned about Falun Dafa 20 years ago, just like Mr. An. She attended the class last year and came to the class again this year. She said, "I didn't read the book seriously before, and I didn't fully learn the exercises. I want to learn it well this time."
The next Falun Dafa nine-day class will be held from August 23 - August 31. The morning session is from 9:30 a.m. to 12 noon, and the evening session is from 7:15 p.m. - 9:30 p.m. at the Tianti Bookstore. Bookstore inquiries: 02-504-0860.
All content published on this website are copyrighted by Minghui.org. Minghui will produce compilations of its online content regularly and on special occasions.