The Blind and Visually Impaired Can See Again (Part VI) – Stories about Falun Dafa's Healing Power
(Minghui.org) People may lose all or part of their eyesight due to various diseases such as cataract, retinal detachment, diabetes and glaucoma. Although most of the conditions are irreversible and incurable, over 300 cases have been documented by Minghui.org of blind or visually impaired people recovering from various eye diseases after practicing Falun Dafa, an ancient spiritual and meditation discipline.
Below are several such recovery stories.
(Continued from Part V.)
Shoe Store Owner: Eyesight Restored after Practicing Falun Dafa
Mr. Wang Zhiyong used to run a shoe store in Dalian City, Liaoning Province. One day in 1996, his elderly mother was bullied at a supermarket. When he tried to help his mother, a man threw a wine bottle at him and hit his right eye.
Mr. Wang, then 26, was taken to the emergency department of a hospital. A renowned surgeon operated on his eye. The wound healed, but he lost vision in his right eye. The eye was also swollen and sensitive to light.
He became depressed and stayed at home. He had taken up Falun Dafa shortly before the incident. In his spare time, he continued to do the exercises, hoping that it would help him.
"Each time I did the exercises, some fluid discharged from my eye and alleviated the pain. After a while, the eye stopped hurting and wasn't sensitive to light anymore," he said.
Gradually, his vision improved. With persistent practice, his eyesight recovered and he also obtained his driver's license.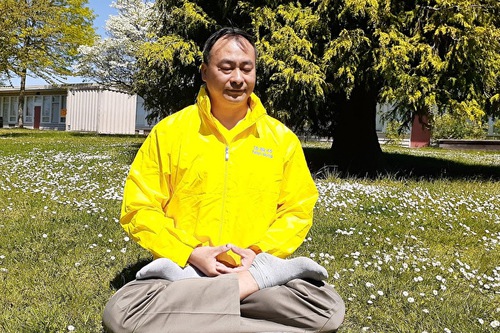 Mr. Wang Zhiyong
Blind Woman Sees Again
Ms. Zhao Fengxia, from Chongqing, had a serious illness that made her eyes suddenly go blind in her 30s. She went to see many doctors and all the doctors said that it was impossible to cure her eyes.
When she was desperate, a relative of her fellow patient in the same ward told her that she would be cured if she sincerely recited the auspicious phrases "Falun Dafa is good; Truthfulness-Compassion-Forbearance is good."
She also told Ms. Zhao about her own experience of practicing Falun Dafa. She had an incurable disease and was bedridden for over 10 years. She spent tens of thousands of yuan on medical bills but her condition didn't get any better. She was as thin as a rail and her hair had all fallen out. She felt she would die at any time. However, after she took up Falun Dafa, she miraculously recovered and her hair grew back. At that time, she was in her 60s and she looked radiant and young.
Mr. Zhao's mother also found the book Zhuan Falun, the main text of Falun Dafa, and read it to her daughter. Not long after, Ms. Zhao could see again. She was so happy that she always told people her story and hoped more people could benefit from Falun Dafa as well.
However, because of upholding her faith, Ms. Zhao was persecuted by the communist regime and held in a forced labor camp for one year, during which time she became disabled from torture. She succumbed to the persecution and passed away on September 16, 2019.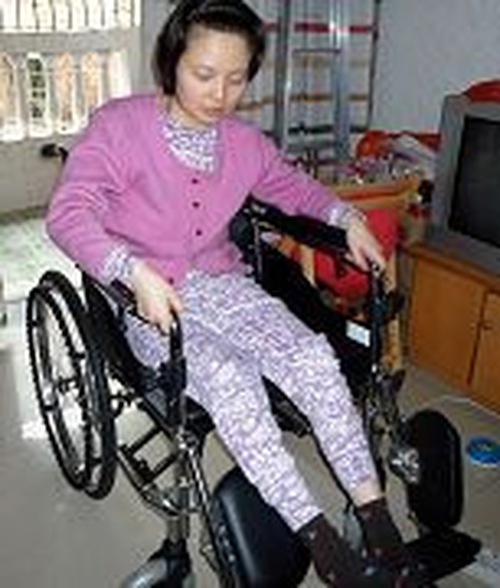 Ms. Zhao Fengxia disabled from torture
Korean Journalist: Falun Dafa Master Helped Me See the World Clearly
Mr. Yu Yongguk, a former Korean journalist for World Journal, was nearly blind in his left eye due to a sudden retina hemorrhage. After he attended a Falun Dafa nine-day seminar, a miraculous thing happened. "After a few days, my eyes started to tear a lot. I thought it might be caused by allergies in the spring and it would heal after a while. But after the seminar ended, It didn't get better. I asked fellow practitioners and was told that Master was cleansing my eyes."
"I used to see gray light in my left eye, and now the light turned white and was getting brighter. Although it is still hard for me to read, I can see things much more clearly."
"It was only after I learned Falun Dafa that I felt deep inner peace for the first time. It is my great fortune to learn Falun Dafa."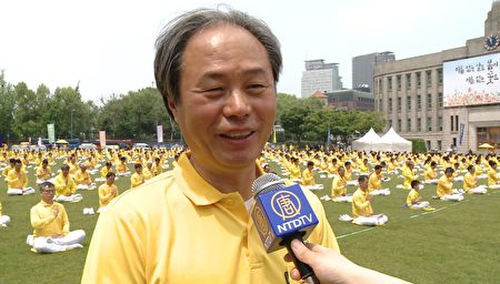 Mr. Yu Yongguk expressed his gratitude for Master on the World Falun Dafa Day
Blind in Right Eye for 38 Years, Woman Could See Again after Practicing Falun Dafa
Ms. Liu Xiaolian is a farmer in Chibi Town, Chibi City. In 1958 when she was 18, her eyes suddenly became painful, and half a month later her right eye was blind.
The hardships of life and overwork took a toll on her health and she developed many diseases. In 1996 when Ms. Liu was 56, she learned Falun Dafa. After practicing for only half a month, her right eye could see again.
She followed the principles of Truthfulness-Compassion-Forbearance in her daily life and became peaceful, charitable, and cheerful.
However, due to the communist regime persecution, she was detained in a psychiatric hospital and injected with unknown drugs. Her body was swollen and she was near death by the time she was taken home. She died on October 26, 2008, at the age of 68.
The Blindness That Never Happened
Ms. Huang Genhui, 74, is a retired teacher from Chongqing. At age 40, she developed a breast tumor, while her Meniere's syndrome would flare up from time to time. One day she was hit by a soccer ball, which resulted in macular hemorrhaging and retinal detachment in both eyes. Her prognosis from ten hospitals concluded that she would be blind within five years. In order to raise her two young children, she sought treatment everywhere. But nothing helped alleviate her symptoms.
She began practicing Falun Dafa in 1993. Within three days, her breast tumor went away. All of her other illnesses also disappeared after she listened to the Falun Dafa teachings. Her body became younger and healthier. What's more, the blindness predicted by all the physicians never happened. Her performance at work was outstanding and the classes she taught became the highest-performing for many years. She is now healthy and energetic.
(The end)
All content published on this website are copyrighted by Minghui.org. Minghui will produce compilations of its online content regularly and on special occasions.