Miraculous Effects of Falun Dafa: Recovery from Gastric Cancer (Part 2)
(Minghui.org) Gastric cancer is one of the most prevalent cancers worldwide, and China is one of the countries with the highest incidence and mortality. According to World Cancer Research Fund International, there were 1.09 million new cases of gastric cancer in 2020, 478,000 of them in China. Globally in 2020, nearly 769,000 people died of stomach cancer, including 373,000 (46%) in China.
People with gastric cancer are often miserable and in despair. But there is still hope. Some patients have emerged from desperation after cultivating Falun Dafa, also known as Falun Gong. Below are several such recovery stories.
(Continued from Part 1.)
Vietnamese Nun: My Gastric Cancer Disappeared after Practicing Falun Dafa
A year after Ms. Nguyen Hoang Uyen became a nun at 26, she was diagnosed with gastric cancer. She was weak and had difficulty walking, so she returned home to seek treatment.
She saw many famous physicians and qigong masters, but none helped. When she was in despair, a friend introduced Falun Dafa to her, telling her to find more practitioners at a local park.
Ms. Nguyen was hesitant at first due to her previous experience with other qigong practices. But she decided to give Falun Dafa a try. She went to the practice site and learned the exercises. She felt a warm energy stream flowing through her whole body the first time she did the exercises.
After practicing for six months, her gastric cancer symptoms disappeared completely. Ms. Nguyen recalled, "An amazing thing happened when I had gastric pain the last time. My primordial spirit went out of my body for about two minutes. After it returned, I slept for four hours, and I did not feel the pain anymore."
Ms. Nguyen added, "Falun Dafa is a Buddhist practice. It encourages practitioners to improve their xinxing in a complex secular environment. The practitioners can work and establish their own families. It was the profound practice that I had been looking for. The book Zhuan Falun(the main text of Falun Dafa) answered my questions about life, karma, and cultivation that I didn't understand before."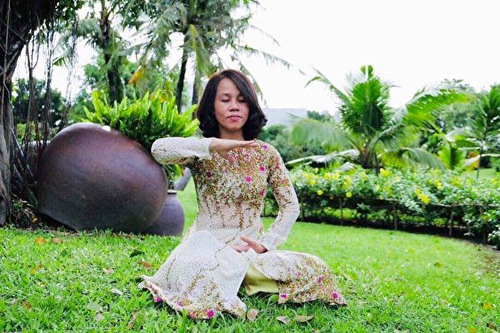 Ms. Nguyen Hoang Uyen practicing Falun Gong
"I Enjoy the Feeling of Being Illness-free"
Ms. Xu Weiguo, 67, lives in New York. She had about four-fifths of her stomach removed due to gastric cancer in 2001. After one round of chemotherapy, her hemoglobin was only 5.3 gm/dL (normal is 11.5-18 gm/dL). She was very thin, and her pupils were dilated. The doctor said that she only had two or three months left.
But something amazing happened after she started to practice Falun Dafa. She became healthy, and her face glowed. She was full of energy, not at all like someone with only one-fifth of a stomach. She was happy to be illness-free. Her relatives, friends, and colleagues were surprised. Many who suffered from terminal illnesses also took up the practice.
"Dafa gave me a second life. I have personally experienced just how wonderful Falun Dafa is," Ms. Xu said.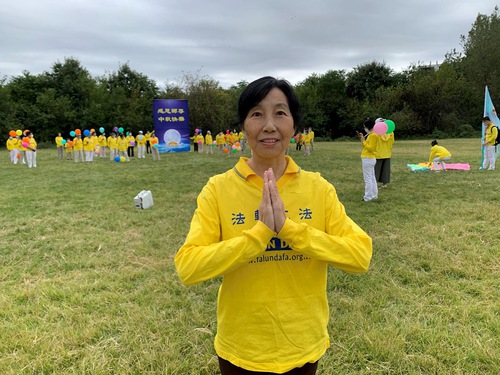 Ms. Xu Weiguo thanks Dafa for giving her a new life.
Elderly Practitioner: My Gastric Cancer Disappeared after Throwing Up Three Tumors
Mr. Hou Yonglai, 95, currently lives in New York. He is from Changchun City, Jilin Province.
He personally experienced a miracle when he was in Changchun. His stomach started to bother him, and he would vomit after he ate. He saw a doctor and was diagnosed with a gastric tumor.
The doctor told his son, "Your father is already in his 80s. It is too risky for him to have surgery. He might not survive the operation. Just take him home and let him do whatever he wants to."
Mr. Hou, who had already started practicing Dafa before his diagnosis, became more diligent in the practice after he got home.
One day as he was watching the video of Master Li giving his Fa lectures, he had severe stomach pain and threw up three tumors, each the size of a cobblestone.
After that, his gastric cancer disappeared completely. This caused a sensation locally. Many people were amazed by the miraculous effects of Falun Dafa.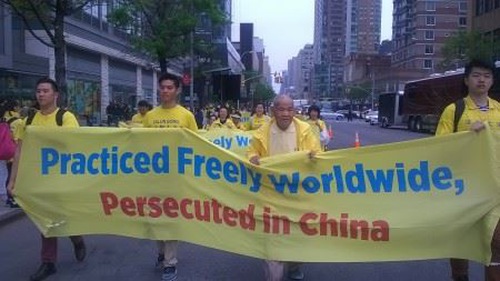 Mr. Hou Yonglai (second on the right)
(To be continued)
All content published on this website are copyrighted by Minghui.org. Minghui will produce compilations of its online content regularly and on special occasions.