Miraculous Effects of Falun Dafa: Recovery from Gastric Cancer (Part 3)
(Minghui.org) Gastric cancer is one of the most prevalent cancers worldwide, and China is one of the countries with the highest incidence and mortality. According to World Cancer Research Fund International, there were 1.09 million new gastric cancer cases in 2020, with 478,000 of these in China. Globally in 2020, nearly 769,000 people died of stomach cancer, including 373,000 (46%) cases in China.
Gastric cancer patients are often in despair and misery. But there is still hope. Some patients have emerged from desperation after cultivating Falun Dafa, also known as Falun Gong. Below are several such recovery stories.
(Continued from Part 2.)
Sydney Practitioner: Gastric Cancer Disappeared
Ms. Huynh Thi Bay, originally from Vietnam, has a happy family in Sydney, Australia. She is a mother of two children. While she is healthy now, Ms. Huynh was diagnosed with gastric cancer in August 2020.
Ms. Huynh was in despair and asked her husband to take care of their children if she died. Her husband, who had started practicing Falun Dafa just one month before, encouraged her to also practice Dafa.
Ms. Huynh recalled, "I did not have a headache after I did all five sets of exercises that evening. I felt light and was in a good mood."
Ms. Huynh said, "I felt that Falun Dafa is very good. I decided to get up to do the exercises at 5 a.m. Because my children were little, I could not do the exercises and study the Fa every day. However, on the days when I was able to do more Fa-study and exercises, I felt extremely energetic."
Ms. Huynh added, "I have enlightened to a lot of things from Zhuan Falun, the main book of Falun Dafa. I know that I have to improve my xinxing. I have cultivated in accordance with the principles of Truthfulness-Compassion-Forbearance. After the practice, I got rid of bad habits. I was no longer mad at people who did not treat me in a friendly way."
Ms. Huynh feels fortunate to be a Falun Dafa practitioner.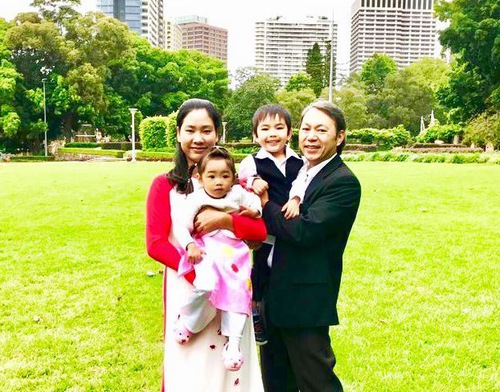 Ms. Huynh Thi Bay and her family
Taiwanese Practitioner: My Family Gets Along More Harmoniously
Ms. Jiang Chunhui had gastric cancer and underwent chemotherapy and electrotherapy more than ten years ago. The doctor said that she might not be able to get pregnant in the future because her reproductive system might be affected by the treatment.
When she was hospitalized, Ms. Jiang was introduced to Falun Dafa by a colleague. After she took up the practice, she got healthier day after day. Without her noticing when and how, her cancer disappeared. Seven years later, she gave birth to a healthy boy.
Ms. Jiang has been striving to live by the principle of Truthfulness-Compassion-Forbearance to get rid of any resentment towards her family. The family has thus gotten along more harmoniously.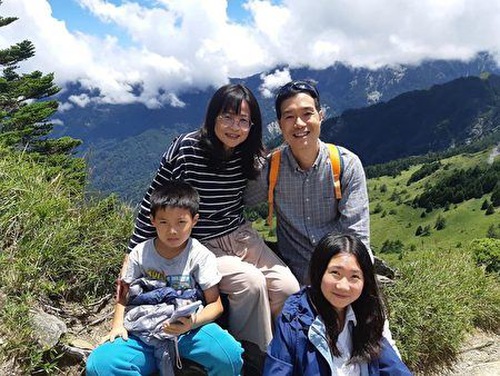 Ms. Jiang Chunhui and her family
Elderly Man Saved by Falun Dafa
A Falun Dafa practitioner in Dalian City, Liaoning Province, China, described the miracle that happened to his father. 
"My father was 88 years old in the fall of 2015. One evening, he felt pain in his stomach and could not sleep. He thought of the auspicious phrases 'Falun Dafa is good; Truthfulness-Compassion-Forbearance is good.' Reciting the nine words over and over, he fell asleep.
"His stomach pain got worse over time. He checked into the hospital and was diagnosed with advanced gastric cancer. But the doctor said that it was not possible to treat him and asked us to take him home. 
"By reciting the auspicious phrases, my father regained his strength and could eat a little. On the third day, he himself was able to sit out in the sun in front of the house.
"About two weeks later, my father's condition suddenly worsened. He was in unbearable pain, but his hand was moving slightly in his pocket, where he kept the Dafa amulet. He then became unconscious.
"My father woke up after a while. He slowly moved his hand from his pocket to the front of his face and looked at the Dafa amulet in his hand.
"My father said, 'I saw four people coming to me while I was unconscious. Two of them asked me if I believed in Falun Dafa, and the other two asked me about Truthfulness-Compassion-Forbearance. I told them 'Falun Dafa is good; Truthfulness-Compassion-Forbearance is good.'
"One week later, my father suddenly had severe diarrhea and then excreted a lot of red filth. The diarrhea lasted longer than a day. The large hard lump in his stomach disappeared after the diarrhea. My sister visited the next day, and my father could eat some of the food she brought over.
"Two days later, my father could eat a small meal. His mood was getting better. He gained more energy and could sit up slowly without support. He recovered very well. He could take care of himself. Seeing the miracle that happened to my father, all of our relatives felt the extraordinariness of Falun Dafa and are deeply grateful to Master Li, the founder of Dafa."
(To be continued.)
All content published on this website are copyrighted by Minghui.org. Minghui will produce compilations of its online content regularly and on special occasions.