Miraculous Effects of Falun Dafa: Recovery from Breast Cancer (Part 3)
(Minghui.org) According to data from the International Agency for Research on Cancer (IARC), an agency of the World Health Organization, 19 million new cancer cases were recorded in 2020, including 2.3 million instances of breast cancer.
The seriousness of breast cancer is also seen in the fatality statistics. Out of the 4.4 million female deaths caused by malignant cancers, 680,000 were attributed to breast cancer.
Despite these challenges, there is still hope. As tens of millions of its practitioners can attest, Falun Dafa offers enormous benefits in terms of both mind and body, including recovery from breast cancer, to those who practice it.
(Continued from Part 2)
Gaining a New Life after Practicing Falun Dafa
Ms. Lin Xue, who used to work for a foreign trade company in China, now lives in Canada. She noticed a large lump in her left breast in late 2012. After being diagnosed with early-stage breast cancer, she had surgery, followed by chemotherapy.
Ms. Lin was still worried. She lived in fear that the cancer would return. She read about the incidence and complications of breast cancer online every day.
A relative in Vancouver called and told her about the great health benefits of Falun Dafa. Ms. Lin felt a strong energy field while she was doing the exercises and her health improved significantly. In just five months, she became a new person, healthy and cheerful. Many of her relatives and friends took up Falun Dafa after seeing how she had changed.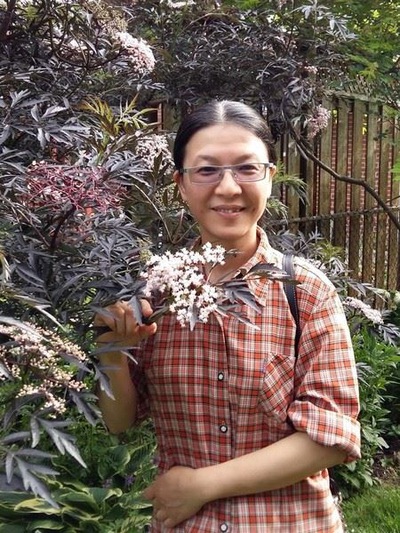 Ms. Lin Xue
English Teacher: Breast Cancer Disappeared after Practicing Falun Dafa
After Ms. Zheng Jinlian retired as an English teacher from a high school in Yunlin County, Taiwan, she traveled and enjoyed her life of leisure—until she was diagnosed with breast cancer during a routine checkup.
A month later, her cancer had progressed to the second stage. Following the doctors' recommendation, she had chemotherapy. After the first round, she felt very weak and was in pain.
It was worse after the second round of chemo three weeks later. She lost more than 20 pounds and all of her hair fell out. The doctors doubted that she would be able to complete the treatments. Her sixth session was postponed because her white blood cell count was so low, compromising her immunity. Further treatment would put her life in danger.
Ms. Zheng thought of the Falun Dafa books given to her by a student who recommended the practice to her for its health benefits. She started to read them and learned the exercises. She realized that she was getting better and better.
When Ms. Zheng went back to the doctor, all of her blood tests were normal. The doctor said that she only needed regular checkups in the future.
Ms. Zheng said, "Falun Dafa indeed is miraculous."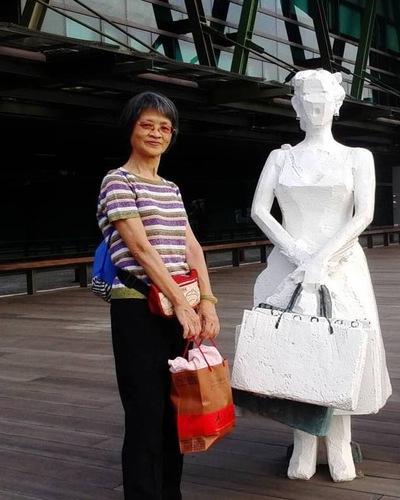 Ms. Zheng Jinlain
A Woman Near Death after a Mastectomy and Chemotherapy Survives
Ms. Yang Xiuzhen, 72, was diagnosed with breast cancer in her right breast in 1996 and had a total mastectomy followed by two rounds of chemotherapy. She was very weak, couldn't raise her arms, and had other side effects. She lost hope.
Her husband had learned about Falun Dafa from a friend in Australia, and Ms. Yang decided to give it a try. After practicing for a month, her incisions didn't hurt any longer and she could raise and straighten her arms. She stopped having chemotherapy and all her medications. The more she practiced Falun Dafa, the more energy she had. Her appetite improved and her face glowed.
Ms. Yang's husband went to Africa and was unable to contact his family due to war. He heard from a doctor that cancer cells "always spread" and his wife would only live for another year at most. When he was finally able to return home five years later, he was stunned that Ms. Yang was still alive.
Retired Math Teacher Gets Her Life Back
Ms. Tang Ruiqin retired from teaching mathematics in a middle school in Shouguang City, Shandong Province. She had devoted herself to her work and was esteemed by her supervisors, coworkers, and students. Every year she was recognized as an outstanding teacher. She had once represented the city in a research project to reform the teaching of math.
Ms. Tang was diagnosed with breast cancer in 1987 and had surgery. By 1994, the cancer cells had metastasized and her uterus was removed. Her health deteriorated as the cancer cells spread.
Ms. Tang said, "I had lost all hope and was just waiting to die when a practitioner gave me CDs of the Falun Dafa lectures in 1996. I listened to all of them and miracles happened. The tumor in my shoulder socket disappeared, and in a few days I was a new person. I was reinvigorated and able to work like a normal person."
Because of the dramatic change in her health, many people who knew her also started to practice Falun Gong.
(To be continued.)
All content published on this website are copyrighted by Minghui.org. Minghui will produce compilations of its online content regularly and on special occasions.